One Night in Bangkok (Seoul, Really): Operative JAB's Mission Update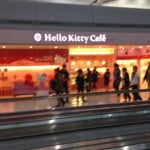 Operative JAB writes in from her secret overseas assignment. While in transit, posing as part of Dennis Rodman's posse heading to Pyongyang for some quality time with the Little Dictator, Operative JAB managed to surreptitiously snap this picture:
As JAB sagely notes:
Thought of you when we happened upon the Hello Kitty* Café while changing planes in Seoul, on the way to Bangkok (motto: "sounds dirty, but really just a great place to visit").
Just imagine sitting on the Hello Kitty couch while snacking on cookies made by Hello Kitty herself!
The really scary thing is that I saw an adult male buying himself a beverage. Dude, really?
"Dude, really?," indeed. 'Puter informed Czar an adult male had patronized our Hello Kitty Café at Seoul's Incheon Airport. Czar immediately dispatched a swarm of Mandy's genetically engineered mosquitos to find and punish this miscreant for the next year.
Also, Sleestak has been sent to revoke the "gentleman's" man card. Hopefully, Sleestak does a better job than last time, when Sleestak was arrested for attempting to make sweet lizard love to the Little Mermaid statue in Copenhagen.
In fairness to Sleestak, it's not every day he sees a half-woman/half-fish critter, bronze or not.
As always, with thank all operatives and minions for taking time to write us with signs of the Gormogons' worldwide influence.
Our testicles tentacles reach every corner of the globe.
*
"Hello Kitty" is a rough phonetic approximation of this bewitching demon's original name. Her name is first found in a French fur trapper's account of his interaction with the Native American Ho-chunk tribe of present day Wisconsin.

Ho-chunk language renders her name as "She Who Has No Mouth, Yet Must Scream."

If you seek the demon's cult, visit the Ho-chunk lands, but be sure to bring plenty of money. They've got casinos.

Always right, unless he isn't, the infallible Ghettoputer F. X. Gormogons claims to be an in-law of the Volgi, although no one really believes this.
'Puter carefully follows economic and financial trends, legal affairs, and serves as the Gormogons' financial and legal advisor. He successfully defended us against a lawsuit from a liquor distributor worth hundreds of thousands of dollars in unpaid deliveries of bootleg shandies.
The Geep has an IQ so high it is untestable and attempts to measure it have resulted in dangerously unstable results as well as injuries to researchers. Coincidentally, he publishes intelligence tests as a side gig.
His sarcasm is so highly developed it borders on the psychic, and he is often able to insult a person even before meeting them. 'Puter enjoys hunting small game with 000 slugs and punt guns, correcting homilies in real time at Mass, and undermining unions. 'Puter likes to wear a hockey mask and carry an axe into public campgrounds, where he bursts into people's tents and screams. As you might expect, he has been shot several times but remains completely undeterred.
He assures us that his obsessive fawning over news stories involving women teachers sleeping with young students is not Freudian in any way, although he admits something similar once happened to him. Uniquely, 'Puter is unable to speak, read, or write Russian, but he is able to sing it fluently.
Geep joined the order in the mid-1980s. He arrived at the Castle door with dozens of steamer trunks and an inarticulate hissing creature of astonishingly low intelligence he calls "Sleestak." Ghettoputer appears to make his wishes known to Sleestak, although no one is sure whether this is the result of complex sign language, expert body posture reading, or simply beating Sleestak with a rubber mallet.
'Puter suggests the Czar suck it.