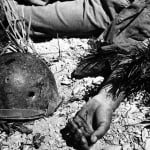 A side-note from another topic prompted the Retired Spook to write this on a cinder block that was chucked through the window and hit Sleestak square in the chest, as if it had been precisely timed and aimed. Retired Spook wasn't in the artillery, but with aim like that he coulda been.
Your Immensity;

Thanks for the kind words you offered, to wit: "your understanding of the Korean War is spot on."

It damned well should be! My father was a decorated veteran of that war (he was Army, but his Silver Star recommendation was written by a Marine captain.) and I spent a year in language school learning Korean, and another couple of years (one PCS and several TDYs) in The Land of the Morning Calm, keeping the morning calm. In addition, several members of Dad's VFW chapter were Korean War veterans, and they would, if asked properly, share some of their memories/war stories.

That silly Hawkeye made a still out of surgical tubing! No, wait, this is an American soldier shot in the head with a rifle in 105° heat. In five months, this spot will be -20° and under two inches of ice. The Czar hopes you are shocked by this photo and remember the Korean War this way, and not with Alan Alda's smug grin.

Also, a number of the ROKs that I worked with, either civilian or military, had very vivid memories of the NK incursion, and would, if they trusted you, share those memories as well. In fact, there is some debate about who is more detested, the Japanese soldiers of WW II, or the Chinese soldiers from the Korean War. (Did you know that in Korean slang, anal sex is referred to as "Japanese-style?" Kinda gives you an idea of their feelings, doesn't it?)

And I had the good fortune to work with spooks who had learned their trade during the Korean War (or before, either WW II, or the Macedonian upscuddle) , and they were willing to spend a lot of time with a junior wing-wiper, trying to make a working Spook out of him, while telling tales of how it was "in the old days." I'm probably alive today because of their efforts, which they persisted with, despite a lack of evidence that it was actually,somehow, taking hold . I can only hope that my efforts to pass along what they taught me was of some use to the kids (Children! Babies! Babes-in-arms!!) that followed after me.

Absent Companions,

Retired Spook
Forgive the Czar if he goes into a bit of a rage.
The world knows very little about the Korean War. Folks, it was a critically important conflict and a horrible one at that. The Czar is not one to rank wars as better or worse than others, but the severe conditions present in that war were among the gravest. A World War II veteran, one would hazard to guess, saw a handful of terrible conflicts during his time on the battlefield. These were awful. But the Korean War vet saw dozens of terrible things, in cruel weather, all jammed together.
Most of what people know about the Korean War actually comes from the television show M*A*S*H, which of course was really about the Vietnam War. An intrepid movie producer could easily make a horrifying movie about the Korean war, based on real incidents, and it would be a major hit like Platoon, Black Hawk Down, or Zero Dark Thirty. The problems would be (a) selecting one story out of thousands of horror stories and (b) getting the American public to believe the war was like this, and not a bunch of drunk doctors playing grab-ass with nurses.
The Korean War is important because it was the first test of American-style democracy versus the totalitarian savagery of communism—and we weren't ready. The first few months of the Korean War were an embarrassment for the United States military. We went from a pair of stunning victories in Italy and Germany and a world-changing demolition of Japan to a terrible collapse of command and control.
How close was it? Imagine Canada was North Korea and the United States was South Korea. A small, ill-equipped force from the North would have pushed back the Americans all the way to Miami Beach before we managed to hold our position. You read that right: the Americans were ass-kicked all the way from Seoul down to a precious tiny sliver of Korea in the Southeast.
Why? Because the American military got involved in politics. Maybe it was MacArthur inserting himself into government-building as a stepping stone for a presidential run. Maybe it was Truman trying to keep the Democrats happy. Maybe it was the post-war boom that made us fat and happy; it was likely all these things. But Americans were ill-prepared, and lots of us died—and as the Retired Spook mentioned to us in another email, there was good reason to think some of our fatalities were caused by the North Koreans capturing our abandoned weapons and turning them right around at us.
Things were that bad. Americans were tested and found lacking.
But then, we turned the tide completely around: this is almost a literal expression given the difficulty in doing so. Thanks to what the kids might call whack-cray-cray military planning, the United States and allied nations drove the North back up and almost into China herself. This of course got China involved—there was little secret that many in the American forces wanted to just smack China down now and maybe keep moving toward Moscow and end this Communism crap once and for all. The Chinese were formidable, and what they did to our POWs is another story we lack time and space to get into.
It would be a long time before America underestimated Communism again.
And who was right? The answer is pretty obvious: take a look at the lives of the average South Korean and the average North Korean and you tell us. America ultimately would win the Cold War; maybe most of our readers figured that out in 1989. A few of you knew in 1954.
The Czar wishes that our popular culture would rediscover the Korean War, the way we have the Revolutionary and Civil Wars. Actually, the War of 1812 would be a good one to rediscover too, and that has many odd parallels to Korea.

Божію Поспѣшествующею Милостію Мы, Дима Грозный Императоръ и Самодержецъ Всероссiйскiй, цѣсарь Московскiй. The Czar was born in the steppes of Russia in 1267, and was cheated out of total control of all Russia upon the death of Boris Mikhailovich, who replaced Alexander Yaroslav Nevsky in 1263. However, in 1283, our Czar was passed over due to a clerical error and the rule of all Russia went to his second cousin Daniil (Даниил Александрович), whom Czar still resents. As a half-hearted apology, the Czar was awarded control over Muscovy, inconveniently located 5,000 miles away just outside Chicago. He now spends his time seething about this and writing about other stuff that bothers him.