Guest Postcard from Bangkok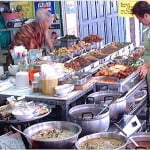 The following essay is a guest post from JAB, at the Double-Wide. We remind our readers that you are welcome to submit your thoughts either as an email or as a complete essay.
Dear Readers,
Hope you'll pardon an AWOL minion, but the Double-wide is a mobile home, you know, and sometimes we take her down off the concrete blocks and out for a spin. So today I'm writing to you about the situation in Bangkok, Thailand, where hubby and I have spent a few days with friends.
I could write in raptures about the food, the warmth of the people, and the beauty of a hilltop shrine bedecked with lights under the full moon. So why am I not writing in to tell everyone what a great place Thailand is (and it really is!)? Blame it on The New York Times. Because of an article written by one Thomas Fuller (dated 2/20/14), I'm sending in a rant instead of travelogue. Mr. Fuller, whose byline was Bangkok, must have been in a different Bangkok than the one I visited.
Thai street vendor cheerfully sells pad thai with shrimp to a tourist, both in sheer denial of the bloodshed being reported around them.
The political protests against Yingluck Shinawatra's government have been going on for about 3 months now, and have gotten very little coverage in the US, possibly because there has been very little bloodshed, unlike the ghastly Putin-blessed murders in Ukraine. Yingluck is the sister of billionaire-former-PM, Thaksin. 'Cause nothing says "transparent democracy" like billionaires attempting to establish a family dynasty, right? Big brother is now in self-imposed exile because he seems reluctant to serve the jail sentence he got for corruption. I get that a billionaire would have better things to do with his time, but fleeing the country does leave the impression that the charges might not be exactly baseless. Nonetheless, the US government has taken a "see-no-evil" approach, pointing to the Shinawatras' election results and ignoring allegations of vote-buying and other election-rigging like we've seen in Venezuela, Egypt, et cetera. Meanwhile, Thailand has seen massive corruption, most notably a rice price-support scheme that has left poor rice farmers unpaid and drowning in debt, while no one can seem to figure out where all the money went.
Mr. Fuller wrote that "the protest movement increasingly resembles an armed insurrection against the government…." The protesters have set up camps at several locations around the city, and there have indeed been clashes (4 protesters and 1 policeman were recently killed), but "armed insurrection"? We visited one of the main sites, which is around the corner from the Intercontinental Hotel. In fact, I could have nipped into a posh mall to stock up on Armani, Prada or Hello-Kitty swag. There was a stage, with a bank of speakers and a video screen, the better for the Thai rapper to entertain the assembled citizenry. There were a few hundred tents in the plaza, but at 3:00pm there were relatively few people, aside from some older folks. Why so few people? It seems that the local protesters go to work at their jobs during the day, and then regroup in the evening. Think Occupy Wall Street, but with gainful employment. The sidewalks were jammed with vendors selling red-white-and-blue (Thai flag's colors) shirts, hats, and assorted finery, as well as all manner of street food, including excellent jackfruit! As armed insurrections go, it was neither "armed" nor "insurrection."
The second site we visited, Lumpini Park, is just down the road from the US embassy. At 5:30 pm Tuesday, it was teeming with protesters, with tents pitched everywhere. It was also teeming with joggers and a few folks walking their dogs. Scary stuff, huh? Mr. Fuller writes: "The protesters are backed by the elites in Bangkok, while the governing party's power is rooted in a rural political movement founded by Thaksin…." I can report that he is actually halfway correct in this assertion, and that must be good enough for the NYT. We spent about 2 hours serving rice and curry to rural folk who had come into Bangkok to join the protest, so maybe that rural support is not quite what it's cracked up to be. But he did get this right–our friends and their friends are definitely well-to-do and they are supporting the protesters by… feeding them. Our group included a retired pediatrician, a businesswoman, and at least two graduates of US universities. So, yeah, elite. They toted rice, set up tables, handed out packets of soap, ladled curry, and other not-so-very-elite tasks.
So the NYT, and seemingly our State Dept., wants the narrative to be that the Shinawatra government(s) are sticking up for the poor rural folk (read "99 Percenters"), and those nasty elite 1 % are trying to overthrow democracy. Nice and simple. Except that it ignores the thousands of poor farmers streaming into Bangkok in desperation. It ignores the people who, on Monday, lined up and pulled their money, totaling 40% of all deposits, out of a bank to protest against said bank's planned loan to prop up the government. It ignores the tour-bus drivers who roll in to Lumpini Park, bringing protesters from outlying sites to get food, and also allowing them access to proper toilets. It ignores the guy selling grilled pork and chicken livers skewers (yummy!) in an open-air market in Hua-Hin, 2-½ hours south of Bangkok. He is known locally by his trademark red shirt & umbrella. But now that the government supporters wear red shirts, he has printed up a sign in Thai & English stating that he wears red only because he supports Manchester United, and that he is not a "red shirt." That guy is neither Bangkok nor "elite," but our intrepid reporter would not want to muddy the narrative. Too much work?
In international matters, most of us must depend on CNN, BBC, NYT, et cetera, for accurate coverage of places and issues that we could never visit or adequately research. Mr. Fuller's reporting was so clearly biased that he must not have bothered to leave his hotel room. If a casual visitor to Bangkok can spot the horse-pucky in NYT coverage, then they should be ashamed. Would it really be so darned hard to talk to a few street vendors? Why pump up an "armed insurrection" in a posh shopping area and a public park where the locals are so terrified that they are…jogging? Why portray decent, well-intentioned citizens as rabble?
Yours from the Double-wide,
JAB

Божію Поспѣшествующею Милостію Мы, Дима Грозный Императоръ и Самодержецъ Всероссiйскiй, цѣсарь Московскiй. The Czar was born in the steppes of Russia in 1267, and was cheated out of total control of all Russia upon the death of Boris Mikhailovich, who replaced Alexander Yaroslav Nevsky in 1263. However, in 1283, our Czar was passed over due to a clerical error and the rule of all Russia went to his second cousin Daniil (Даниил Александрович), whom Czar still resents. As a half-hearted apology, the Czar was awarded control over Muscovy, inconveniently located 5,000 miles away just outside Chicago. He now spends his time seething about this and writing about other stuff that bothers him.