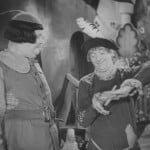 Mail for the Czar today. Operative KH, who is in charge of our moon cratering project, writes in to clarify:
Dread Czar,

I believe the one who was supposed to be in the truck the LAPD was looking for was Christopher Dorner.

Best regards,
Operative KH
And Retired Spook responds to reports that JAB's in Thailand (which oughta be pun of the week, thank you):
Your Czarishness;

So this is how they make fish sauce.

This sounds a lot like the rumors that circulated during the Late Southeast Asian Unpleasantness regarding the reportage of Mike Wallace (and others). Rumor had it that they did most of their reporting from the bar of the Caravelle Hotel, in downtown Saigon.

I can't attest to the truth or falsehood of the rumors, but people who I respect very highly swore that that was indeed the case.

And since Mike Wallace has gone on record saying that he would not inform U.S. troops of an intended ambush, if he knew about it in advance, since his job is "to report the news, not be a participant in it."

I have very little trouble believing anything bad about someone like that.

Best wishes,

Retired Spook

Божію Поспѣшествующею Милостію Мы, Дима Грозный Императоръ и Самодержецъ Всероссiйскiй, цѣсарь Московскiй. The Czar was born in the steppes of Russia in 1267, and was cheated out of total control of all Russia upon the death of Boris Mikhailovich, who replaced Alexander Yaroslav Nevsky in 1263. However, in 1283, our Czar was passed over due to a clerical error and the rule of all Russia went to his second cousin Daniil (Даниил Александрович), whom Czar still resents. As a half-hearted apology, the Czar was awarded control over Muscovy, inconveniently located 5,000 miles away just outside Chicago. He now spends his time seething about this and writing about other stuff that bothers him.