An Open Letter to Referees…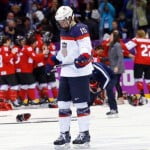 Let the kids play, and call the games straight
Gentle Readers,
Dr. J. always believed that referees are best not noticed. Invisibility correlates with quality officiating, especially in high stakes settings.
There are two example that he would like to share in which the referee, trying to undo an advantage to 'keep things fair' caused an outcome to result in a possibly different outcome.
Example the first: The Olympic Women's Hockey Gold Medal Match- The game was exciting, with two goals scored by Canada in the final three minutes to tie it up. One of the goals, could have potentially been called back, but it is not missed calls on hard to see incidents that Dr. J. speaks of. In overtime, American Jocelyne Lamoureaux was called for slashing. That slashing penalty did not happen. It was a make up call 5 seconds into the US power play. Dr. J. presumes the referee tried to even things up to keep the game even rather than to see a team lose on a power play. But, much like the butterfly effect, things unfolded as a consequence of making things fair…Canada was able to get a breakaway in which one of their players was pulled down. The defenseman did the right thing, as there was no way to stop the breakaway otherwise. Honestly, a penalty shot should have been called in favor of Canada, but the ref, again tried to keep penalties to a minimum. In the brief window where the power play advantage went from 4-3 to 5-3, the Canadians scored, ending the contest.
Example the second: The Lil Medstudent had his league championship basketball game yesterday. He's on a darned good squad. The other team had some size, and were a good team as well. As the Jedi Academy squad began to pull away in the first half, the ref started calling our side a little tighter. It allowed the other team to stay in the game. The coach didn't make a big thing about it, except for a few calls where our player 'double dribbled' and then the opponent double dribbling more blatantly after the turnover wasn't called. Most of us were upset with some intentional (not to injure) fouling on layups with the hope that we'd shoot 50% from the foul line resulting in less points per trip down court. With the other team in striking distance at halftime (we were up about 6-8 points), they made some smart half time adjustments. By the end our star player was getting frustrated at being double teamed, something that's illegal in ith grade 3 on 3 play, and rather than look for the open man, he was chucking up stuff, hoping it would fall, as he was hot from the outside. The other team got ahead with 15 seconds left and despite two tries, we couldn't get the ball in the hoop.
In both these instances, 'keeping it fair' bit the better team in the butt ultimately. It isn't a ref's job in tournament play to keep a team in the game. Dr. J. thinks that if we were up by 15 in the first half, the other team wouldn't and couldn't have caught up, and a well placed technical foul for the most flagrant of the Piston style fast break fouls might have cooled their jets. Now Dr. J. isn't requesting that they call things tight, although that suits Jedi Academy style play very well, it just has to be consistent. Indeed, there are always one or two kids at this age group who can't walk and chew gum at the same time. Given them a little grace never hurt, during regular season play, but come playoff time, being consistent is far more important.
While Dr. J. is bitching about the small stuff, a ith grade basketball game and Women's Olympic Hockey game, this applies to government policy. Whether it's corn subsidies, targeted tax breaks, or health care laws applying to >50 or > 100 employee businesses, respecting equal protection under the law is better for everyone. Sure there will be winners and losers in the free market, but when it occurs in a free society, it is easier for folk to get up and dust themselves off than it is when the losing 'winners' have to get up and dust themselves off in a headwind because they're the wrong constituency.