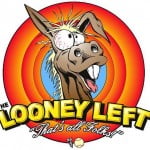 The Czar believes one of the reasons the Left seems to be in total lunatic mode in the last couple years is a growing sense that they're beaten. You know how, in the last days of any big war, the losing side suddenly starts doing all-out, crazy-buts attacks on everything? Yeah, like that. Leadership knows it is done for, and hopes to at least gain some ground. Like Obamacare.
The Left may not seem to be throwing in the towel; they are after all mostly fanatics. But the trends seem obvious and irreversible.
Candidate Dearth. Who's a big national candidate on the Left? Think this over carefully. Joe Biden? Most Americans chuckle at his name—no, that is no exaggeration. A recent video the Czar suddenly can't be bothered to find shows an interview asking members of the public for their thoughts on Joe Biden, and counted the number of folks who laughed before they answered.
Hillary Rodham Clinton, the last of the Clinton camp, is upside-down in popularity polls and is resorting to pre-marketing campaigns to cement the public's attention span. Her campaign, let no one tell you otherwise, is struggling heavily. After all, everyone knows how to beat her.
This leaves a calvacade of lunatics like Sen. Elizabeth Warren Bear, with most Americans now aware she faked her way to the top, and Wendy Davis—who is attempting to emulate Warren's campaign but is showing total incompetence at it. Davis is parking her car on the tracks betting the oncoming express will swerve first. Other national names—Weiner, Spitzer, et alia—have already imploded or gone as far as they can.
The Democrats know this. But they're tapped out—the vast majority of state, county, and municipal candidates are Republicans across the country. Sure, you can easily find a Democrat-led assembly all over, but net net, the Republicans dominate all other governments. This is draining the national pool of Democrats to where people like Sen. Warren kinda have to be taken seriously.
This is bad, because we already know what happens. When the GOP pool dried up a while back, we saw totally worthless candidates jockey for national positions only to be sent reeling by moron Democrat candidates. Well, the reverse is starting to happen, and that will eventually ease Democrats out of power.
Demography Isn't Destiny, unless it is. Know why immigration is such a hot issue right now? Because the Democrats desperately need Hispanic votes. And when we say immigration, they are saying amnesty.
Here's why: millions of pardoned illegals will owe the Democrats something; millions of Hispanic citizens are already turning away from Democrats, and are trending Republican. Got that? The Democrats never fully locked in the Hispanic citizens, and now must turn to legalizing the illegal ones.
Why? Demographics. Thanks to liberal policies and beliefs, the average Democrat family has fewer children than conservative families. Think about that: in another 10 years or less, there will be more kids raised by conservatives than by liberals actually voting.
Liberals who know this are terrified of it: the trend was noticed over ten years ago but has been largely kept quiet. But the reality is that the child-reluctant liberal mindset is breeding itself out of existence. And because 99% of political shifts are liberal to conservative, they already know those kids will vote conservatively.
Blacks, gays, union members, and other traditional liberal voters are insufficient in number to change this. Asians are voting Republican, generally, and Hispanics are tilting that way. This leaves the large number of illegal Hispanics in this country. Hence, amnesty.
Public Consciousness. As you already know, other liberal pet topics like gun control, gay marriage, healthcare insurance, and abortion are losing topics for the Left. Poll after poll shows that the economy, jobs, the deficit, debt, and housing prices are the big American worries right now.
These are winning topics for conservatives. And candidates would be smart to stay on topic: Gov. Scott Walker, Sen. Ted Cruz, and Sen. Rand Paul are moving up in popular consciousness staying on topic. Rep. Paul Ryan went from some well-kept secret to being a vice-presidential candidate in less than six months by staying on topic.
This doesn't mean any of these guys will be or even should be president—but they are showing that a consistent message delivery will move you to the forefront. Yeah, Sen. Ted Cruz will probably never be president—but in a short time he has become a nationally known and quite powerful senator.
The Left desperately wants and needs to change the topic; all they can offer, it seems, is a litany of things Americans don't care about. Yes, the GOP needs to get more into depth on these monetary topics but they have largely winning messages when they do.
Or conversely you can be Mike Huckabee, and find yourself engaging liberals in topics they want to talk about only to have your ass handed to you in a blatant misquote. Huckabee didn't deserve the abuse he's been getting, but shame on him for not talking about the economy and jobs.
The point is that Americans are more than just beginning to sense that liberalism is a train wreck: they are seeing it and starting to agree.
So what? This is the big question, and history provides some context here.
The Democrats will not be going away any time soon—that's good news for them. The bad news is that they will need to dump liberalism first. And dump it they will.
In the 1850s-1880s, the Democrats ran on a pro-slavery campaign which they erroneously billed as a "states's rights" issue. When this began to fail under GOP-won campaigns, they became a reform party and sought to stock local offices with their supporters. This worked enough to get Wilson elected when Roosevelt divided the race as a Progressive.
This policy began to fail in the 1920s as a succession of Republican victories (headlined by Coolidge) brought economic prosperity to the average American. So the Democrats changed again to statism in the 1930s.
And this worked for a time, until the tide shifted again. In the 1960s, the Democrats embraced liberalism. In the 1980s, drowning in a Republican sea, the Democrats dumped liberalism and embraced Leftist Progressivism. This got them elected in the 1990s, and here we are. So when Leftist Progressivism and modern liberalism no longer serves the Democrats—we see its incipience now—what happens?
The Democrats dump it and try something else.

Божію Поспѣшествующею Милостію Мы, Дима Грозный Императоръ и Самодержецъ Всероссiйскiй, цѣсарь Московскiй. The Czar was born in the steppes of Russia in 1267, and was cheated out of total control of all Russia upon the death of Boris Mikhailovich, who replaced Alexander Yaroslav Nevsky in 1263. However, in 1283, our Czar was passed over due to a clerical error and the rule of all Russia went to his second cousin Daniil (Даниил Александрович), whom Czar still resents. As a half-hearted apology, the Czar was awarded control over Muscovy, inconveniently located 5,000 miles away just outside Chicago. He now spends his time seething about this and writing about other stuff that bothers him.