Republicans' 2014 and 2016 Mantra Must Be "All Jobs, All The Time"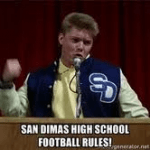 Republicans need to stop letting
Democrats beat them with the
intellectual equivalent of this
argument, courtesy of Bill and
Ted's Excellent Adventure.
As the East Coast prepares for Winter Storm J-Anus,* 'Puter thought he'd take a bit of time to lay out a conservative policy list calibrated to win the hearts and minds of moderate voters, not to mention national and statewide elections.**
'Puter's focused his recommendations on relatively non-controversial measures calculated to create or preserve jobs. After crippling losses and a nose-diving economy from 2008-2010, followed by the Great Stagnation of 2010 to (likely) 2016, Americans aren't going to give a fig about social issues. Done correctly, the 2016 elections should boil down to one issue: the economy.
If Republicans don't start pivoting to jobs and the economy right darned now, every single Republican member of Congress, their staffs and anyone in the massive political machine dedicated to electing Republicans should be fired for gross malpractice.
Both the 2014 and 2016 elections are winnable. All Republicans have to do is tie every single thing they propose back to job creation and economic stimulus. Social issues are important, but don't blow it by allowing media to force candidates to defend conservative positions on social issues. A polite, proper response to media baiters is:
Thank you for the thoughtful question. Yes, I believe abortion is a grave moral evil, and that America's current laws don't do enough to protect the unborn. But America's concerned right now about jobs.
Middle class people can't find jobs. Poor people are losing all hope of advancing from poverty. That's what Americans are concerned about now, and rightly so. We can discuss social issues once we've fixed the damage eight years of Democrat rule have done to our economy.
Then, candidates should discuss what they want to discuss: how the Republican party is going to create jobs and repair the economy.
Here's that handy list 'Puter's been promising you.
Infrastructure:
·
Build the Keystone pipeline. Doing so instantly creates thousands of construction jobs, not to mention associated jobs in nearby communities such as diners, hotels, equipment dealers and fabricators.
Too, all that oil will have to be refined, so that means jobs in Texas and whatever other state wises up and builds a refinery near a railhead, river or highway.
·
Update and harden the electrical grid and telecommunications. Again, this creates thousands if not tens of thousands of decent paying blue collar construction jobs. Someone has to pour the concrete, dig the trenches, string the line and erect the towers. It will also create white collar jobs for our computer engineers, since hardening the grid isn't limited to preventing EMP damage. The greatest threat to our utilities is hacking by hostile nations.
·
Build nuclear plants. Use federal preemption to build nuclear plants where it makes the most sense, regardless of community uproar. Again, thousands of jobs and benefits of more reliable energy service in the nearly outstripped Northeast grid. And don't forget, nuclear power is green energy.
There's absolutely no carbon emissions whatsoever.
Revenue:
·
Phase out corporate taxes altogether.
Corporations don't pay taxes, people do.
That is, if a corporation is taxed more heavily, it simply passes the increased tax cost through to the ultimate end user. Corporate taxes also cause companies to engage in uneconomic behavior, such as hiring phalanxes of accountants and lawyers to dodge the tax laws.
If there are no taxes, revenues are available to hire more people.
If corporations weren't worried about taxes, jobs would be repatriated. Americans make good products, it's the taxes that force much manufacturing overseas.
·
Phase out capital gains rates altogether. If corporations aren't paying taxes, someone has to pay.
Tax investors' gains as ordinary income by eliminating the capital gains rates.
This would discourage massive investors like Goldman Sachs from hopping in and out of stocks, as each winning trade would generate income taxable to the shareholders as ordinary income. It would also encourage investors to buy and hold, as the gains wouldn't be taxable until they were taken, so investors could plan their income taxes better.
·
Phase out all deductions of any sort altogether. This seems harsh at first glance, but coupled with flatter rates, lower compliance costs and a more generous standard deduction, many Americans would make out like bandits. Of course, for certain items like deductibility of mortgage interest and student loan interest, the phase out should be over the life of the loan, but be unavailable for any new loans. So, for example, if you have a 30 year mortgage, currently, you're fine. But if you sell and get a new house, your new mortgage's interest payments aren't tax deductible. Same for student loans. This will push housing costs down over time, as well as the price of college, since the supply of money available to pay for it will go down. Cheaper housing and more affordable college education will disproportionately benefit the lower and middle classes.
·
Move to flatter rates.
America's not going to go for a flat tax, even though it makes sense. Most Americans are still irrationally big fans of sticking it to the rich folks.
So, go to flatter rates. If there are no deductions, theoretically revenues should rise, even at lower rates.
A structure such as 10% on your first $100,000 of taxable income, 15% on your next $400,000 and 20% of everything over that. Americans should have more money in their pockets, meaning more money to spend in the economy, which should create jobs. More importantly, it decreases Washington's ability to dictate to you how you must spend your money.
·
Raise standard exemptions.
Standard exemptions should be indexed to poverty.
For example, if the poverty rate for a family of four is $30,000.00, make the standard exemption $7,500 per person, so that a poor family isn't penalized for working.
Education:
·
Phase out federally guaranteed loans except for science, technology, engineering and math. America doesn't need more lawyers or fill-in-the-blank Studies majors.
America needs engineers, and it needs a lot of them. It's nonsensical for taxpayers to subsidize kids for spending six fun-filled years at Arizona State "working" on a Sub-Saharan Animistic Religions degree with a concentration in Transgendered Aboriginal Wymyn of Color Literature while getting laid and drunk (not necessarily in that order) and living as if they were at an all-inclusive resort in the Caribbean. STEM degrees mean jobs. STEM degree holders also create business and invent world changing devices. Target student loans to the disciplines most likely to create jobs.
·
Institute a separate, federally backed blue collar training loan program for high need fields. 'Puter's thinking high end manufacturing, such as robotics. Heck, 'Puter'd be happy to extend the program to plumbers, electricians, carpenters and truckers if there's a real, demonstrated need.
America should subsidize what it needs more of. Again, train people to fill the available jobs, not the jobs people wished existed, like the guy who gets to administer "Rev." Al Sharpton's near-death beating, which he so richly deserves.
·
Ban closed shop laws in primary and secondary schools receiving federal education funding. Nothing has harmed education more during 'Puter's lifetime than the rise of public sector unions. Teachers unions exist for two purposes: (1) keep teachers on the payroll, regardless of skill or merit and (2) force laws and regulations that create more unionized jobs. In short, teachers unions, like all unions, exist to line their own pockets. If New York wants to keep its closed shop laws, fine.
It may do so. But Uncle Sam's not ponying up money to support a system proven to no longer work.
This would revolutionize education, freeing each local school district to require teachers to provide the services actually calculated to educate children, rather than those calculated to make teachers' lives easier. It would also allow teachers in high need disciplines (STEM, again) to demand higher salaries since they'd no longer be saddled by lockstep pay increases. Compare and contrast a gym teacher and a physics teacher using (1) relatively supply of qualified applicants, (2) knowledge base and (3) importance to the economy.
Get it now?
·
Restrict student visas to STEM fields, and give graduates permanent residence immediately upon graduation.
In doing so, America should limit the number of student visas available, and more thoroughly check the backgrounds of those who come before they come. Require English language proficiency and limit family visas that piggyback on this status to spouse and parents only. Derivative visas would have no piggyback rights. Again, fill known job needs not currently met by Americans while retaining the fruits of America's universities. Sending foreign engineers home after spending years educating is colossally stupid and a waste of human capital.
·
Restore and expand the District of Columbia's voucher program. Go down to DC Public School's headquarters, or better yet, the Washington Teachers Union headquarters and have a press conference on their front steps. State that no longer will a privileged few stand in the schoolhouse door, preventing poor minority children from getting an education.
Republicans fought for civil rights in the 1960s, and we're returning to our roots. Let Democrats explain why millions of tax dollars should be funneled to failed schools, rather than letting parents choose the right school for their child.
Welfare:
·
Means test Social Security and Medicaid. Yes, it sucks that 'Puter won't get his "fair share" if the government starts phasing out Social Security benefits above certain retirement age income levels. But Social Security was never intended to be a pension system.
Social Security's real name is "Old Age, Survivors and Disability Insurance." It's not a pension, it's insurance. And if fewer people were on the dole, then in theory there'd be less need for revenue, meaning lower payroll taxes, meaning lower costs for employers and employees both.
This also has the advantage of comporting nicely with Democrats' "income inequality" horseshit, so Republicans can pretend to be ameliorating the unfairness while secretly making current workers' lives better.
·
Roll Medicare, Medicaid and ObamaCare into one program for the needy and uninsurable.
Sure, it may be single payer, but that's way better than having the government nationalize one-sixth of the economy. As part of the reform, get rid of the individual mandate, permit insurers to sell across state lines and require insurers to offer a la carte menus so that "young healthies" can get high deductible catastrophic plans, parents can get more coverage for their kids than for themselves and 'Puter won't have to pay for maternity coverage any more.
Republicans would cover those who need it and free up the sclerotic insurance marketplace, all with less upheaval than the doddering ObamaCare fiasco.
·
Establish 24 hour walk in clinics next to emergency departments at major hospitals. Heck, the government can hire the darned doctors and nurses for all 'Puter cares. It's cheaper than treating the non-emergent sick in the emergency department.
Limit liability of hospitals for referring people from the emergency department to the clinic such that the hospital doesn't get sued when transferring a 12 year old presenting with bronchitis and an ear infection actually has pancreatic cancer. This proposal creates jobs, eases demands on emergency departments and saves money. Better, it improves the lives of the poor and nearly poor, giving Republicans some much needed creditability with skeptical lower income Americans.
·
Phase out welfare benefits as workers pass the poverty level.
This incentivizes able bodied poor folks to start working, and encourages working poor to work more, since they won't be penalized for earning more. The current hard cutoffs discourage people from working. Personally, 'Puter'd rather help folks who are working afford something more than a meager existence with his tax dollars than squander those same tax dollars on people who aren't contributing to the economy whatsoever.
This helps the poor as well as the taxpayer.
·
Get rid of electronic benefit transfer cards, have the United States Postal Service deliver weekly food packages to eligible families.
This is a win on every level. The USPS is broke, and it's just a matter of time before it craters.
This proposal gives unionized workers (a sop to an otherwise broken public sector union) a continued purpose and preserves jobs that are otherwise going away. It allows Mrs. Obama's food police to dictate the contents of the food package, which would be healthy.
Dried beans, canned or frozen vegetables, whole wheat pasta, eggs, fish and lean meat would abound. No more buying potato chips, popsicles and Cap'n Crunch with your "credit" card, folks. It gets rid of fraud and crime. No more sketchy neighborhood "stores" that allow you to swap your EBT cards for booze and cigarettes. Getting rid of EBT cards should preserve unionized USPS jobs, increase the health of the poor and prevent fraud. What's to lose?
Regulation:
·
Require Congressional review and reapproval of all regulations more than 10 years old.
This serves two purposes. It would force Congress to defend pork barrel giveaways and job killing laws in the light of day, rather than allowing Congress to shrug and pretend they didn't know what the regulatory agencies were doing.
It would also slow Congress down, hopefully preventing them from focusing on passing all but the most necessary laws.
So, there you have it.
You may have additional items that 'Puter's missed, and 'Puter hopes you do.
We conservatives need to talk about jobs and the economy nonstop between now and 2016.
We need to smile, but be firm and polite when media types attempt to change the subject. Most important, we need to have concrete and effective proposals for the problems besetting Americans today.
Republican should repeat this mantra over and over, until they find themselves mumbling it in their sleep: 2016: All Jobs, All The Time.
And that, friends, is how we take back our government.
* Seriously, The Weather Channel. Stop naming winter storms.

Just stop. It's not like snow storms are hurricanes, which are real natural disasters.

It's supposed to snow in the winter. Sometimes it even gets really cold and windy.

Your scare tactics do nothing more than cause old people to panic, get in their Buicks, spin out on the interstate on their way to Piggly Wiggly to clean out all the bread, milk and toilet paper like a horde of blue-haired locusts.

If you won't do it for 'Puter, do it for the children.
** Before you folks in Mississippi, Alabama, Utah and Texas start bitching at 'Puter and calling him a RINO, take a deep breath. This list is calibrated to reach people in swing states (think Ohio, Wisconsin and Missouri) and moderate voters trapped in liberal states (think California, New York and Maryland). 'Puter knows you're darned sure everyone knows that if conservatives insist on banning abortion outright, relitigating gay marriage and droning on about getting rid of food stamps altogether, they're shoe-ins in 2014 midterms.

Always right, unless he isn't, the infallible Ghettoputer F. X. Gormogons claims to be an in-law of the Volgi, although no one really believes this.
'Puter carefully follows economic and financial trends, legal affairs, and serves as the Gormogons' financial and legal advisor. He successfully defended us against a lawsuit from a liquor distributor worth hundreds of thousands of dollars in unpaid deliveries of bootleg shandies.
The Geep has an IQ so high it is untestable and attempts to measure it have resulted in dangerously unstable results as well as injuries to researchers. Coincidentally, he publishes intelligence tests as a side gig.
His sarcasm is so highly developed it borders on the psychic, and he is often able to insult a person even before meeting them. 'Puter enjoys hunting small game with 000 slugs and punt guns, correcting homilies in real time at Mass, and undermining unions. 'Puter likes to wear a hockey mask and carry an axe into public campgrounds, where he bursts into people's tents and screams. As you might expect, he has been shot several times but remains completely undeterred.
He assures us that his obsessive fawning over news stories involving women teachers sleeping with young students is not Freudian in any way, although he admits something similar once happened to him. Uniquely, 'Puter is unable to speak, read, or write Russian, but he is able to sing it fluently.
Geep joined the order in the mid-1980s. He arrived at the Castle door with dozens of steamer trunks and an inarticulate hissing creature of astonishingly low intelligence he calls "Sleestak." Ghettoputer appears to make his wishes known to Sleestak, although no one is sure whether this is the result of complex sign language, expert body posture reading, or simply beating Sleestak with a rubber mallet.
'Puter suggests the Czar suck it.