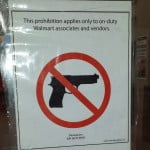 Your Mandarin received via shortwave radio signal the following comments in response to the post No Guns Allowed.
Your Mandarin snapped this picture to which the
Czar commented, "What, did they run out of rob us signs?"
The first comes from operative μολὼν λαβέ with the following observation:
Your post, mentioning the fact that "No guns allowed" signs are actually "Victims here!" signs remind me of a story from perhaps 5 years or more ago. If I remember the details correctly, Minnesota expanded their concealed carry law, and a number of restaurants rushed to put "No guns" signs up. The story was that a number of criminals correctly read what those signs actually mean and began robbing such stores, while conspicuously leaving alone restaurants without the signs. I distinctly remember a still from a CCTV camera showing someone standing in the doorway just outside a metal detector, pointing a gun inside. As I heard it, as soon as restauraunt owners realized what was going on, a number of them took down the signs immediately, some going so far as to put up signs to the effect that "we welcome our patrons with concealed carry permits."
And the second comes from friend of the Gormogons, Retired Spook who questions what obligation a business has to protect its patrons if said business will not allow their patrons to protect themselves:
Just a thought, but it might be useful to point out that should a CCW holder be attacked, robbed or injured while complying with the GFW demands, that they might well have grounds to sue. Not sure what the legal perspective is on that, but seems like demanding that I surrender my right to self defense, in order to do business at your establishment then places a requirement on you to provide adequate protection. Failure to do so, while prohibiting me, a legally certified and licensed CCW holder, from providing my own defense, would be deemed contributory negligence. (Not sure about that last, but it sounded familiar, harking back to the Westroads Mall shootings several years ago in Omaha, NE. At least one of the wounded was a CCW holder who had been required by mall "safety procedures" to leave his/her firearm in the vehicle while shopping.)
By all means, if a business puts up a No Weapons Allowed sign call them on it. Explain that you'd love to shop there, but refuse to accept victim status in order to do so. And on the flip side, when you patronize a business, let them know that one of the reasons you shop there is because they allow you the right of self defense, and that you appreciate being able to protect yourself and your loved ones in the event of unpleasantness.
Water isn't much, but it created the Grand Canyon.
The Second Amendment and the right, or more accurately the obligation of people to protect themselves and their families are subjects near to what passes for your Mandarin's heart. You are responsible for the safety and security of yourself and your family, and you are the first responder when a crisis strikes you. The police and fire departments are essential to maintain order and provide assistance in times of emergency, but they are only able to react once something bad has already happened to you. Wouldn't it be reassuring to you that you have taken the reasonable steps – concealed carry, self-defense classes, first-aid classes, or avoiding questionable situations when possible – to provide a means to avoid becoming a victim?

The Mandarin, whose real name is 吏恆, joined the order in 1309, and introduced the Gormogons into England during the 18th Century.
The Mandarin enjoys spending time with his pet manticore, Βάρἰκος, or Barry (who can be found in the Bestiary). When not in the Castle…well, frankly, nobody is quite sure where he goes.
The Mandarin popularized the fine art of "gut booting," by which he delivers a powerful kick to the stomach of anyone that annoys him. Although nearly universal today, the act of gut booting or threatening someone or something with a gut boot is solely due to him.