'Puter Fixes Flood Insurance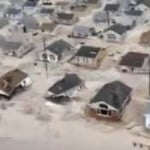 Sorry, folks. It's long past time you started paying
your own bills for your risky, beachfront properties
instead of sticking Kansans with the bill.
Actions have consequences. Unless, of course, Washington politicians insulate you from your action's consequences with a generous application of other people's money. And that's the federal flood insurance program in a nutshell.
People who live in flood zones know or should know there's a very real possibility that their home will be destroyed by a flood in any given year. That's why they're called flood zones. Duh.
But Americans like living by the water, and Americans can vote. Therefore, Congress came up with the federal flood insurance program, where, until very recently, home owners paid a fraction of the premium their risk merited. Taxpayers were stuck with the difference.
Things went along fairly well until multiple hurricanes in major areas in a short span of time depleted the federal flood insurance program's reserves. Basically, the flood insurance program was broke. In stepped Rep. Judy Biggert (R-IL) and Rep. Maxine Waters (D-BatShitCrazy) with their Flood Insurance Reform Act.
This Act required home owners in flood zones to bear the actual cost of their premiums. Shockingly, thanks to an unholy marriage between fiscal hawks on the Right and looney environmentalists on the Left, the Act passed.
Now the Act is in trouble. Americans living in flood zones started getting their accurate insurance bills, and they didn't like what they saw. Many people's premiums went up four times. Some people's premiums went up as much as ten times. One woman mentioned in the New York Times article (linked above) had her insurance on a $90,000.00 home go from $595.00 annually to $4,492.00 annually.
To which 'Puter says, "Tough toenails, lady." It takes an incredible amount of gall to have collected a $4,000.00 annual subsidy from her neighbors for years to bitch and moan when her neighbors who don't live in a flood zone finally tell her to pay for her own damned living expenses.
To be fair, phasing in the increase over a number of years would've been a better way of reforming the out of whack market, but the end result would be the same: welfare recipients (because that's what flood insurance purchasers are) complaining they have to bear the consequences of their actions.
If 'Puter were redesigning the federal flood insurance program, it would go like this:
·
Policyholders who currently have flood insurance can keep their flood insurance until they move, they cancel the policy, they fail to pay the annual premium or they make a claim.
·
For current flood insurance policyholders, premiums will be trued up to the actual risk premium over a 10 year phase-in period.
·
If a policyholder submits a flood insurance claim, the government will pay the full amount of that claim, and then cancel the policy.
If the homeowner does not rebuild the home within one year, the federal government may purchase the property at the property's damaged value, less any payment made to the policyholder.
·
As an alternative to submitting a flood insurance claim, a policyholder may at his sole option request the government purchase his property at its undamaged fair market value.
The government will then raze the structure.
·
No property purchased under these provisions may be built upon again, whether by private owners or government.
·
The state government with jurisdiction over the property shall have the absolute right to purchase the property from the federal government at any time in the future for the federal government's cost plus interest at the judgment rate.
·
The federal government will no longer issue new flood insurance policies, nor may the federal government guarantee or otherwise spend any funds on mitigating the cost of flood insurance policies in the private market.
·
Private insurers may cover flood risk, if they choose, but cannot be required to do so. Insurers may change a premium reflecting the actual risk of flood damage to the property.
·
State insurance regulatory agencies may regulate private flood insurance policies as they would any other insurance policy. However, state regulators may not require an insurer to offer flood insurance in a jurisdiction as a condition of selling any other type of insurance.
'Puter's plan is genius.
It gets the government out of the flood insurance market, thereby letting private insurers charge policyholders the full cost of their risky behavior. It discourages building in flood zones, which tend to be ecologically sensitive areas, making the hippies happy.
Over time, neighborhoods along the coast would either disappear or become built with properties owners could afford to self-insure. Either way, the taxpayer wins.
As a bonus, the government would have a nice selection of waterfront property it could designate parkland, returning it to the public use.
Again over time, the property would revert to its natural state, providing a buffer zone for properties sensibly built farther away from the flood risk.
'Puter knows his plan would meet stiff resistance from, say, every Washington politician with a beachfront home on the Delmarva, not to mention residents of Miami and New York City.
But let's be realistic.
If you want the beauty and convenience of living on a beach, then you should pay for it.
It's not 'Puter's job to subsidize your housing choices any more than it's your job to subsidize his.

Always right, unless he isn't, the infallible Ghettoputer F. X. Gormogons claims to be an in-law of the Volgi, although no one really believes this.
'Puter carefully follows economic and financial trends, legal affairs, and serves as the Gormogons' financial and legal advisor. He successfully defended us against a lawsuit from a liquor distributor worth hundreds of thousands of dollars in unpaid deliveries of bootleg shandies.
The Geep has an IQ so high it is untestable and attempts to measure it have resulted in dangerously unstable results as well as injuries to researchers. Coincidentally, he publishes intelligence tests as a side gig.
His sarcasm is so highly developed it borders on the psychic, and he is often able to insult a person even before meeting them. 'Puter enjoys hunting small game with 000 slugs and punt guns, correcting homilies in real time at Mass, and undermining unions. 'Puter likes to wear a hockey mask and carry an axe into public campgrounds, where he bursts into people's tents and screams. As you might expect, he has been shot several times but remains completely undeterred.
He assures us that his obsessive fawning over news stories involving women teachers sleeping with young students is not Freudian in any way, although he admits something similar once happened to him. Uniquely, 'Puter is unable to speak, read, or write Russian, but he is able to sing it fluently.
Geep joined the order in the mid-1980s. He arrived at the Castle door with dozens of steamer trunks and an inarticulate hissing creature of astonishingly low intelligence he calls "Sleestak." Ghettoputer appears to make his wishes known to Sleestak, although no one is sure whether this is the result of complex sign language, expert body posture reading, or simply beating Sleestak with a rubber mallet.
'Puter suggests the Czar suck it.