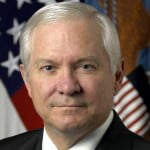 The media is starting to realize that former Defense Secretary Robert Gates did not do the Democrats any favors with his memoir. Operative BJ wants us to know that Gates, frankly, did no one any favors with his memoir:
O awesome and awe-inspiring One,

Defense Secretary Robert Gates. Gates is the only DefSec to serve consecutive presidents from two different parties.

This one begs to approach and comment on the commentary going around the intarwebz regarding a book named "Duty," written by a past Secretary of Defense of the United States of America. I have not read this book, but there are sufficient context-based quotes to give this one a fairly good idea of both how Gates feels about the boy-king Obama, and how the boy-king Obama felt (yea, and even feels today) about his (the boy-king Obama's) relationship with his minions. More on Gates in a moment.

The comment on the commentary that this one wishes to make is a simple one: why does anything in this book appear to be a surprise? Seriously: why? Perhaps some feign surprise because they do not wish others to know that they allowed their own self-interest to push aside love of country. Or perhaps some feign interest because they profited (both in political influence and in gold) by supporting a boy-king with no record of even a single beheading.

No, there should be no surprise. Gates' book is not as revealing as he and certain others may think it is. The "I'm shocked – shocked!" reaction by the sycophantic Media is even more self-serving than the boy-king's comments about his support – or, more accurately, lack of support – for those in uniform in any capacity in this country. His disdain for them is clear: they are only fit to hold his umbrella in the rain. Gates' comments only put additional evidence on the table that the boy-king Obama is willing to use the military to advance his personal agenda and to avoid personal embarrassment, much as the Czar has done in the past.

Clearly, it is sad but true: Soldiers died for Obama's pride.

O fearsome one, this lowly minion suggests you might be able to learn a lot about tyrannical rule in a MODERN-day state from the boy-king Obama. After all, the boy-king has managed to effectively suppress and scatter his opposition without the use of the sulitsa or oslopi, but by the use of government-imposed financial coercion, ever-changing and conflicting regulations, the appointment of (I beg your forgiveness for the word) "czars" to invent new political powers out of whole cloth, the refusal to enforce existing law as written, and the authoritarian (and un-Constitutional) wholesale modification of existing law.

Regardless of how "the Media" (may their names be written in the Scrolls of Those First Up Against The Wall When The Revolution Comes) has misreported and twisted the boy-king's actions, some of The People have allowed themselves to be satisfied with modern-day panem et circenses: Obamaphones, EBT cards, and never-ending unemployment (and then, when that runs out, disability) payments. The People are complicit in their own demise and are satisfied in it. And the boy-king's opposition has nothing to offer The People except a promise of a return to a nonexistent "shining city on the hill."

Whether Gates is a hero or a coward for writing yet another Washingtonian insider "tell-all" book is immaterial. There are those still serving in the military who are being subjected (and subjecting others) to personal whims, whether originating from the civilian body politic or from a need to position oneself for promotion. And there are are those still serving in elective office whose actions, evidenced by their vote, reveal that they are more interested in paving their personal road to reelection than repairing the road to this country's prosperity.

By writing this book after leaving office rather than standing up for principle while in office, Gates shows himself to be one of those more interested in protecting his self interest than in protecting America's interests. For that reason alone, I am unaffected by Gates' writings or his pleading for "understanding." I find him to be neither hero nor coward, neither prescient nor reflective. Instead, I find him boring and uninteresting, and I find his television interviews, most of which ask the "why did you write this book" question to be yet another 3am pabulum feeding and a suitable "see, we told you so" diversion for the boy-king's minions.

Having run for office twice – and lost twice – I understand the dual needs for embellishment (of one's past) and avoidance (of one's past) by a candidate. But, because I am also a Navy Veteran and put service to country ABOVE service to self, and because I abhor liars and would not become one myself, I always have and always will refuse to surrender to political expediency to gain political power. What kind of hypocrite would I be if I lied to get into office and then claim to have told the truth to get there?

The answer is: I would be the boy-king Obama.

I remain your obedient servant, willing to feed myself to the crocodiles in the moat upon your command.

Божію Поспѣшествующею Милостію Мы, Дима Грозный Императоръ и Самодержецъ Всероссiйскiй, цѣсарь Московскiй. The Czar was born in the steppes of Russia in 1267, and was cheated out of total control of all Russia upon the death of Boris Mikhailovich, who replaced Alexander Yaroslav Nevsky in 1263. However, in 1283, our Czar was passed over due to a clerical error and the rule of all Russia went to his second cousin Daniil (Даниил Александрович), whom Czar still resents. As a half-hearted apology, the Czar was awarded control over Muscovy, inconveniently located 5,000 miles away just outside Chicago. He now spends his time seething about this and writing about other stuff that bothers him.