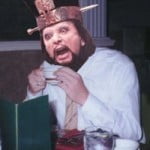 We don't always make the news, but we did the other day. Here is a review of one of our favorite hangouts, the Leaping Peacock, which is just across the road and down a bit from the Castle Gormogon. This is taken from the Leng Penny Saver, and if we can find the online link, we will definitely supply it.
Eats, Fun, Debauchery
The Leaping Peacock, a Leng mainstay since 1965, is still the place you remember. Renovated last in 1992, as well as after any recent structural damage, you can enjoy drinks, decent food, and loud music in elegant birch paneling and white gypsum ceiling surrounded by what have to be incredibly plastic ferns. Large screen television ring the walls, but you don't come here to watch the game. No sir, you are here to watch the infamous neighbors from across the street come and make fools of each other.
That's right, on a given week, you will find quite a few of the Gormogons here. Whether it is the Czar of Muscovy attempting to criticize our staff's knowledge of a whiskey he just heard about and still got wrong, or Ghettoputer enjoying a rum and Quisp, or even the elusive Mandarin sipping a Bombay Sapphire and Tonic, you really know you want the floor show.
The Gormogons' own Volgi enjoys a liao drug and coffee not otherwise fit for human consumption on most mornings.
And what a floor show! We call it that because most of the vomit ends up there. But be wary: the Gormogons usually do not drink themselves into physical eruction: it's the visitors who think they can take on centuries-old madmen at a game they perfected during the Renaissance.
Ruspin Waterbooth, the owner, enjoys the whole affair. "On a given night, we have about eight regulars and maybe twenty visitors or locals coming by. With that, we pull in something like ten grand a night in receipts and it's mostly those guys," he explains, jerking a thumb toward the Castle.
As explained in the Gormogons' own Visitors' Guide, "approach their table with caution as alcohol makes them prone to violence or, at best, prone to stick you with their substantial bill."
Try the Doctor Octopus (Dr. Pepper and Kraken Rum), or Bang!LaDesh, a crazy blend of Indian Scotch and curry juice. In the mood for eats? Long-time cross-eyed chef Judd makes a great pub burger, and all his corn dogs are homemade—not the melamine-crusted stuff from China you get everywhere else.
Tip: be here on any night that the Blackhawks, Predators, Sabers, Capitals, or Flyers are playing if you want to see the boys get into a fist fight with anything that moves. Sometimes 'Puter likes to act out his favorite "goalie moves," which do considerable damage to property and smaller people.
$ (food) – $$$$$ (drinks, if you swig with the bigs)
Cash or credit – due to the Castle's visitor loads, a wide variety of currencies from other lands and times are accepted. No δραχμαί after 14BC accepted.
Reservations: not taken
Children: not recommended if Ghettoputer is there, and Mandarin and Dr. J. have godawful potty mouths
Note: Czar throws objects and sticks them into the paneling usually on Thursdays and Saturday afternoons. Sit on the East or North.

Божію Поспѣшествующею Милостію Мы, Дима Грозный Императоръ и Самодержецъ Всероссiйскiй, цѣсарь Московскiй. The Czar was born in the steppes of Russia in 1267, and was cheated out of total control of all Russia upon the death of Boris Mikhailovich, who replaced Alexander Yaroslav Nevsky in 1263. However, in 1283, our Czar was passed over due to a clerical error and the rule of all Russia went to his second cousin Daniil (Даниил Александрович), whom Czar still resents. As a half-hearted apology, the Czar was awarded control over Muscovy, inconveniently located 5,000 miles away just outside Chicago. He now spends his time seething about this and writing about other stuff that bothers him.