Happy Birthday Macintosh!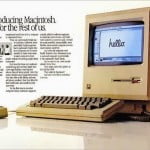 Ole' Grandaddy
Dr. J. is the official Apple Aficionado™ of the Gormogons.
While the love of Apple by the other Gormogons range from mild amusement, to grudging admiration, to apathy, to outright loathing, Dr. J. is the water carrying fanboy.
Dr. J. cut his computing teeth on Apple ][+'s back in 3rd, 4th and 5th grade, his parents getting him a //e for his birthday in 1984. He first dabbled with the Mac when two of his friends got them. They were a fine machine but limited due the the lack of new offerings and the 400K floppy drive (which while larger than the 143K floppies we were used to) required quite a bit of swapping of discs.
During his senior year, Dr. J. outgrew his //e, something made readily apparent as he was writing a 60 page paper for English class. He convinced his dad to buy him a Mac SE/30, perhaps the best Mac, adjusted for computing era, ever made.
That Mac lasted Dr. J. through college, and only the advent of the internet and need for color computing in medical school forced him to upgrade to a next generation Mac.
Dr. J's gone through a legion of Macs over thirty years. The SE/30, PowerBook 145, Power Macintosh 7200, PowerBook 1400CS (the worst of the bunch, due to a narrow bus), G3 B&W tower (Rev 1), Powerbook G4 Titanium, liquid cooled G5 tower, 15″ Macbook (Mrs. Dr. J.), 17″ Macbook Pro, 15″ Macbook Pro (current) and an iMac 27″ (current home computer).
How do you like them Apples?
You've come a long way baby!
Seriously, he's liked them because they're easy and they work.
Some have been better than others.
Dr. J. loved the expandability of his G3 B&W, and the flexibility of some of the earlier OS's (7.6.1) but, he grudgingly appreciates the stability offered by a closed system (which he's hacked on the down low, but don't tell anyone). He also doesn't miss peripherals that stopped being standard (e.g. floppy drives, zip drives, though he's chaffed about the lack of a serial port that he can run his LaserWriter LS on. Best printer EVER). He does wish there was a Blu-Ray drive, but that's because he loves him some Blu-Ray discs. Even then, he's slowly moving away from DVD/Blu-Ray's and the iMac is a hub of his home entertainment system.
Apple has a feature on 30 years here!
Go check it out.
But, Dr. J. wants to wish Apple a happy birthday with a rebroadcast of that kick ass Orwellian Ridley Scott advertisement. Big Brother's not the 7th Gormogon, BTW. Oceania is small potatoes compared to Muscovy, Mongo, the Middle Kingdom, The Empire™, the Rumpus Room, and whatever GorT's got going.