E.J. Dionne: Republicans Are Stupid Poopy-Headed Meanies BECUZ SOSHUL JUSTISS!!1!eleventy!!!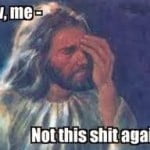 Jesus reads the Washington Post religiously and
is not amused with E.J. Dionne citing Him as authority
for every hare-brained liberal scheme on the planet,
especially those that harm – not help – the poor.
Ah, E.J. Dionne. Is there a better object lesson in the cancerous effect of liberal ideology on logic and reason? If there is, 'Puter can't think of one, except maybe Maureen Dowd, who doesn't count since she's really not human but an amalgam of feminist tropes and Bill Clinton's macho gazpacho. Like
Pinocchio, but way grosser.
Every Monday Mr. Dionne takes to the Washington Post's opinion pages to share his "wisdom" with the world. And every Monday, 'Puter's head hurts from the stupid Mr. Dionne inflicts on his readers. Today is no exception.
Mr. Dionne's column is helpfully titled The Social Justice Majority. As 'Puter's readers know, we can immediately discount any argument from the Left that follows the words "social justice." To the Left, "social justice" means "giving core Democrat constituencies 'free' crap with your money."
Mr. Dionne queries why "is it so hard to extend unemployment insurance at a time when the jobless rate nationally is still at 7 percent and higher than that in 21 states?"
'Puter assumes Mr. Dionne's question is rhetorical, but 'Puter's a simple man and doesn't know what rhetorical means, so he'll answer it. It's hard to extend unemployment benefits because, for much of the last 5 years, unemployment benefits have been available for 99 weeks. For those of us who are bad at math, that's nearly two years.
Sure, losing your job sucks, especially when it happened through no fault of your own. And 'Puter acknowledges that the job market is tougher than it has been at any point during his 40 plus years on this earth, but goodness gracious, at a certain point we each have to stand on our own. It is not fair to continue to take from workers and give to the unemployed for 99 weeks. After two years, it's fair for the payors to expect the payees to seek charity, go on the dole or go it alone.
Further, it's not as if ending extended unemployment benefits equates with throwing the unemployed to the wolves. Federal unemployment benefits last 26 weeks, fully half a year. Many states like 'Puter's adopted and hated state of New York offer additional benefits. We are not taking anything away from the unemployed. Rather, we are returning to the longstanding status quo.
Similarly, Mr. Dionne states "raising the minimum wage wasn't always so complicated." He further posits (without evidence of any type, 'Puter might add) the minimum wage is "just a way of spreading the benefits of economic growth."
False. The minimum wage is a regressive tax on the poor, and it's also a job killer. See, Mr. Dionne, when the minimum wage rises, the cost of the goods and services produced by minimum wage dependent employers increases. That's everything from fast food to groceries to clothing to toys. You know, the cheap goods that poor people buy to make their lives a little bit better. You may pay the poor more (assuming they're working in the first place and not on the dole), but it'll cost the poor more to live. As always, the rich might notice the price increases, but it's not going to affect their standard of living.
Then Mr. Dionne lays on us the entire point of his column: wrongheaded and contradictory Democrat programs are the one true way to salvation for America because social justice. Really. That's Mr. Dionne's entire argument. You don't have to take 'Puter's word for it. Here's Mr. Dionne, in his own Crayola-scrawled words:
But on core questions involving social justice, we are far more united than our politics permit us to be. A survey released at the end of December by Hart Research, a Democratic polling firm, found that Americans supported extending unemployment insurance by a margin of 55 percent to 34 percent. Several recent surveys, including a Fox News poll, found that about two-thirds of Americans support an increase in the minimum wage.
This leads to two conclusions. The first is that most Americans broadly accept the New Deal consensus. We may disagree about this or that regulation or spending program. We may squabble over exactly how our approaches to policy should be updated for a new century. But there is far more agreement among the American people than there is among Washington lobbies, members of Congress or political commentators on the core proposition that government should help us through rough patches and guarantee a certain level of economic fairness.
The second conclusion is that we have to stop letting the politics of culture wars so dominate our thinking that we forget how much we share when it comes to life's day-to-day struggles and what we can do to ease them. Disputes over personal morals and lifestyle choices may get more page views or rating points, but they do little to improve anyone's standard of living.
See? If a majority of Americans agree on a policy or program, our federal government is duty-bound to implement it, no matter how horrible an idea it may be, no matter how many people it may injure. 'Puter's certain Mr. Dionne fully supports strict limits on abortion, including a total ban on partial birth abortions and no third trimester abortions since a majority of Americans favor these policies.
As to Mr. Dionne's first conclusion, let's just say that Mr. Dionne's data doesn't support his conclusions. It's the Super-Awesome, Ultra-Cool E.J. Dionne Underpants Gnome Theory of Social Justice:
1.

Americans today (in one or two polls) claim to support extending unemployment insurance benefits and increasing the minimum wage.
3.

Everyone loves the New Deal!
As to Mr. Dionne's second conclusion, who said anything about "culture wars" in connection with either the minimum wage or unemployment benefits?

'Puter didn't say anything. 'Puter's fairly certain Czar didn't say anything, either, but 'Puter hasn't seen Czar since last night's all-you-can-drink haddock and hefeweizen smoothie night down at the Leaping Peacock. Where're the roving bands of hard-Right barbarians out to purge America from the scourge of unemployment insurance and the minimum wage (this they know, because the Bible tells them so)? Let 'Puter give you a hint. There aren't any. Mr. Dionne's blowing smoke.
Look, Mr. Dionne, reasonable people can disagree with liberal tropes on the benefits of raising the minimum wage to eleventy-gajillion dollars an hour or extending unemployment benefits for the recipient's lifetime, plus adding a death benefit for his surviving family members and their children ad infinitum. Impugning our humanity for refusing to further cripple the poor and unemployed by making them government dependents in perpetuity isn't an argument, it's an admission you've got nothing except overwrought emotional wailing to counter our economic arguments.
When E.J. Dionne must resort to so-called "social justice" to support his preferred statist solutions to economic problems, we're winning.

Always right, unless he isn't, the infallible Ghettoputer F. X. Gormogons claims to be an in-law of the Volgi, although no one really believes this.
'Puter carefully follows economic and financial trends, legal affairs, and serves as the Gormogons' financial and legal advisor. He successfully defended us against a lawsuit from a liquor distributor worth hundreds of thousands of dollars in unpaid deliveries of bootleg shandies.
The Geep has an IQ so high it is untestable and attempts to measure it have resulted in dangerously unstable results as well as injuries to researchers. Coincidentally, he publishes intelligence tests as a side gig.
His sarcasm is so highly developed it borders on the psychic, and he is often able to insult a person even before meeting them. 'Puter enjoys hunting small game with 000 slugs and punt guns, correcting homilies in real time at Mass, and undermining unions. 'Puter likes to wear a hockey mask and carry an axe into public campgrounds, where he bursts into people's tents and screams. As you might expect, he has been shot several times but remains completely undeterred.
He assures us that his obsessive fawning over news stories involving women teachers sleeping with young students is not Freudian in any way, although he admits something similar once happened to him. Uniquely, 'Puter is unable to speak, read, or write Russian, but he is able to sing it fluently.
Geep joined the order in the mid-1980s. He arrived at the Castle door with dozens of steamer trunks and an inarticulate hissing creature of astonishingly low intelligence he calls "Sleestak." Ghettoputer appears to make his wishes known to Sleestak, although no one is sure whether this is the result of complex sign language, expert body posture reading, or simply beating Sleestak with a rubber mallet.
'Puter suggests the Czar suck it.