Book Review: Miracles and Massacres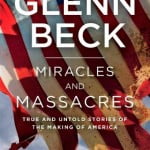 The Czar finished reading the Mandarin's copy of Miracles and Massacres: True and Untold Stories of the Making of America. This is Glenn Beck's latest work, and it has 304 pages that recount twelve different events in American history. Actually, if you subtract his notes and a weird, rambling afterword, the book is considerably slimmer.
The twelve chapters recount mostly forgotten or misunderstood events ranging from pre-Revolutionary America up to the September 11th attacks. Beck chose well: the events fall into three categories: events that nobody really remembers, events you think you knew, and events you know well but may not know some of the amazing coincidences that link events together.
Beck chose to present these as historical fiction: rather than read a dry account, he presents them as scenes from action movies, complete with dialogue and sound effects. In the reference section, Beck very carefully delineates what events were recreated or reimagined, which characters were composites or creations, and what dialogue was scripted. Generally, this will be easy to tell: for example, Beck's dialogue for Al Capone is much more in line with Robert DeNiro's style and delivery from The Untouchables more than Capone's actual persona. It may not take the reader long at all to determine where Beck's influences come from.
The Czar had a couple of issues with the book. Chief among them is the abuse of jump cuts: Beck breaks events to scenes, which he headers with date, time, and location in bold text. Initially useful, like a caption on a movie scene, this gets distracting quickly, especially when there are three for every two pages in some parts. The reader no sooner gets into the event being described and wham: another jump cut to the next day or a different location. This got tedious quickly.
Also, the Czar does not feel the recreated dialogue gets the correct feel for the historical period. Verbal anachronisms abound, and much of the technical chatter is incorrect as presented. This results in the movie having more of a Hollywood movie novelization than a dramatic retelling of curious events in American history. Beck may have authored many more novels than the Czar (who has authored none), but Beck still needs to hone his ability to write convincing dialogue.
That said, the twelve sketches are all very good, and readers hoping to find some political distortions to skewer are certain to be disappointed: there is little political commentary at all, and what exists is fairly accurate. Beck gets his historical facts right, although he is often loose when recreating scenes.
Overall this is an interesting concept, and there are a few chapters definitely worth reading. But overall, the feeling we had completing the book was eh. Get a copy from the library, flip through a chapter or two, and see whether you like it. But if not, you're okay. This is one you can get away with missing.

Божію Поспѣшествующею Милостію Мы, Дима Грозный Императоръ и Самодержецъ Всероссiйскiй, цѣсарь Московскiй. The Czar was born in the steppes of Russia in 1267, and was cheated out of total control of all Russia upon the death of Boris Mikhailovich, who replaced Alexander Yaroslav Nevsky in 1263. However, in 1283, our Czar was passed over due to a clerical error and the rule of all Russia went to his second cousin Daniil (Даниил Александрович), whom Czar still resents. As a half-hearted apology, the Czar was awarded control over Muscovy, inconveniently located 5,000 miles away just outside Chicago. He now spends his time seething about this and writing about other stuff that bothers him.