An Extra Wet Male Bag!: Federal Flood Insurance Edition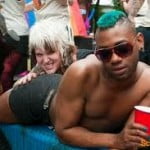 Czar takes a break from his taxing hike during the
Plateau of Leng's first and only Pride Parade.
The parade was discontinued after a freak rainbow
focused the light from our quasar sun, instantly
vaporizing all organic material, leaving behind a tangle
of fabulous costumes that took Dat Ho 3 days to pick up.
At the last Gormogon conclave, conveniently held on Tuesday in Atlanta, Georgia in the middle of I-85 at 1:30 PM local time,* Czar made the following observation. "You know, 'Puter, I'm always surprised at the posts that generate the most reader feedback." Just so, Czar.
'Puter quickly received lots of feedback on his 'Puter Fixes Flood Insurance post from yesterday. Who knew folks would get so worked up about something as mundane as flood insurance? In the grand scale of government rip-offs, the federal flood insurance program is a piker.
From the "'Puter, nice effort, but maybe a little more math and science would help" wing of operatives, Operative MC writes in (lightly edited by 'Puter for readability):
1) For many areas, the government does not have a good idea on the risk involved. This is especially true for river areas that do not commonly (>50 years) flood. They are guessing based on limited real-world experience and computer modeling. The ones that are badly at risk of flooding are obvious, and the ones that are at an astronomically small risk of flooding are obvious. But anything between about a 50 to 1,000 year return event are a crapshoot, and obviously the risk (and premium) during a home's lifetime are very different in this range.
2) Cap the total amount paid on a property. If the property has a value of $200K in constant dollars, it will pay out only $200,000 – ever (but see (3) below). That way the government is on the hook only once. The property owner would balance their interest in filing smaller claims against that lifetime cap. Payout caps would be adjusted over time based on some measure of valuation or inflation (which could be dicey).
3) Improvements would be at more risk to the person making the improvements. For example, if an owner has a $200K property and puts a $50K addition on the property, the owner should be at risk for, say, half that improvement. The property would now have a new cap of $225K for flood insurance. That risk is transferred to the buyer in the form of a cap lower than the valuation and would be disclosed at purchase. This would require an arbitrary starting point where full valuation is protected, but let's not have that interfere with our dream here. I don't think we want to prevent any property upgrades in a flood plain, but the risk should be more on the one making them not the government.
4) Buyout/cancellation would require a claim to exceed a certain fraction of the value. A 5% claim should not trigger a buyout option, or people might buy properties speculating on getting a buyout. Property could be resold to anyone, but would never again have flood insurability. How this mixes with previous claims and caps I'd have to noodle some more.
5) Property owners who own uninsurable property would be ineligible for any FEMA disaster claims for losses on that property. Maybe OK on temporary relocation expenses. I'm not sure if such claims can happen legally, but it seems a lot of people get federal disaster relief for uninsured flood losses which ruins the whole idea of insurance (just like Obamacare and guaranteed insurability).
Operative MC
From the "'Puter, you don't know jack about flood insurance, living in your cushy Upstate manse nine miles off Lake Ontario and twelve miles from the Genesee River, and which are frozen solid fourteen months a year anyway, you dipstick" wing of operatives writes Island Dweller (who actually lives on an island) (edited by 'Puter for length and readability):
Dear 'Puter:
[Deleted justified and funny bashing of Rep. Maxine Waters (D-HatesRichWhitePeople)]
$90,000 on this island would get you something like a VERY SMALL one-bedroom starter bungalow, nothing more than a glorified doghouse, really. I guarantee you it wouldn't be on the beach. I guess things are a little different in New York. Ours is worth about $140,000 and it's definitely a small house.
I can tell you what the practical application of this rule has meant, down here. Folks who live away from the beach, but still in a flood zone, are having their premiums rise to the point where they are having to sell their homes. Not all of them are custom-built homes. Basically, they're what up North would be called "ranch homes." These people are mostly not wealthy, since they're not living on the beach, right? They do, however, work at area businesses or are in some cases small business owners.
What's coming as a result of this premium boost? I predict these things:
1) Right on the beach, only monstrously huge three-story homes belonging to the very wealthy will exist. They can afford the insurance.
2) If the homes aren't built, what you get instead are condos whose units are rented out to the effete wealthy or, worse, their kids (at about $1,500 per night, or about $7,500 per week). The insurance costs will be passed on to the renters, or to the public at large through some sort of subsidy the wealthy will (guaranteed) work out in the state legislature with their "bought" congressmen.
3) Visitors still want to go to the beach. They normally have to park some distance from the water then walk. These pathways lead between private properties via public beachfront access walks. The wealthy fight these tooth and nail since they tend to "disrupt" their tranquility. Therefore, beach access is restricted as is parking, and it is much more difficult to visit the beach with your kids. It certainly isn't hassle free.
4) On this island we have a land trust, composed of wealthy individuals who buy up select tracts of land and, supposedly, keep them in their natural state "in perpetuity" (although one suspects this requirement could be conveniently overlooked for the right price). Oddly enough, the land isn't bought on the beach but rather in the island's interior. Only the government has beachfront property they leave as is. Beachfront = $$$. That land won't go idle. Your idea of the government razing flooded structures is a good one – provided it is ironclad the land will always, repeat always, remain undeveloped.
5) Based on observations in "4)," I believe this undeveloped or "trust" land will be used for condo construction (LOTS of them down here, they generate a lot of tax revenue for the county, more than a home of comparable size on the same land).
6) I should mention beachfront property owners frequently have to foot the bill for anti-erosion measures on their property the EPA/state deem are essential, and can be fined if they fail to do so. This action benefits everyone (the repairs, not the fines).
[Deleted justified bashing of rich Northern snowbirds raising housing prices and ruining local culture]
I think what percentage of a premium you pay for flood insurance should be based on a sliding income scale. If your name is Biden, and you own a home on a river connecting to the ocean, or on a beach in Delmarva, you should pay 100% of your new or existing premium yourself. If you can build and maintain a home with a boathouse right on the beach you've got the dough to pay all your own insurance. If you own a multi-family structure such as a condo, or series of condos, regardless of location within a flood zone, you're likewise doing all right and can similarly afford 100% of the premium. If your name is Joe Btsflk, you break a sweat for a living, and you live in a $100,000 home away from the beach on an island (if it were on the beach it wouldn't be worth $100,000, now, would it?) you should get some help. You've got just as much right to live there as any wealthy boor (not calling the above a "boor," but we've got some here, believe me) and should get some help, and not lose your home because you've got to meet the same percentage of insurance premium as your quite wealthy neighbor 1/2 mile down the road.
[Deleted justified fears of wealthy sealing off beach access for everyone else]
Island Dweller
Last but not least, from the "'Puter, your high-falutin' ideas are nice, but if you want practical solutions, ask an engineer" wing of operatives writes Operative ERC (whom 'Puter would like to call Operative Bob the Builder, because that's engineering to 'Puter):
Dear 'Puter:
After your excellent program is instituted, future problems could be easily mitigated by doing as they do in the Philippines and put house "up one story."
We actually have a requirement in parts of the (SF) Bay Area, where the first habitable floor of a building must be located above a certain designated elevation. You can have non-habitable space below that level, but it must have adequate "flood vents" so that if a flood occurs, the water she is run in and later, run out.
After Katrina, I suggested to my then in-laws in Plaquemines Parish, that replacement houses should have a steel of masonry first story, up as far above the adjacent ground as the Katrina waters came … or a little more. The idea was you would park your vehicles under the living level most of the time, drive them away to higher ground when the storms came, then return when the waters went out. And if anyone stayed behind to guard against looting, just tether a boat to the upper story for getting around and rescuing others less provident.
Other parts of the world live with floods with varying degrees of success. As you say, our way ain't workin'.
Operative ERC
So there you have it. Three excellent responses, each valid in its own way, to 'Puter's thoughts on federal flood insurance.
'Puter may, or may not, have thoughts on these very good responses later.
As always, write in. Most of us, most of the time, will respond and/or feature you in a Male Bag edition, though Czar insists on using the much less fun Mailbag tag.
* Don't be like that. It's not as if anyone in Atlanta was using I-85 anyway. If Atlanta had wanted to use the interstate, they surely would have salted the roadway in advance of the well-forecast storm. Heck, Mandy even made it easy for Atlanta, personally calling both Mayor Kasim Reed and Governor Nathan Deal to let them know your Gormogons were going to cause a minor winter storm to drop a quick two inches of snow on the region to free up the otherwise busy interstate for our conclave.

Always right, unless he isn't, the infallible Ghettoputer F. X. Gormogons claims to be an in-law of the Volgi, although no one really believes this.
'Puter carefully follows economic and financial trends, legal affairs, and serves as the Gormogons' financial and legal advisor. He successfully defended us against a lawsuit from a liquor distributor worth hundreds of thousands of dollars in unpaid deliveries of bootleg shandies.
The Geep has an IQ so high it is untestable and attempts to measure it have resulted in dangerously unstable results as well as injuries to researchers. Coincidentally, he publishes intelligence tests as a side gig.
His sarcasm is so highly developed it borders on the psychic, and he is often able to insult a person even before meeting them. 'Puter enjoys hunting small game with 000 slugs and punt guns, correcting homilies in real time at Mass, and undermining unions. 'Puter likes to wear a hockey mask and carry an axe into public campgrounds, where he bursts into people's tents and screams. As you might expect, he has been shot several times but remains completely undeterred.
He assures us that his obsessive fawning over news stories involving women teachers sleeping with young students is not Freudian in any way, although he admits something similar once happened to him. Uniquely, 'Puter is unable to speak, read, or write Russian, but he is able to sing it fluently.
Geep joined the order in the mid-1980s. He arrived at the Castle door with dozens of steamer trunks and an inarticulate hissing creature of astonishingly low intelligence he calls "Sleestak." Ghettoputer appears to make his wishes known to Sleestak, although no one is sure whether this is the result of complex sign language, expert body posture reading, or simply beating Sleestak with a rubber mallet.
'Puter suggests the Czar suck it.