America Already Pays A Living Wage: It's Called Welfare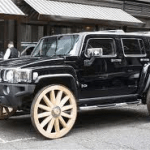 There may not be any such thing as a welfare queen
but welfare may be far too generous to achieve its
desired end: returning people to the world of work
so they can buy fabulous cars like Czar's, pictured.
'Puter would like to return to discuss Point Three of inestimably brilliant Jesse A. Myerson's Five Economic Reforms Milliennials Should Be Fighting For If They Want To Be Penniless And Live In Their Parents' Basements Forever.
As a reminder, Mr. Myerson's Point Two was Social Security for All, in which he advocated for the government to cut everyone a check for a "universal basic income." 'Puter'd like to note for the record that Mr. Myerson has no idea where government will find the funds to provide each and every American a universal basic income, but that's for another day.
'Puter returned to Mr. Myerson's dangerously naïve call for "free money for everyone for doing nothing" because it's shockingly similar to Democrats' calls for a "living wage" while screaming about the evils of the ill-defined "income inequality." Like Mr. Myerson, Democrats are circumspect as to where funds sufficient to pay everyone their asking price are to be found.*
Liberal caterwauling about "income inequality" and "fair shares" and "living wages" got 'Puter thinking about a point he frequently makes. America's poor aren't poor by any rational measure. In fact, by world standards, America's poor are shockingly rich. Our poor have free food, free clothing, free shelter, free medical care, free education and free public transportation. 'Puter decided he'd look into how much an average American poor person receiving the full panoply of federal and state welfare actually makes, were the benefits translated to income.
'Puter found this white paper, The Work Versus Welfare Tradeoff: 2013 by the Cato Institute's Michael Tanner and Charles Hughes. Messrs. Tanner and Hughes findings are shocking. Among their conclusions:
·
Welfare currently pays more than minimum wage in 35 states, even when calculating in the effect of the Earned Income Tax Credit.
·
In 12 states, if a person leaves welfare for a job, that person takes a pay cut.
·
In 13 states, welfare pays the wage equivalent of $15.00 an hour.
That's $30,000 a year, assuming a 2000 hour work year.
Messrs. Tanner and Hughes, for purposes of analyzing the data, assumed the poor family in question was a single mother with two children, for whom the federal poverty line in 2013 was $19,530. When 'Puter references "family" herein, he means this three person family.
'Puter got to looking at the tables containing welfare data on a state by state basis. In Mississippi, the state with the lowest welfare "wage," a family receives the equivalent of $16,984 a year.
In the least generous welfare state in the United States, a family "earns" 87.0% of the federal poverty income standard. Remember, Mississippi is the
least
generous state.
Starting with number 43 Utah, our hypothetical family earns at least the federal poverty level for a family of three. In our nation's capital, Washington, DC, the same family would earn 220.7% of the federal poverty level. 'Puter's surprised more Mississippians haven't decamped for the Elysian Welfare Fields of Mayor-for-Life Barry's Washington, DC.
But that's only one way of looking at the generosity of our welfare state. How about we take a gander at the wage equivalent of welfare payments?
In 'Puter's home state of New York, welfare benefits for our family are equivalent to a pre-tax income of $43,700 a year.
That's more than a starting teacher makes in Mrs. 'Puter's school district. In the most generous state of Hawaii, welfare outlays for our family are equivalent to a $60,590 salary.
In 43 of the 51 jurisdictions studied, welfare pays enough to put our family above the poverty line. That is, if the state paid the family cash, the family would no longer meet the definition of poor. This assumes the family has no additional income, which many do.
"
How about minimum wage, 'Puter? What's that comparison look like?
"
President Obama and the Congressional Democrats call for a $10.00 an hour minimum wage, because for the children, or some such crap.
Well, Democrats, did you know that in 34 jurisdictions welfare already pays more than $10.00 an hour? Number 34 South Carolina checks in with a benefit-to-wage equivalent of $10.53 an hour.
Only 14 jurisdictions "pay" less than the federal minimum wage of $7.25 an hour.
Mind you, you can get welfare benefits if you're below the poverty line, so you could work 20 hours a week at a minimum wage job, earning $7,250 a year, and effectively be above the poverty line.
'Puter's point isn't that it's great to live on welfare. Nor is his point that we shouldn't help the poor. 'Puter's not even arguing (right now, though he believes it) that welfare benefits are in many instances far too generous, discouraging recipients from seeking work. 'Puter's not even blaming those welfare recipients who could, but won't, work. It's a perfectly rational economic decision for them.
'Puter's point is this. America already pays a very generous minimum wage.
America already has a living wage. It's welfare.
And if there's any income inequality going on, it's forcing marginally "richer" workers to subsidize benefits that keep people on their asses instead of working.
* The answer, of course, is increased taxes on everyone, though Democrats will craftily claim it's only a temporary "surcharge" on the One Percenters.

Always right, unless he isn't, the infallible Ghettoputer F. X. Gormogons claims to be an in-law of the Volgi, although no one really believes this.
'Puter carefully follows economic and financial trends, legal affairs, and serves as the Gormogons' financial and legal advisor. He successfully defended us against a lawsuit from a liquor distributor worth hundreds of thousands of dollars in unpaid deliveries of bootleg shandies.
The Geep has an IQ so high it is untestable and attempts to measure it have resulted in dangerously unstable results as well as injuries to researchers. Coincidentally, he publishes intelligence tests as a side gig.
His sarcasm is so highly developed it borders on the psychic, and he is often able to insult a person even before meeting them. 'Puter enjoys hunting small game with 000 slugs and punt guns, correcting homilies in real time at Mass, and undermining unions. 'Puter likes to wear a hockey mask and carry an axe into public campgrounds, where he bursts into people's tents and screams. As you might expect, he has been shot several times but remains completely undeterred.
He assures us that his obsessive fawning over news stories involving women teachers sleeping with young students is not Freudian in any way, although he admits something similar once happened to him. Uniquely, 'Puter is unable to speak, read, or write Russian, but he is able to sing it fluently.
Geep joined the order in the mid-1980s. He arrived at the Castle door with dozens of steamer trunks and an inarticulate hissing creature of astonishingly low intelligence he calls "Sleestak." Ghettoputer appears to make his wishes known to Sleestak, although no one is sure whether this is the result of complex sign language, expert body posture reading, or simply beating Sleestak with a rubber mallet.
'Puter suggests the Czar suck it.