All These Stories Are True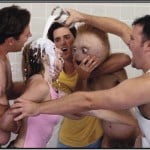 The Left has lost it. This is not news, of course, but the evidence is now irrefutable. Any liberal that thinks—assuming that is possible—that their side has got their crap together would have a hard time explaining today's headlines.
This about sums up the Left today. Had enough of them yet? Yeah, the majority of Americans, too.
MSNBC has written, recorded, and aired an anti-Chris Christie ad for television. Why? Because Chris Christie is getting the Sarah Palin treatment: a politician who could potentially upset people's tolerance of liberalism. As a result, you're not doing it right, America, so move over. MSNBC will show you how to destroy a political rival. Why? Because the Left is convinced it cannot beat someone as weak as Christie. On the one hand, they let their guard down about George W. Bush and he got elected for 8 years; on the other hand, they also took their eyes off the ball on Palin, Bachmann, and others, allowing stronger Republican candidates to move into better roles. This is how panicked they are.
Americans like firearms. In fact, President Obama has been so unsuccessful at banning them that sales, ownership, and carry permits are now at an all-time high. When he came into office, several states still had complete bans on carry; now, none of them does. It is now clear that over 80% of the country is pretty good with firearm ownership, and that any attempt to wish them away will fail. So here goes the Left: never a windmill untilted. Hollywood has decided to demonize guns in a series of films; Harvey Weinstein is working on an anti-gun film, and has Maryl Streep cast. Additionally, Ms. Streep will apparently serve as a spokeswoman to anti-socialize gun ownership. Lots of luck: this has fool's errand all over it, and will be a massive money loser. Remember the last crusades Hollywood went on? How'd those turn out? That anyone could consider this worthy is evidence of a neurotic fetish.
Apparently, this Lone Survivor movie is making the Left queasy enough to sit down in the potty room. Since the film does not glamorize war, justify American presence in Afghanistan, glorify killing non-Americans, treat death in a non-realistic fashion, or call for tax reductions, what could they possible oppose? Apparently, it shows Americans as brave, courageous, strong, determined, and willing to help Afghani civilians survive a brutal, inhumane enemy. Evidently, that's all there is to it: and the Left hates that, and is now repeating a newly-minted meme that the movie focuses too much on white people shooting brown people. Interestingly, there is no emphasis on race in the movie and any interpretations like this are purely the result of imagination. That a pro-humanity film is giving the Left the poopsies so badly shows that the Left cannot accept that the only racists left in the world are on their side.
Exemptions from Obamacare are all the rage; do you have yours? Of course you do! You may have received a letter from your insurance carrier telling you that you have no coverage anymore, but the President has been granting exemptions like crazy. Check again—the last exemption was for anyone with a vowel in their last name. So unless you are Edith Ng from Saigon, Kansas, you probably got your temporary reprieve…or if you are a Catholic nun who really objects to funding abortifacients. The bloodlust and quixotic obsession the administration has with the Little Sisters of the Poor case—settle, already—shows that Obamacare is not about getting Americans off bad insurance or saving them money: it is all about Roe v. Wade, as many of us suspected years ago. With a majority of Americans now opposing abortion, the Left is convinced that Roe v. Wade is one Republican voter away from being overturned—and then the Left has to seriously stop treating women as consequence-free sex machines. Look, the Left can be panicky about abortion if it wants to, but this die Walküre theme music that plays when the Justice Department battles a group of nuns is proof of insanity. Especially when anyone reviewing the broad nature of the case sees the Government has almost zero leverage: it's a losing case, guys. Settle, already.
As part of the President's NSA reforms, he wants American privacy rights extended to foreigners. What? First, the President has no authority over foreigners, so how can this be enforced other than by his asking the NSA to stop listening to potential terror threats? Second, who benefits from this? Hint: the potential terror threats. Once again, this is indefensible insanity. The NSA needs reforms, but this measure sounds too much like the Monty Python character who wanted to solve England's pension crisis by taxing "all foreigners living abroad." Good luck.
Someone mentioned to the Czar months ago that this country needs an enema. Someone must have taken that seriously, because the Left is very much the product of one.

Божію Поспѣшествующею Милостію Мы, Дима Грозный Императоръ и Самодержецъ Всероссiйскiй, цѣсарь Московскiй. The Czar was born in the steppes of Russia in 1267, and was cheated out of total control of all Russia upon the death of Boris Mikhailovich, who replaced Alexander Yaroslav Nevsky in 1263. However, in 1283, our Czar was passed over due to a clerical error and the rule of all Russia went to his second cousin Daniil (Даниил Александрович), whom Czar still resents. As a half-hearted apology, the Czar was awarded control over Muscovy, inconveniently located 5,000 miles away just outside Chicago. He now spends his time seething about this and writing about other stuff that bothers him.