A Final Solution In Search of a Media-Made Problem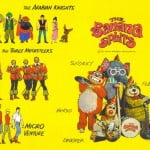 Island Dweller writes in with a thought or two:
Most esteemed ruler of the Midwestern Icebox:

You know who else had a program of mandatory national service? No? This one sort of got away on us.

When something like this is said by Adm Mike Mullen, and I find myself in agreement with 99% of it, I begin to worry – because I am almost never in agreement with the things said by the bemedalled buffoons by and large running our military. However, Adm Mullen had some succinct comments recently and they are worth considering:

Washington
Examiner 1-21-14

Joel Gehrke

Americans love the troops — until they're killed in action, at which point all too many people forget the soldiers and their families, according to retired Adm. Mike Mullen, former chairman of the Joint Chiefs of Staff . . .

"When you get to these wars, I worry that America has paid us very well, the compensation's good, [so the culture says] 'please go off and fight our dirty little wars and let us get on with our lives,'" he said. "We need to figure a way to get America to buy into those, into them . . ."

The problem is worse in the Northeast than other regions. "The people in the Northeast don't know us anymore, for example," Mullen said, given that the Base Realignment and Closure process has led to the closure of so many military installations in the region.

(Ed: I would add Northern California to the Northeast as another area where the military are strangers.)

He proposed some sort of universal national service program (although not a draft), perhaps two years of service for all people between the age of 18 and 24, to bridge the gap between the military and the civilian communities.

"The military becoming more and more isolated from the American people is a disaster for America," Mullen said.

I'm with him on that. I don't believe in a draft, either – but rather universal military service, where no one has a chance to "escape," but rather all must serve in uniform in some way.

Very interesting the former Chairman of the Joint Chiefs has this to say, and at this time.

ID
The Czar recommends you run as far as possible from this as possible.
This is a draft, no matter what you call it. And it turns out our military has never really benefited from a draft. In fact, pretty much all evidence points, eliminating the draft was the best solution: the all-volunteer military suddenly saw its morale go up, its tools and training completely transform and streamline (you needed less emphasis on breaking down individualism and not as much work on team building), and better folks signing up and staying in.
And okay, ADM Mullen is recommending that it not necessarily be for military service. Okay, then—for what, then? Anytime the government is signing people up against their will, you got problems. Big ones. As we know, the government is one of the worst entities at making smart decisions; within months, this national service plan will wind up drafting millions of young folks to do what? Work for the IRS? Serve as contractors for the military? Register voters for the Democrats?
Where exactly does this vision work well? The Czar, instead, sees nothing but corruption and a complete takeover by the Left. Indeed, nothing about this plan will work out for anyone but those in power. You know to whom that refers.
Times are tough, but that's all it is. When America's inner sleeping giant wakes up (and she's already rousing), modern Leftism is doomed for at least another generation, and maybe longer this time. The American military, which still has massive support throughout the center of the United States—screw the Northeast and Northern California—will remain the greatest fighting force in history, and will resume being something worth volunteering for. Most Americans rightly think it still is.
A mandatory national service for 18-24-year-old able bodies? Sounds precisely like the classic example of liberal fascism: a statist takeover, but with a smiley face as its logo.

Божію Поспѣшествующею Милостію Мы, Дима Грозный Императоръ и Самодержецъ Всероссiйскiй, цѣсарь Московскiй. The Czar was born in the steppes of Russia in 1267, and was cheated out of total control of all Russia upon the death of Boris Mikhailovich, who replaced Alexander Yaroslav Nevsky in 1263. However, in 1283, our Czar was passed over due to a clerical error and the rule of all Russia went to his second cousin Daniil (Даниил Александрович), whom Czar still resents. As a half-hearted apology, the Czar was awarded control over Muscovy, inconveniently located 5,000 miles away just outside Chicago. He now spends his time seething about this and writing about other stuff that bothers him.