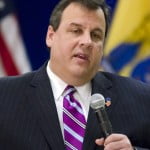 The Czar assumes by now you know of allegations—pretty convincing ones, really—that very senior members New Jersey governor Chris Christie's staff were involved in a brutal form of political punishment, in which it said they ordered the pointless shutdown of two lanes on a crucial bridge in order to punish the mayor of that town for not endorsing Christie.
The emails look pretty bad, and it is a load of crap for people to blast Barack Obama's perpetual ignorance of his staff's words and deeds without criticizing Chris Christie's own fatti e parole.*
The Gormogons started to question Chris Christie back in March, 2011, thanks to early warnings from readers like you.
Our own Ghettoputer here at the Castle has a very simple test for things like this, and it has always resonated and stuck with the Czar. If your political party is doing something you would dread the other party doing to you, your government is too big.
New Jersey's government is too big.
If Chris Christie knew the bridge closure was a stunt—we believe one person has already died because paramedics en route were stuck in traffic—then government is too big if he can wield it as a weapon over something as trivial as a political endorsement…especially given his blowout election. It smacks of a Roman consul sitting in a gilded throne sneering at news that a cohort suffered decimatio for failure to bow enough.
If Chris Christie did not know of the stunt, then government is too big. One of his chief deputies has her email fingerprints all over this, and we are expected to believe him ignorant of the entire operation.
So why is this important? Because not too many weeks ago, Chris Christie was toying with the idea of running for president in 2016. Indeed, many Americans objected to him—not because he was a Republican, not because of his brusque speaking style, but because they feared he is more of an establishment Republican than a true conservative. Christie objected to this portrayal, and sought to reassure voters of his right wing bona fides by embracing the Tea Party, commenting favorably on financial reforms, and complaining about liberal tax and spend policies.
Great, but the bridge stunt proved one of two things.
One, he is a liar—and that he is very much a big government kind of Republican. So much so, that he would pull off the same type of stunt Barack Obama did during the government shutdown: inconveniencing people out of pure theater. The Czar hates political theater. This makes Christie very much a big government kind of liar.
Or two, he is so bogged down in a big government through his own contributions that he cannot even manage the absurd behaviors of his closest staff members.
Now imagine this sort of guy as the Republican front runner in 2016.
*Wrong state, but the Italian pun was too enticing.

Божію Поспѣшествующею Милостію Мы, Дима Грозный Императоръ и Самодержецъ Всероссiйскiй, цѣсарь Московскiй. The Czar was born in the steppes of Russia in 1267, and was cheated out of total control of all Russia upon the death of Boris Mikhailovich, who replaced Alexander Yaroslav Nevsky in 1263. However, in 1283, our Czar was passed over due to a clerical error and the rule of all Russia went to his second cousin Daniil (Даниил Александрович), whom Czar still resents. As a half-hearted apology, the Czar was awarded control over Muscovy, inconveniently located 5,000 miles away just outside Chicago. He now spends his time seething about this and writing about other stuff that bothers him.