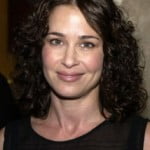 The Царица has odd tastes in television relative to the Czar. Although we cheerfully watch the same firearm shows, often together, she will—when the Czar is out of the room for any length of time—put on something incredibly stupid. Particularly on Hallmark.
She seems captivated by movies of girls discovering their dream guy is the idiot co-worker who turns out to be dashing and handsome and brave, or else he is the jerkface boyfriend's sweet, dashing, and handsome brother. Evidently, after 14 years of marriage to the Czar, the Царица still keeps hoping she too can find that perfect fiance.
Julie Warner, so you don't also have to look it up.
The Czar staggered off to bed very late one day last evening to discover the Царица was still awake, watching—shudder—Our First Christmas on Hallmark. We glanced at the screen, huffed, and crashed into bed. But something has been bothering the Czar about the split-second glimpse he caught of the movie. Who the hell is that actress?
Normally the Czar is great at this crap. Voice in cartoons, background actors, et cetera; we can usually rattle them off pretty quick. But where the hell had we seen that actress?
Today is now Sunday, and the Czar was forced to use IMDB. And it turns out she was the girlfriend from Tommy Boy. Now we may rest.

Божію Поспѣшествующею Милостію Мы, Дима Грозный Императоръ и Самодержецъ Всероссiйскiй, цѣсарь Московскiй. The Czar was born in the steppes of Russia in 1267, and was cheated out of total control of all Russia upon the death of Boris Mikhailovich, who replaced Alexander Yaroslav Nevsky in 1263. However, in 1283, our Czar was passed over due to a clerical error and the rule of all Russia went to his second cousin Daniil (Даниил Александрович), whom Czar still resents. As a half-hearted apology, the Czar was awarded control over Muscovy, inconveniently located 5,000 miles away just outside Chicago. He now spends his time seething about this and writing about other stuff that bothers him.