We Warned ISON Not To Come Here…You Heard Us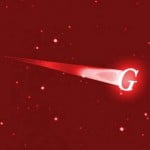 Funny, huh, how astronomers are all giddy to the gills about comet ISON, named after famed Russian comet hunter Professor Исондровсков, which was promised as the Comet of the Century!
Get ready, armchair astronomers, because this bad boy will light up the skies for you! Especially after it swings around the far side of the sun.
Except suddenly, it didn't quite come out from behind the sun. Suddenly, astronomers are all "Hey, nobody look at the comet. Pretend it isn't there. Maybe it blew up or something!" Wouldn't that be cool to see? "No, no," they cried out as one, "Nothing is there. Do not look. For the love of all that is holy, do not look for comet ISON!"
But you know what happened. You put a comet at perihelion right about Thanksgiving Day, when Mandarin had his little glass of cranberry vermouth, and you just know he's got a laser aimed at it. Sure enough, here is the picture of ISON they don't want you to see.

Божію Поспѣшествующею Милостію Мы, Дима Грозный Императоръ и Самодержецъ Всероссiйскiй, цѣсарь Московскiй. The Czar was born in the steppes of Russia in 1267, and was cheated out of total control of all Russia upon the death of Boris Mikhailovich, who replaced Alexander Yaroslav Nevsky in 1263. However, in 1283, our Czar was passed over due to a clerical error and the rule of all Russia went to his second cousin Daniil (Даниил Александрович), whom Czar still resents. As a half-hearted apology, the Czar was awarded control over Muscovy, inconveniently located 5,000 miles away just outside Chicago. He now spends his time seething about this and writing about other stuff that bothers him.