The Square Wheels Are Falling Off Liberalism's "Free Crap For Everyone" Bus: Detroit Pension Edition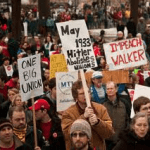 To liberals, utilizing the political process to thwart
public sector union excesses is exactly the same as
the wholesale slaughter of millions of innocents.
Also, U R HITLER, DAMNED RETHUGLIKKANS!
There is nothing more pleasing to 'Puter than watching courts and legislatures inform public sector unions their pension benefits are not – and have never been – sacrosanct.
Today brought 'Puter two such schadenfreude-licious moments, one in Detroit and the other in Illinois. 'Puter's busy, so he'll just focus on Detroit. You should read up on Illinois on your own. It's equally pleasing.
In Detroit, United States Bankruptcy Judge Steven W. Rhodes held as a matter of law that Detroit was eligible to file for bankruptcy protections on Chapter 9 of the Bankruptcy Code. Even better, the judge held Detroit may propose a plan of adjustment that honors some, all or none of the city's pension obligations.
As night follows day, public sector unions howled, bemoaning the lack of gender equity or income inequality or whatever horseshit liberals pass off as thoughtful critiques these days.
If you're allergic to karma making greedy union jerks its bitches, please don't read the following New York Times passage:
One central argument from lawyers for the city's public sector unions and retirees was that Detroit's request for bankruptcy protection came before it had made good faith attempts to negotiate with creditors — mainly unions and retired city workers. But Judge Rhodes ruled that the size of Detroit's debts and problems made it "impracticable" for Mr. Orr to negotiate concessions from creditors before recommending the Chapter 9 filing to Governor Snyder.
"It is impractical to negotiate with a stone wall," was how the judge referred to the unions' reticence to make concessions on the pension issue.
The judge made it clear that public employee pensions are not protected in a federal Chapter 9 bankruptcy — even though the Michigan Constitution expressly does protect them.
"Pension benefits are a contractual right and are not entitled to any heightened protection in a municipal bankruptcy," he said.
Federal law, he said, trumps the state law — making the pensions of 23,000 workers fair game for the city to include in its plan of adjustment.
Mr. Babiarz of the fire and police retirement system, argued Tuesday that the Michigan Constitution protected the pensions, and that they should be separated from other contracts.
"This is one of the strongest protected pension obligations in the country here in Michigan," Mr. Babiarz said. "If this ruling is upheld, this is the canary in a coal mine for protected pension benefits across the country. They're gone."
But while the judge said pensions could not be treated differently from other unsecured debt, he said the court would be careful before approving any cuts in monthly payments to retirees. "It will not lightly or casually exercise the power to impair pensions," he said.
Sharon L. Levine, a lawyer for the local council of the American Federation of State, County and Municipal Employees, said the union would explore all possible litigation options.
"They're going to lose their homes," she said about Detroit pensioners. "They're going to lose medical benefits. They're not going to be able to feed their families. These are very scary issues. So while we're working through the mediation process and we hope to be able to negotiate through the plan of adjustment process, we are going to pursue all our litigation options, as well. We have to."
Oh, 'Puter sees now. Unions "negotiated" gold plated pension packages with politicians on the take. When informed these pensions were breaking Detroit, unions told Detroit to pound sand. Now, after a federal judge ruled Detroit's pensions were indeed subject to cramdown, unions want to negotiate.
It's for
the children
the elderly, after all. Too late, bucko.
'Puter closes with the following two thoughts.
First, 'Puter
told you so months ago
when he wrote that federal bankruptcy law trumps inconsistent state constitution pension protection provisions pursuant to a Supremacy Clause analysis. Never doubt 'Puter.
Second, greedy public sector pensioners and their even greedier unions deserve to have their retirement security yanked out from under them. After all, their lavish pension and other benefits (coupled with an absolute refusal to negotiate, as Judge Rhodes noted) are the prime causes of Detroit's bankruptcy.
It must suck, and suck hard, to have your pension benefits ripped out from under you.
In this case, however, it couldn't have happened to a more deserving group of people.

Always right, unless he isn't, the infallible Ghettoputer F. X. Gormogons claims to be an in-law of the Volgi, although no one really believes this.
'Puter carefully follows economic and financial trends, legal affairs, and serves as the Gormogons' financial and legal advisor. He successfully defended us against a lawsuit from a liquor distributor worth hundreds of thousands of dollars in unpaid deliveries of bootleg shandies.
The Geep has an IQ so high it is untestable and attempts to measure it have resulted in dangerously unstable results as well as injuries to researchers. Coincidentally, he publishes intelligence tests as a side gig.
His sarcasm is so highly developed it borders on the psychic, and he is often able to insult a person even before meeting them. 'Puter enjoys hunting small game with 000 slugs and punt guns, correcting homilies in real time at Mass, and undermining unions. 'Puter likes to wear a hockey mask and carry an axe into public campgrounds, where he bursts into people's tents and screams. As you might expect, he has been shot several times but remains completely undeterred.
He assures us that his obsessive fawning over news stories involving women teachers sleeping with young students is not Freudian in any way, although he admits something similar once happened to him. Uniquely, 'Puter is unable to speak, read, or write Russian, but he is able to sing it fluently.
Geep joined the order in the mid-1980s. He arrived at the Castle door with dozens of steamer trunks and an inarticulate hissing creature of astonishingly low intelligence he calls "Sleestak." Ghettoputer appears to make his wishes known to Sleestak, although no one is sure whether this is the result of complex sign language, expert body posture reading, or simply beating Sleestak with a rubber mallet.
'Puter suggests the Czar suck it.