Sour milk from the teat of government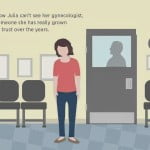 The bad news is that Obamacare negatively affects you, our gentle reader.
The good news is that Julia is equally bad off.
Remember Julia?
We lampooned her here a while back.
Someone from the Independent Women's Voice organization came up with this lovely story of the effect that Obamacare's had on Julia.
You can get free birth control…if you can get a doctor's appointment…