Scott Walker, We'll Hardly Know Ye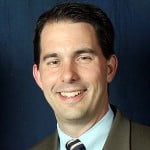 The Czar thinks Scott Walker, among others, would in particular make a fine president. Too bad, really, because reality doesn't give a hoot about what the Czar thinks, nor what ought to be even were we incorrect. Indeed, realty kind of does its own capricious thing and we simply understand or predict the consequences.
Gov. Scott Walker. He'd be a great candidate until he actually became one.
Because, really, this is how things should go:
Scott Walker waits until late in the game to announce his candidacy. The mainstream media has no dirt on him, having looked extensively during his gubernatorial campaigns in the past. And because things are so late in the process, Senator Harry Reid is unable to make up bald-faced, baseless accusations against him with any traction.
Meanwhile, the conservatives go nuts for this guy: he''s one of them. He stood up to the unions, reduced the size of Wisconsin''s government, put them back in the black for the first time in ages. He is pro-gun, pro-life, and pro-God. The establishment Republicans like the guy, too: he is open to work with others, has great negotiation skills, and frames arguments really well. Plus, he is a solid businessman with appealing free-market tendencies.
The independents like the guy, too. He doesn''t demand cuts in government—, he simply asks, ""Which do you prefer, higher taxes or a reduced overhead?"" And he makes his case well for common-sense reform. You know, he hired a hell of a lot of teachers as governor——more than the unions would have hired. And he seems pretty inclusive of Democratic opinions without being squishy or petty. He looks great in the debates, and displayed a surprising depth of foreign-policy understanding. Pretty fearless guy; shame about what the Left did to him: the average independent shouldn''t believe any of the liberal's' criticism.
The liberals say he is a union-hating, Jesus-freak scumbag.
With this going for him, people continue to walk away from the idea of a Hillary Clinton presidency. Walker wins in 2016 easily, getting 55% of the vote.
Of course, this is how it would really play out:
Scott Walker waits until late in the game to announce his candidacy. The mainstream media ignores him, continuing to focus on Chris Christie whom they much prefer. Meanwhile, the Christie candidacy self-destructs under the onslaught of Democrat tactics, and the media reports there is no clear successor. Scott who? They quickly get him on interview shows and ask him probing questions like ""Boxers or briefs?" "Did you like George Bush? Which one?" "Marvel or DC?"" to which he refuses to respond. The more he wants to talk about serious issues, the more the media wants to ask him ""New York or Chicago-style pizza?""
During one interview, Walker says he refuses to get into the gay-marriage issue: this is not a topic appropriate nor related to the federal government. As a result, conservatives declare him an anti-family RINO, and announce he''s also (probably) anti-gun like Mitt Romney, (probably) pro-Obamacare like Mitt Romney, and almost certainly (well, probably) pro-amnesty like Mitt Romney. The establishment Republicans call him a nutjob for wanting to reduce government so fast, and only too late pull their support of Christie and swing it to Walker, making the GOP look insanely desperate and clueless.
Walker goes back on a Sunday-morning news magazine, and clarifies that he is anti-gun control, anti-Obamacare, and anti-amnesty. The media plays the interview at 5:30 a.m. Sunday morning when it is seen only by writers at National Review. Blaze readers decide he is a flip-flopper, like that Matt Romner guy.
Independents hear that Walker apparently hates gays, now. And now someone heard him on a Sunday-morning show come out against immigration. And he refused to help lower insurance rates or something. These Republicans, man, they can''t get anybody elected.
The liberals say he is a union-hating, Jesus-freak scumbag. They only account for 20% of the vote.
But conservatives are so sick of Walker''s similarity to Matt Romner that they decide to stay home, rather than vote for a guy who can''t make his mind up on gun control. So Hillary wins with 55% of the vote.
And conservatives will wonder when their next Reagan… or better yet, Coolidge…will show up.

Божію Поспѣшествующею Милостію Мы, Дима Грозный Императоръ и Самодержецъ Всероссiйскiй, цѣсарь Московскiй. The Czar was born in the steppes of Russia in 1267, and was cheated out of total control of all Russia upon the death of Boris Mikhailovich, who replaced Alexander Yaroslav Nevsky in 1263. However, in 1283, our Czar was passed over due to a clerical error and the rule of all Russia went to his second cousin Daniil (Даниил Александрович), whom Czar still resents. As a half-hearted apology, the Czar was awarded control over Muscovy, inconveniently located 5,000 miles away just outside Chicago. He now spends his time seething about this and writing about other stuff that bothers him.