Religious Freedom: A Reminder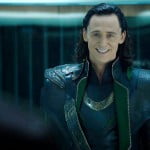 As with Loki, the smile only takes the Lil Medstudent so far at school and nowhere with the family.
Dr. J.'s busy with being on the consultation service in the hospital this week and last, and dealing with the Lil Medstudent doing his best Loki impersonation at the Jedi Academy. It's not easy being a very chaotic good child in a very lawful good school. Apparently you aren't allowed to change the words to Christmas Carols in chapel without incurring the wrath of some mom who's precious snowflake was traumatized.
Joy to the world that Barney's dead…
Kathryn J. Lopez over at NRO, interviewed Anthony Hahn, the CEO of Conestoga Wood Specialties. He is a plaintiff in the Supreme Court, suing to overturn the contraceptive mandate in Obamacare. He is a co-plantiff with Hobby Lobby.
The interview is a great reminder of what the issues are about.
The progressives, including the Obama administration, has transformed the thinking of many Americans that your employer has to pay for your contraceptives of choice through health insurance that he's* required to provide for you, should you be lucky enough to be employed in a business with more than 49 people, and work full time, or if he's a nice guy (or gal).
His religious liberties are being trampled so that you don't have to pay for something that you readily, and inexpensively have access to. The whole access issue is poppy-cock! The same people who do not equate corporations with people equate free vs. out of pocket as access vs. no access. The women 'at risk' have jobs, earn money and can afford it! The whole issue is made up. The progressives want to give you something for 'free' paid for by people for whom it is against their principles. That is wrong of the highest order.
Go read the interview. It's a terrific piece.
* 'He' is being used as a gender neutral pronoun because English does not have one. As Dr. J.'s Comp. Lit. professor at Ivy University used to say, it's better to be grammatically correct than politically correct.