'Puter's Terrible, Horrible, No Good, Very Bad Day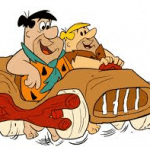 'Puter more closely resembles Barney Rubble,
except 'Puter's bald. It's your Volgi that's more
Flintstone-esque, except bearded.
'Puter's jonesing for the five o'clock whistle so he can slide down the dinosaur's tail and into his eco-friendly foot-powered car, a la Fred Flintstone.
Here's how 'Puter's day's gone, so far.
'Puter woke at 4:00 AM with a serious case of gastric distress, in all likelihood caused by the copious amounts of black beans and rice smothered in Huy Fong chili garlic sauce he consumed last night.
On arising, 'Puter said to himself, "Self, it's danged cold." Indeed, it was danged cold, just as 'Puter surmised. It was 10 degrees (Fahrenheit, not Celsius, you ungodly metric hippie) with a -6 wind chill. At least it wasn't snowing (yet), but it was too cold for 'Puter to take his daily three mile morning walk.
Resignedly, 'Puter went to the basement to ride his stationary bike for an hour or so before he had to get the boys up and moving for school. 'Puter checked the mouse traps he'd set (yes, 'Puter has mice, for which he blames his kids) and the little bast@rds (the mice, not the kids) has eaten the peanut butter out of two of the traps without springing them. 'Puter re-baited and reset the traps in his cold, dimly lit basement.
Next up, 'Puter was treated to Mika Brzezinski insisting against all evidence that (1) ObamaCare's going to succeed, you just wait and see and (2) Democrats, specifically Kay Hagan (D-NC), have no worries going into the 2014 midterm elections. Yelling at the television set while angrily tweeting is no way to go through life, son.
Next up, the usual morning squabbles among the family. "He ate the cheeseburger I was saving for lunch, and now I'm running late!" "Where's my codpiece? Did you take it, Dad?" "Why don't you love me like Czar does, you withered husk of a man?" 'Puter hates his family in the morning. No one's a morning person except for 'Puter.
'Puter heads to the shower, cleans up and heads for work, sporting the feminine odor of his new women's deodorant Mrs. 'Puter "accidentally" purchased for him. 'Puter gets halfway to work (less than 1 mile), realizes he hasn't taken his ADHD meds, and heads home. Did 'Puter mention it was 10 degrees this morning? At 10 degrees in a barely warm car, windshield washer fluid makes the most spectacular snowflake motif ice glaze on one's windshield. As an added bonus, 'Puter's new kaleidoscopic windshield masterfully refracts the sun's rays (of course today is the one day the sun shone in Upstate New York) into cornea-scorching solar lasers making driving on slick, salt-crust roads even more fun than usual.
At work, 'Puter settled in for a day of expected unexpectedness. 'Puter didn't have to wait long. 'Puter's boss informed him he must close on 9 pieces of real property by tomorrow or the deal wasn't going to happen. Never mind that the seller had been sitting on the deal for six months and finally decided tomorrow was the end date. No matter. 'Puter can work through that. After all, he's got 11 vacation days he's got to take before the end of the year.
Nope. 'Puter's boss then informs 'Puter he's got two closings on portfolio acquisitions next week, a floater scheduled to close sometime between Christmas and New Year's Day and potentially one or two more coming. Don't get 'Puter completely wrong, he's happy to have the work. But short notice do-or-die closings suck for all involved, more particularly at Christmas.
Alright, don't tweak, 'Puter. Things aren't going to get worse, right? Wrong.
'Puter's dad calls and tells 'Puter his Uncle Bill died last night. 'Puter deservedly has a sad. 'Puter then calls each of his three siblings to let them know. 'Puter deservedly has more sads.* And that's all 'Puter has to say about that.
Amidst 'Puter's phone call with his father, 'Puter gets an email from his company's immigration counsel informing 'Puter that one of his best workers (and a good friend of 'Puter) must leave the country by Monday or put his pending application for permanent residence at risk. 'Puter knew the employee would likely have to leave because the US Department of Labor is taking its ire over sequester cuts out on legal immigrants by slow walking PERM applications, but 'Puter expected the departure to be after Christmas. Employee is expected to be able to return under an H-1B visa extension after filing his I-140, but not until early March or so. If 'Puter's employee waited longer, he may not have been work authorized until sometime in 2016 or 2017. Really. 'Puter hates America's moronic immigration laws, but not as much as his employee does.
From there, 'Puter's closed a corporate line of credit increase, reviewed three commercial loan restructure agreements, haggled with opposing counsel in various pending collection actions (think bankruptcy, foreclosure, etc.), stepped into a hornet's nest with a client and is now watching the meager sunset through slate gray snow clouds.
'Puter knows everyone has a bad day every now and again, and 'Puter is truly thankful he's not worried about feeding his family, finding shelter or fleeing danger. 'Puter knows he's blessed to live in the once and future greatest country on the face of the Earth.
But sometimes, dang it, it gets to 'Puter. And today's one of those days.
So tonight, 'Puter's going to do what usually works for him. Head out of work early (5:15 PM after a 9 hour no break day) and head home. Once there, 'Puter will make himself a stiff vodka-rocks-garlic stuffed olives (three, please) and drink it. 'Puter will make himself another clear one, and then and only then will 'Puter speak to his family, lest he gripe or moan or snap at them. 'Puter will then eat dinner, probably fish of some sort. 'Puter will then settle himself in front of the good ol' Xbox 360 for some mindless gaming. Skyrim, maybe. Or perhaps Forza. Then, it's off to bed.
After all, tomorrow is another day.
*'Puter has awesome, well-adjusted siblings. Each was at work when 'Puter called, and each took the news of Uncle Bill's death like a champ. The first question asked by each was "How are Mom and Dad?" 'Puter's parents did a darned fine job, at least with 'Puter's other three siblings.

Always right, unless he isn't, the infallible Ghettoputer F. X. Gormogons claims to be an in-law of the Volgi, although no one really believes this.
'Puter carefully follows economic and financial trends, legal affairs, and serves as the Gormogons' financial and legal advisor. He successfully defended us against a lawsuit from a liquor distributor worth hundreds of thousands of dollars in unpaid deliveries of bootleg shandies.
The Geep has an IQ so high it is untestable and attempts to measure it have resulted in dangerously unstable results as well as injuries to researchers. Coincidentally, he publishes intelligence tests as a side gig.
His sarcasm is so highly developed it borders on the psychic, and he is often able to insult a person even before meeting them. 'Puter enjoys hunting small game with 000 slugs and punt guns, correcting homilies in real time at Mass, and undermining unions. 'Puter likes to wear a hockey mask and carry an axe into public campgrounds, where he bursts into people's tents and screams. As you might expect, he has been shot several times but remains completely undeterred.
He assures us that his obsessive fawning over news stories involving women teachers sleeping with young students is not Freudian in any way, although he admits something similar once happened to him. Uniquely, 'Puter is unable to speak, read, or write Russian, but he is able to sing it fluently.
Geep joined the order in the mid-1980s. He arrived at the Castle door with dozens of steamer trunks and an inarticulate hissing creature of astonishingly low intelligence he calls "Sleestak." Ghettoputer appears to make his wishes known to Sleestak, although no one is sure whether this is the result of complex sign language, expert body posture reading, or simply beating Sleestak with a rubber mallet.
'Puter suggests the Czar suck it.