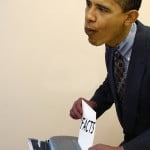 A certain retired Master Sergeant wants us to consider how bad things might be.
Your Immenseness;
At the risk of wearing out my welcome here, I'd like to point out something that my grandfather frequently reminded me to consider;
A. Everybody is ignorant, just on different subjects.
B. Ignorace is curable, it's just a lack of knowledge. Stupidity, on the other hand, if pretty much a permanent condition.
Time to pull this one out of the 2009 wayback machine.
I think that the current white house occupant may indeed be a delusional narcissist, but he isn't ignorant. He's stupid. You can cure ignorance with education, but his particular brand of stupid is dangerous. He's too stupid to realize how stupid he is, thus is unable to recognize when he's about to do something egregiously stupid.
His staff, such as it is, seems to be either unwilling to point out that he's about to (figuratively) shoot himself in the foot, or unable to recognize the signs of the forthcoming disaster, which means that he has apparently decided to surround himself with people who are less intelligent than he is, or are more concerned with covering their asses than doing their jobs. Really, either possibility is pretty frightening thought.
When the current white house occupant was elected the first time, I jokingly said that the Democrats had found someone who could make Bill Clinton look honest, and Jimmy Carter look competent. In fact, the day after the 2008 election, I said that in four years we'd be able to look back on the Carter administration and say "Y'know, that wasn't really that bad!" When my amazingly stupid sister-in-law called to tell me that they had called the election for whatshisname, I said "Thank you! I've spent most of my adult life trying to protect this country from Communists, and you voted to put one in the White House! Thanks a whole pantsload!!" (on the plus side, she hasn't spoken to me since).
And ever since the 2008 election, I've felt a serious need to apologize to each of my grandchildren for what we've done to them. They really deserved better, and had every reason to expect better from us. Instead, since I'm too cowardly to face them, I've written The Letter, which they will receive after I've shuffled off this mortal coil, so I won't have to see the looks on their faces when they realize what we did to them, in the name of "post-racial America."
Anyway, enough ranting. It was a long night, and I've got one more before I'm off for 4 days, and will strive valiantly to reduce the whitetail deer and feral hog population here in northern Alabama.
Apologies for harshing your mellow,
Retired Spook
Well, you know, you won't get much argument from the Czar. As the Цесаревич said to us last night, "This is just my opinion…but it is indeed a fact…."
And your welcome, good sir, shall never be worn out here.

Божію Поспѣшествующею Милостію Мы, Дима Грозный Императоръ и Самодержецъ Всероссiйскiй, цѣсарь Московскiй. The Czar was born in the steppes of Russia in 1267, and was cheated out of total control of all Russia upon the death of Boris Mikhailovich, who replaced Alexander Yaroslav Nevsky in 1263. However, in 1283, our Czar was passed over due to a clerical error and the rule of all Russia went to his second cousin Daniil (Даниил Александрович), whom Czar still resents. As a half-hearted apology, the Czar was awarded control over Muscovy, inconveniently located 5,000 miles away just outside Chicago. He now spends his time seething about this and writing about other stuff that bothers him.