Mailbag – Billy the #pajamaboy and Frankie the English Challenged Edition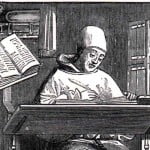 Quit doodling in the margins and get the translation right!
Gentle Readers,
Dr. J. got a bunch of mail in the last couple of days.
The first was from our friend Mark Spahn. It wasn't directly to Dr. J. but Dr. J. was copied on it by the West Seneca, New Yorker himself.
[Dr. J.'s Post] is about the mistranslation of the phrase "por si mismo" — which is Spanish for "in itself" — as "will inevitably succeed in". This is deserving of the Thamsanqa Jantjie Mistranslation Prize. This mistranslation serves the pope right for having written his encyclical Evangelii Gaudium in his native Spanish rather than in Latin like he should have. Lazy, corner-cutting pope!
There is a book in Japanese whose title is "Goyaku" (= Mistranslation). Its author — if I remember aright, a priest by the name of Groothaars or Grothaars — writes that he wrote the manuscript in English (or was it Dutch?), had it translated into Japanese, then destroyed the original manuscript. That's what the pope should have done.
(A misspelling-forgiving search finds that his name is Willem A. Grootaers; see publicacions.ub.edu/revistes/ejecuta_descarga.asp?codigo=713 dialectologia7_713_199935_1030_.pdf http://www.nihoninst.jp/newsletter%2018.pdf (in Japanese, romanized Japanese, and English) )
A mistranslation can get a priest into trouble, but so can a correct translation. A Jesuit German-teacher once told me of a case in which a German theologian was not found to be a heretic until after his work had been translated into English. Only the translator had the patience to plod through the author's dense Teutonic prose and figure out that he was preaching heresy.
— Mark Spahn (West Seneca, NY)
Ha! Indeed, the whole reason for the re-translation of the mass was that the English translation, which was the most faulty from the original latin, was being used to translate the Mass in to all sorts of African, Native American and Asian languages. Unfortunately whisper down the lane was creating all sorts of canon drift.
Dr. J.'s favorite mistranslation was John F. Kennedy's 'Ich bin ein Berliner' speech where he effectively said, "I am a jelly donut." To understand how this could have happened, it is the difference between saying, 'I am Danish,' and 'I am a danish.'
Thanks for writing, Mark!
Our guy in Nevada, the Nevada Guy writes:
Dear Dr. J.,
I rather like THIS response:

If you don't have your own pistol, you may have to wait the rest of your life for the police to bring theirs.
Best, Nevada Guy
Dr. J. likes it too. 'Butch it up, Sally!' could become the new, 'Suck it 'Puter!'
One of Dr. J.'s favorites:
Dr. J.'s money was on Hampshire, or Wesleyan.
Our final missive comes from the one and only JAB, coming live from the Doublewide:
Dear Dr. J.:
Wow. Our country is in a bigger mess than I thought if adults of the male persuasion appear in public clad in plaid onsie's, at least without a gun pointed at their heads. The mind reels. Do you suppose there is a "barn-door," you know an old-fashioned drop-bottom?
yikes.
However, if I might venture a slight correction, my powers of prognostication on this subject go all the way back to Nov. 1st, when I wrote to His Czarness:
"You'll know that the White House knows the numbers and that the numbers are getting all death-spirally when you see the first public service announcement from "Organizing for America" targeting healthy 25-35 year-olds, urging them to buy an ACA-approved-policy…as a patriotic duty to support the President.Think "Life-of-Julia," but now with added urgency. I love the smell of desperation in the morning."
And, boy, I do love the smell of desperation in the morning! I guess I missed on the patriotic-duty-to-the-President part, but otherwise the old crystal ball hit this one out of the park.
Yours from the Doublewide, JAB
PS: Wishing you and yours a very Merry Christmas!
Dr. J. knows Rainbow Dash, Rainbow Dash is a friend of Dr. J.'s, Billy, you are no Rainbow Dash!
Dear JAB:
You are absolutely correct. Even the most effeminate of Bronies on the MLP forums that Dr. J. troll find #pajamaboy too much of a Nancy-boy for them. The Millenials are not buying what the president is selling and no matter how hard this White House tries, Obamacare is a slow motion car-wreck. Unfortunately, in a legion of ways, we are all going to be suffering as a consequence.
By the way, if you ever get to New Atlantis, JAB, Mrs. Dr. J. and I love eating at XXXXXXXX. We go about once a year and have never had a bad meal there, even when we eat at the bar right before going to the symphony. Dr. J. also recommends XXXX if you are downtown. If you don't mind heading up to Germantown, Dr. J. recommends XXXX XXXXX on Sunday, as they tend to have fun with the menu that day of the week.