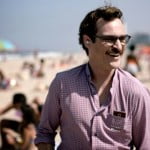 GorT & Mrs. GorT went out to dinner and a movie with friends last night. It was a spur of the moment kind of thing and our friends chose the restaurant and movie. The meal was really good – we ate at Cava Mezze Grill which is following in the mold of Chipotle, Qdoba, Tom Yum, and numerous other "fast fresh food" places where you move down an assembly line of ingredients building your meal as you go. Cava takes it down the Mediterranean avenue – it was really tasty – GorT had the braised lamb over brown rice with spicy harrisa (true to its name), crazy feta and tzatziki sauce with a variety of vegetable toppings. The movie chosen was "Her" – Spike Jonze's film starring Joaquin Phoenix, Scarlett Johansson and Amy Adams. IMDB's summary of the movie is "A lonely writer develops an unlikely relationship with his newly purchased operating system that's designed to meet his every need." IMDB has it at 8.5 out of 10 and Rotten Tomatoes rated it at a 90% with an audience rating of 87%.
Sigh. I'm not quite sure how to summarize what I thought about this movie. Sure, the message is an interesting one in Spike Jonze's attempt at pointing out where we are or could be with human relationships with the technology that is ever present in our current lives. But the message gets muddled with a variety of oddities in the film, the forced use of foul language and some strange comedic bits. If someone told me that Spike Jonze is a Woody Allen protegé I would buy it hook, line and sinker. I don't want to spoil the film for anyone who wants to see it but I'll point out a few of the oddities.
Apparently, the near-future where access to computing resources is ubiquitous looks remarkably like a 1970s science fiction film. The male characters wear pants whose rise (the distance from the belt to the crotch) is enormous and they sit at their belly-buttons. It looks like they are pulling their pants up as some sort of "high water" like joke but the length remains correct. Plus they all sport 70's mustaches. The filmography only enhances this by its choice of lighting, textures and filters. The womens' clothes are equally retro-futuristic. This was difficult to get over as the movie progressed with some scenes almost intentionally focusing on it.
Towards the end of the movie the four of us started thinking about how the movie would wrap up. What sort of weird twist were we in store for us? Maybe I'll revisit this after the movie has been out a while as to our theories – all would have been amusing as we had pretty much committed to watching the film (although the other husband was seriously considering leaving the theater).
It's a somewhat disturbing and disjointed film, in my opinion. None of the four of us cared for it very much and it didn't even cause us to debate the underlying message. I'm not quite sure how it received such high marks other than it is weird and profanity laced, so that must be appealing to some. Maybe there are a number of folks who find the idea of a romantic relationship between a person and their computer interesting too…maybe it hits home for some. Yes, yes, we can all insert the GorT joke here but this was just weird. I think Hollywood maybe be trying a bit of what the restauranteurs are trying with the exotic and odd choices just to be different.
Volgi, this movie really sucks.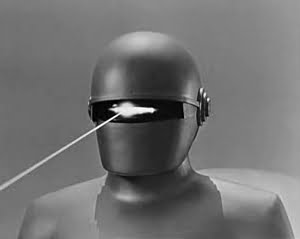 GorT is an eight-foot-tall robot from the 51ˢᵗ Century who routinely time-travels to steal expensive technology from the future and return it to the past for retroinvention. The profits from this pay all the Gormogons' bills, including subsidizing this website. Some of the products he has introduced from the future include oven mitts, the Guinness widget, Oxy-Clean, and Dr. Pepper. Due to his immense cybernetic brain, GorT is able to produce a post in 0.023 seconds and research it in even less time. Only 'Puter spends less time on research. GorT speaks entirely in zeros and ones, but occasionally throws in a ڭ to annoy the Volgi. He is a massive proponent of science, technology, and energy development, and enjoys nothing more than taking the Czar's more interesting scientific theories, going into the past, publishing them as his own, and then returning to take credit for them. He is the only Gormogon who is capable of doing math. Possessed of incredible strength, he understands the awesome responsibility that follows and only uses it to hurt people.