All Your Data Are Belong to Us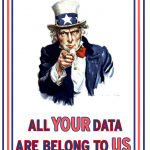 GorT has been pretty busy of late with a few big deadlines and projects at work culminating in traveling to Texas for his company's Christmas Party.  He ate well there and had a great time with his co-workers in the Lone Star State.  Mrs. GorT couldn't ride along as there was a big dance for our eldest here in DC so she tackled all the prep and held down the fort while GorT was away.  Upon return, GorT had two big customer presentations to deliver and had to help prep a coworker for another.  Apologies to our readers for the lack of posts.  We'll start back into things with the following:
Yesterday, President Obama met with several senior executives from high tech firms including Apple, Yahoo, Google, Facebook, Microsoft, Twitter and Netflix.  The President was hoping to keep the discussion focused on broad priorities including how to address the problems that HealthCare.gov faces.  However, the real discussion focused in on the NSA data collection practices.  The "tech execs" issued an open letter that called for a ban on the bulk data collection efforts by the government.
GorT takes some exception to the letter and actually finds the request a bit hypocritical.  Let me explain.
First, GorT is familiar with the intelligence community and it rides a very fine line by trying to advance the knowledge and foresight of our decision-makers based on happenings and intentions of foreign entities – whether those be governments or other organizations such as the Taliban or Muslim Brotherhood.  What is of concern here is how broadly intelligence agencies are interpreting rules such as Executive Order 12333 concerning the collection of data on United States citizens.  Also of concern is how public this is becoming and potentially damaging to international relations.  Just ask the Germans or Brazilians.  What kind of balance can we strike for proactive intelligence gathering while being reasonable with the privacy afforded to our citizens and sensitive to our international relationships?  It is far too easy to call for a ban on this collection – the consequences, no matter how paranoid one might think they are, could be catastrophic.
Regarding my second point, these companies are not asking for this ban just because they are privacy advocates.  Consider for a moment companies like Acxiom and other "data broker" companies.  These companies gather data from various sources where customers voluntarily in one way or another provide data about themselves.  Data collected includes:
Basic info like names, addresses (past & present), contact information (phone, email), demographics (age, sex, race, occupation, education level and marriage status)
Life event triggers: are you or did you just get married, buying a home, sending a child to college, buying a car
Purchases: groceries, online shopping categories and spending amounts – from which they model and derive information about your interests and hobbies
Social media: anything public on your Twitter, Instagram, Facebook, etc. are all fair game
Acxiom is actually letting you see some of the information that these data brokers know about you.  You can go to https://aboutthedata.com/portal and enter some information (it uses a secure connection and the terms state that they won't use the data provided for any marketing purposes).
As an example, in case you're too scared to do this, it knew that GorT has three children with rough age groups (albeit slightly off).  It knew that I was a voter but didn't associate me with a political party.  It knew that I completed graduate school and that I am a professional in a technical field.  It knew how long I have lived at my current address, what my home's value is, when I purchased it, etc. – basically a tie from public records for property taxes.  It's economic data was close regarding household income (even though I do not divulge that on surveys).  It pretty much identified the categories of buying that our household does frequently.  They know I own a pet and that I donate to charitable causes.  About the only thing wrong that stood out was that they think we have taken a cruise vacation (I'll pass on the rotovirus, thank you).
These companies want this data.  They'll couch it that society expects them to be more personal in their marketing and delivery of goods and services and therefore, they need this data.  However, it is the competitive market that is driving that.  The need to beat out the next company and deliver a better service or product…or wither and die.
Let's go through their five principles from their open letter as a comparison:
1. "Limiting Governments' Authority to Collect Users' Information" – these companies hardly adhere to limited data collection.  In fact, they want as much data as they can get their hands on.
2.  "Oversight and Accountability" – how much oversight and accountability is there on private companies collecting personal information about your shopping habits, economic profile or interests?  Should consumers have some way to remove their data?
3.  "Transparency about Government Demands" – maybe companies should be transparent about exactly what kind of data they collect on users and how.  They won't want to since it'll disclose methods of collection which may be better than their competitors (surprise, what do you think the US Intelligence Community is trying to do?) and what kind of data they have that competitors don't (again, not a big surprise why the Intel folks do things secretly).
4.  "Respecting the Free Flow of Information" – Brazil and other companies are concerned about the global economy and the resulting potential that their citizens' data could be hosted on servers in other countries making it easier for foreign governments to obtain.  One direction that this could go is requiring companies to keep citizens' data co-located in their native country – a big expense for companies…bad news for them.  Of course, the companies should always have access to this data…even if governments do not.
While they claim that they are focused on keeping users' data secure – how many spills of credit card information, usernames and passwords, or other information has happened from corporate mistakes?  Where is the liability?  If they want the United States government to step up, then maybe they should too.  Here are a few:
Companies should have a publicly accessible web page that clearly states what data they collect about their users, where it is stored, and whether it is sold or traded or given to other entities (including governments and under what potentially circumstances).
Companies should provide a restitution policy for users whose data is compromised – identity protection plans, liability coverage to some amount, etc.  Protect the data and accept the consequences.
Companies should provide a means by which users can request the removal of their information from all corporate storage.
While maybe I'm being a bit harsh, I see the subtle hypocrisy of these executives with regards to our national security interests.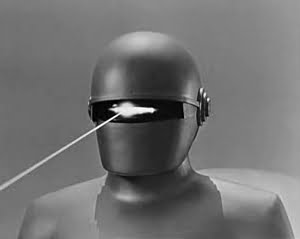 GorT is an eight-foot-tall robot from the 51ˢᵗ Century who routinely time-travels to steal expensive technology from the future and return it to the past for retroinvention. The profits from this pay all the Gormogons' bills, including subsidizing this website. Some of the products he has introduced from the future include oven mitts, the Guinness widget, Oxy-Clean, and Dr. Pepper. Due to his immense cybernetic brain, GorT is able to produce a post in 0.023 seconds and research it in even less time. Only 'Puter spends less time on research. GorT speaks entirely in zeros and ones, but occasionally throws in a ڭ to annoy the Volgi. He is a massive proponent of science, technology, and energy development, and enjoys nothing more than taking the Czar's more interesting scientific theories, going into the past, publishing them as his own, and then returning to take credit for them. He is the only Gormogon who is capable of doing math. Possessed of incredible strength, he understands the awesome responsibility that follows and only uses it to hurt people.