Why Government Shouldn't Run A Popsicle Stand: A Case Study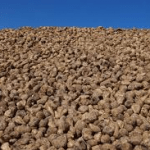 These are sugar beets. A pile of sugar beets looks almost
like a hot, steaming load of fresh horse manure. Similarly,
USDA's price support loan program for sugar beet
farmers is the indubitable equivalent of the aforementioned
equine excrement.
The Wall Street Journal ran an articleyesterday about the United States Department of Agriculture's loan program for domestic sugar producers. A bit removed from most reader's experience, 'Puter knows. In essence, this so-called loan program is nothing more than anti-competitive price supports for a domestic industry that cannot compete on equal footing with foreign producers.
But that's not what 'Puter wants to talk about today. 'Puter wants to talk about the insanity inherent in letting our government run anything of primary importance to Americans. This little known USDA giveaway loan program is a rounding error in Leviathan's balance sheets, a mere drop in the bucket. In addition, it's a very, very basic activity: take an application, push money out the door, collect payments. It's not rocket science.
So this teensy-tiny government program must be a model for government efficiency, right? After all, it's small, limited to one industry and well established. Simple, right?
Wrong. As the Wall Street Journal states:
But a glut of sugar over the past year sent prices plummeting, sparking the biggest wave of loan defaults among sugar processors since 2000.
In total, processors defaulted on $171.5 million in 2013, even after the USDA spent $106.7 million buying sugar to boost prices.
Oh. 'Puter sees. Government lends privately held borrowers money to shore up a noncompetitive domestic industry. What could go wrong with massive government interference in a market economy? Why, just look at Venezuela, that booming socialist paradise!
Not only is government lending taxpayer dollars to companies that can't repay because they can't compete internationally, but the government spends even more taxpayer dollars to buy up American producers' overpriced sugar.
'Puter's no financial wizard,* but wouldn't it be cheaper to keep the money government spends on buying overpriced and unneeded American sugar and simply apply the kickback subsidy to the borrowers' loans? After all, the borrowers are in default.
Just use the money you'd otherwise give them to pay down their debts instead.
Sure, it may suck for the borrowers, but it's good for the taxpayers.
But hey, folks, this is government we're talking about. It's not as if they have to make a profit or answer to shareholders. Heck, apparently government doesn't even have to follow basic precepts of fiscal prudence.
Get a load of this hot mess:
The government was left to pick up the bill but U.S. farm policy mandates that it makes fresh loans for the new season. Since Oct. 1, the USDA has extended $86.2 million of new loans as domestic sugar prices remain low due to booming U.S. production and high imports from Mexico.
Among the companies receiving the new financing are two sugar-beet processors that defaulted earlier this year, according to a Wall Street Journal analysis of USDA data. North Dakota-based Minn-Dak Farmers Cooperative has borrowed $18.1 million, after failing to pay back $7.2 million due in August. Amalgamated Sugar Co., based in Idaho, took out $18.8 million in new loans after defaulting on $17 million at the end of September. Neither company returned calls seeking comment.
Seriously, taxpayer-paid unfireable government drones?
You're propping up a failed industry by making bad loans to unworthy borrowers? Then you're compounding your initial error by paying the sugar producing borrowers for an unneeded overpriced sweetener? Why not just go for the trifecta and permit the practically bankrupt borrowers (including borrowers currently in default) to use the taxpayer-funded purchase money for purposes other than repaying the taxpayer-funded sweetheart loans?
Now that's a genius business plan, guaranteed to generate a massive return on investment for the taxpayer. Jeebus H. Tapdancing Christ on a Bicycle, USDA! It'd be cheaper for you to buy every damned beet farm in Minnesota and North Dakota and turn them into a theme park. You could call it "Socialist Swedes, Norwegians and Germans Who Are Perfectly Happy To Suck At The Government Teat For Generations Land." Beer-battered
lutefisk
on a stick for everyone, on the government dime!
This is a small, small program Americans have trusted government to run. Not only is the program anticompetitive, it's so fiscally ignorant it makes 'Puter's thinky-parts hurt.
And there are many, many more programs just like it, equally moronic and costly.
'Puter could go (and has gone) on and on.
If government can't effectively run a program to make loans to sugar beet farmers, why on God's green Earth did anyone, even the most back-asswards, low-information Democrat voter think government should be trusted to manage America's health care system?
*
'Puter actually is a financial wizard. Well, he's at least an attorney with over 15 years' experience in the cutthroat world of investment in sub- and nonperforming middle market commercial loans, with many years competing with (and beating) hedge funds.

Always right, unless he isn't, the infallible Ghettoputer F. X. Gormogons claims to be an in-law of the Volgi, although no one really believes this.
'Puter carefully follows economic and financial trends, legal affairs, and serves as the Gormogons' financial and legal advisor. He successfully defended us against a lawsuit from a liquor distributor worth hundreds of thousands of dollars in unpaid deliveries of bootleg shandies.
The Geep has an IQ so high it is untestable and attempts to measure it have resulted in dangerously unstable results as well as injuries to researchers. Coincidentally, he publishes intelligence tests as a side gig.
His sarcasm is so highly developed it borders on the psychic, and he is often able to insult a person even before meeting them. 'Puter enjoys hunting small game with 000 slugs and punt guns, correcting homilies in real time at Mass, and undermining unions. 'Puter likes to wear a hockey mask and carry an axe into public campgrounds, where he bursts into people's tents and screams. As you might expect, he has been shot several times but remains completely undeterred.
He assures us that his obsessive fawning over news stories involving women teachers sleeping with young students is not Freudian in any way, although he admits something similar once happened to him. Uniquely, 'Puter is unable to speak, read, or write Russian, but he is able to sing it fluently.
Geep joined the order in the mid-1980s. He arrived at the Castle door with dozens of steamer trunks and an inarticulate hissing creature of astonishingly low intelligence he calls "Sleestak." Ghettoputer appears to make his wishes known to Sleestak, although no one is sure whether this is the result of complex sign language, expert body posture reading, or simply beating Sleestak with a rubber mallet.
'Puter suggests the Czar suck it.