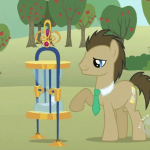 …an hour tonight.
Time Turner (aka Dr. Whooves) is turning back the clock, so should you!
Daylight saving time ends, and standard time starts at 2 AM, tomorrow morning.
Tomorrow morning, you get to live 1-2 AM all over again,if you don't get it right the first time!
Dr. J. is the Gormogon's strongest proponent of changing the clocks, as it adds utility to ones daylight hours. The other Gormogons are nominally against or indifferent to the issue.
You can see his reasons for championing the changing of the clocks in this oldie, but goodie.
Dr. J. hated being on call as a resident both falling behind (as he had an extra hour of call) and springing a head (all of his lying son-of-a-bitch colleagues would sleep in and 'forget about changing their clocks'). Other than that, he likes it.
Read it, let us know your thoughts, then change your clocks and check your fire alarms.