The Most Unhelpful Review of Thor 2 You Will Find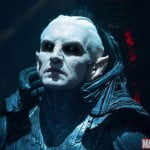 If you want a helpful review of Thor: The Dark World, there is no question you need to read Dr. J's excellent, spoiler-free, pro-grade-level review.
Tell us about it. This is how the Czar looked and felt after hearing seven 10-year-old girls' horrific attempt at One Direction's horrific attempt of the Blondie-classic "One Way (Or Another." Well…at least it was long.
If you want the least helpful review of Thor: The Dark World, keep reading as this is likely it.
The Царица, Царевич, and Цесаревич were all set to hit a matinee of this movie yesterday. This is a tradition lasting back to at least the first Iron Man movie: church, breakfast, early matinee, lunch. All in all, a good plan that got us through good and not-so-good.
But then, we are notified that the boys' piano concert was being moved to 1:00pm, which means we would have to see the movie after the concert.
So we go to the usual venue, which is a small de-consecrated church in a nearby suburb. The community uses the old church for little events like this, and it is really neat: stained glass windows, wood floors all crookedy, and that neat, century-old smell of candles and church stuff. Actually, it is a good venue for music even if it is a bit small.
We arrived in plenty of time and got decent parking. Okay, look, the Czar is not going to tell you how to run your business…actually, he does that a lot and will do so here. But let us question something.
If the seating capacity of the little church is a maximum of 125 persons, and you have 60 some kids performing, and each kid comes with two parents and a couple of grandparents, what do you think happens?
And why would you put out 100 seats?
Second, the Czar thinks it is great that you teach music. In fact, how awesome for your business that you also teach singing, not just piano and guitar. And that you have lots of students, and as a result you have many, many recitals throughout the day and afternoon. The Czar hears that you start at 1:00pm, but that your recitals go to 7:00pm! Most impressive, especially in this economy.
But have the piano and guitar acts go together, okay? Have your singing groups do their own recital at a different time. Because the singing groups have more kids, per capita, than the solo piano acts. Here's the thing: when you have two, three, four, and even twelves singers up at the same time, it takes up very little space on the program. But it fills up the seats with a lot of parents there to see their kid do their one minute little piece.
What does this have to do with Thor: The Dark World? Nothing.
But let's talk about the singing acts. Are you kidding us?
They're all girls, which is great. But tweener girls in your classes sing only two different categories of songs:
Disney solo pieces. No one needs to hear "Colors of the Wind" for the two-hundredth time, warbled out by some squeaky nine-year-old who clearly would rather be on an iPad…possibly that iPad, right there, that mom is holding and recording for you to keep forever. Your iPad. That you put the cute pink slip cover over and decorated yourself, and installed Bejewelled on, without any help from your idiot brother. Mom is touching your iPad. And you can't use it to text McKayla because mom is forcing you to stand up here, sing a dumbass song about a wolf cub from some movie two decades before you were born, and not use your iPad. God, you hate mom.
One Direction songs. Girls, these suck, and they suck worse when played on a piano, for which the song was never supposed to be arranged. As the piano player plunk-plunk-plunk-plunks out the incessant bass note, the bunch of you 10-year-olds strut around trying to re-enact dance moves from the video. And not a single goddamned one of you knows all the words to the entire song, so at any given moment, only one or two of you are actually singing and the rest of you are humming the parts you cannot remember. Which is hard to believe since it is pretty clear you rehearsed for this near-talent show by yourselves, individually, listening to your iPod six hundred times a day. And you still have no idea what the words are or what part of the song they come up in. So you pantomime this godawful dance routine—some of you missed the one group practice, right?—and breathlessly mouth most of the words to a song about how pretty you girls all are. What a freaking waste of time.
What does this have to do with Thor: The Dark World? Nothing.
At least the piano and guitar acts are worthwhile and all the kids show serious improvement.
With that torment finally over, we elected to grab a late lunch at an Italian hash slinger for which our neighbors thoughtlessly regifted a certificate for and popped in our mailbox last Christmas. The Czar loves Italian food, but hates those dopey kitsch places where you order from a fast-food counter and they bring you your over-acidic pasta and wine in a freaking plastic cup. Who drinks wine in a freaking plastic cup? Does it come out of a freaking cardboard box, too?
So the boys order, the Царица orders, and the Czar orders his plate of gnocchi, and then asks for his little plastic cup of chianti. The register operator taps in the code for that, but accidentally hits bottle, so the running total zooms to $81. No, the ever-vigilant Царица explains, he just wants a single plastic cup. The register operator apologizes and hits the cancel button—and the entire register turns off. Cold. Empty.
Now a manager has to come out and reboot the whole thing, and we re-order the whole meal from the top. The Czar mused about changing a bunch of things around just to drive her nuts, but he was hungry. Okay—that's all done.
With that, we hand over the gift certificate. The register operator turns to the kid operating the register next to her. She points out she has a gift certificate, and now he can learn how to do one. So she pulls the kid over to her register, has him key in all the details, and complete our order…while the dude standing next to me is gape-mouthed. He was in mid-order when she pulled the kid off his register. With incredible coolness, he continues ordering quietly, as if talking to himself as his order taker handles our gift certificate.
The Czar apologized to the guy, who shrugged and laughed at the stupidity.
But we selected our table and sat down. Our food arrived, and the nine-year-old Царевич pushes his ravioli around on his plate and announces he is not that hungry. Come to think of it, he has a stomach ache. The Czar announces another stunning prediction: when he gets back home, his stomach complaint will magically vanish, and he will be able to scarf down an adult-sized portion of leftover dessert. Perhaps the remaining half of the chocolate mousse pie we had the day before? Or a Neapolitan sundae perhaps? Maybe cookies?
Turns out it, two hours later when we arrived at home, a huge bowl of gem doughnuts. We busted him and forced him to eat a salad instead.
What does this have to do with Thor: The Dark World? Nothing.
But we did make it to the movies in the late afternoon. Go see it.

Божію Поспѣшествующею Милостію Мы, Дима Грозный Императоръ и Самодержецъ Всероссiйскiй, цѣсарь Московскiй. The Czar was born in the steppes of Russia in 1267, and was cheated out of total control of all Russia upon the death of Boris Mikhailovich, who replaced Alexander Yaroslav Nevsky in 1263. However, in 1283, our Czar was passed over due to a clerical error and the rule of all Russia went to his second cousin Daniil (Даниил Александрович), whom Czar still resents. As a half-hearted apology, the Czar was awarded control over Muscovy, inconveniently located 5,000 miles away just outside Chicago. He now spends his time seething about this and writing about other stuff that bothers him.