The Great Gormogon Turkey Challenge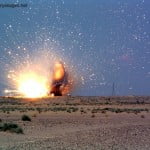 Today, thanks to time travel, we were able to hold our First Annual Turkey Contest yesterday. And the results were about what you would expect. As you know, all of us Gormogons are superlative cooks in at least one area of the culinary arts, and the results were almost exactly what you would expect.
Anyway, here are the entries.
'Puter went first, and he elected to use one of those deep fryers to make it. This was his first experience using a deep fryer of that size. He also elected, in the interests of safety, to drop it into the fryer from a height of about fifty feet.
The Czar elected to smoke a turkey this year, but evidently used far too much napalm than usual. There was some reasonably serviceable rib meat, but since you only get an ounce of this at best, and since this would be the only meat Dat Ho gets this Thanksgiving, we threw it away.
Dr J. made a very nice turkey, and it was both moist, delicious, and edible. However, the manner in which he prepared it was most interesitng, and we were lucky to get a photo of it being made. The stuffing had rosemary in it, but not so much that it overpowered. Also, the entire Northeast quadrant of Wisconsin was without power for two hours.
Volgi, well, he can be a bit of a pain. When he learned our theme was going to be turkey, prepared any way he wanted, he immediately redrew a map of the Ottoman Empire at its height, only this time with m̈ör̈ë ʊ̈ɱ̈lɑ̈üẗs̈.
GorT wasted no time with his turkey, converting all the useless parts to robotic improvements. "You could cook this bad boy at 350° at 20 minutes per pound," he said, "and it will still kick the oven door off its hinges and take down a fleet of drones."
What an interesting preparation, we all said to the Mandarin. But what is it? Evidently, he explained, he opted to prepare his turkey with an orange and lemon in the cavity, a bit of sage, and cross-extrapolated with the Empyrean Transfix. Each time we attempted to carve it, the knife vanished. Mandy assumes they will turn up, either in 1588 AD, or in yellow.

Божію Поспѣшествующею Милостію Мы, Дима Грозный Императоръ и Самодержецъ Всероссiйскiй, цѣсарь Московскiй. The Czar was born in the steppes of Russia in 1267, and was cheated out of total control of all Russia upon the death of Boris Mikhailovich, who replaced Alexander Yaroslav Nevsky in 1263. However, in 1283, our Czar was passed over due to a clerical error and the rule of all Russia went to his second cousin Daniil (Даниил Александрович), whom Czar still resents. As a half-hearted apology, the Czar was awarded control over Muscovy, inconveniently located 5,000 miles away just outside Chicago. He now spends his time seething about this and writing about other stuff that bothers him.