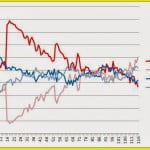 Obama is presently not enjoying his worst polling numbers since, well, ever. And given his glee for blaming his predecessor for everything, the Czar wondered how President Obama's numbers look superimposed over President Bush's numbers.
Hogwash, Obama's supporters will say: Bush was president for eight years, and Obama is not even six years into his dereliction of duty. Further, Bush enjoyed a false bump in popularity due to September 11, when even liberals were momentarily glad they had a guy in the White House with a backbone.
Of course, none of this is reasonable. One could easily slice the Gallup poll numbers into two-week chunks, start from February 1 of their first term (the first official poll sample) and cut off Bush's last three years to make them exactly the same length. Then just overlap the numbers.
What we see in red and blue are the respective presidents's approval numbers. Pink and light blue are the disapproval numbers.
Yes, you can see the massive September 11th spike, followed by Bush's long slide down.
But ignoring that, note Obama's popularity: it started high, wandered down, and stayed there. Not a good sign for Hope and Change. Curiously, we do not see a real spike in Obama's popularity until just before the 2012 election. Curious, and as you recall, this strange jump was noted by many when it actually happened.
Yet despite that little jump, you can see how the everything closed up between the two presidents right at the end of the first terms. And now you see Obama, although still barely more popular than Bush around the far right side of the chart, is trending to be less popular than Bush.

Божію Поспѣшествующею Милостію Мы, Дима Грозный Императоръ и Самодержецъ Всероссiйскiй, цѣсарь Московскiй. The Czar was born in the steppes of Russia in 1267, and was cheated out of total control of all Russia upon the death of Boris Mikhailovich, who replaced Alexander Yaroslav Nevsky in 1263. However, in 1283, our Czar was passed over due to a clerical error and the rule of all Russia went to his second cousin Daniil (Даниил Александрович), whom Czar still resents. As a half-hearted apology, the Czar was awarded control over Muscovy, inconveniently located 5,000 miles away just outside Chicago. He now spends his time seething about this and writing about other stuff that bothers him.