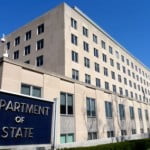 While the President is furiously trying to figure out what cookies are and why his new website needs to have them deleted, our Secretary of State is ruining the entire planet.
You might have missed this story even though its implications are massive and its outline is receiving nothing but criticism.
Is there anyone in here who has a clue about how bad things are getting? Probably, but you won't hear from them until 2016 at the earliest. And by then, the world will burn.
Secretary Kerry basically offered the following deal to Iran, now negotiating with us for the first time since 1979: "Tell you what. You promise not to develop nuclear weapons with your nuclear program, and we will start lifting sanctions on your country."
This is of course like telling the neighborhood gang members that if they promise not to do bad things, you will let them do whatever they want on your property. Think that will work?
Of course you don't. In fact, you would have to be a clueless dolt to think it could work.
Israel has condemned the deal, and talk is that Israel may finally be forced to take unilateral action to hit Iran. Of course, the action won't be truly unilateral: nearly every other country in the area—including those countries that profess hatred toward Israel—will not only look the other way but will secretly help out in any way they can.
The deal is so bad that Saudi Arabia appears to be offering Pakistan a heck of a lot of money to purchase some of its nuclear weapons. Yes, Saudi Arabia—who ardently supported a non-proliferation treaty—is now thinking it better get a good-sized gun for home defense. While we like to think about Iran hating Israel, the truth is they hate the United States and Great Britain just as much…and Saudi Arabia a close fourth.
If you were to ask the Saudi government about their pledge against nuclear weapons, you would probably hear a rapid stream of Arabic that included the words "Iran," "bomb," "Obama," "moron," and "the hell with you all."
Can't say we blame either Israel or Saudi Arabia. The United States is now viewed by over 200 nations as the most inept, stupid, and clueless bunch of fatass nose-pickers in history. It is probable that no American president has tanked his credibility as fast as Obama has. Look, they didn't take Hillary Clinton seriously as Secretary of State which is why she had to go. And John Kerry? Well, they like him even less.
The State Department has effectively issued the world the following notice: "We don't care about anything but local politics. This means you are on your own. Do whatever you have to do. We understand some of you have no experience in defending yourselves from aggressive neighbors, but given a choice between saving your skins and spending weeks futzing around with a website no one wants, well, click click click."
If you are a foreign power, you see Obama for what he is: a thin-skinned twerp with no intellect, no curiosity, and no interest. To him, the rest of the world is some Epcot Center stop where they have different ice cream flavors. He is the ignorant American personified: he doesn't understand you and has no interest in pretending to do so any longer.
Know why? Because even President Obama finds it difficult to blame the world's problems on House Republicans—and that is all he is good for. So, since even he would not believe John Boehner is responsible for Iran, he ignores it. He lets John Kerry handle all that nonsense, just as he let Hillary Clinton do whatever. And this lack of leadership continues to cost the rest of the world dearly.
Pray for our next President, Democrat or Republican; because Obama's successor will have a monstrously difficult task of cleaning up Obama's Gordian messes.

Божію Поспѣшествующею Милостію Мы, Дима Грозный Императоръ и Самодержецъ Всероссiйскiй, цѣсарь Московскiй. The Czar was born in the steppes of Russia in 1267, and was cheated out of total control of all Russia upon the death of Boris Mikhailovich, who replaced Alexander Yaroslav Nevsky in 1263. However, in 1283, our Czar was passed over due to a clerical error and the rule of all Russia went to his second cousin Daniil (Даниил Александрович), whom Czar still resents. As a half-hearted apology, the Czar was awarded control over Muscovy, inconveniently located 5,000 miles away just outside Chicago. He now spends his time seething about this and writing about other stuff that bothers him.