No One Messes With 'Puter's Huy Fong Chili Garlic Sauce. No One.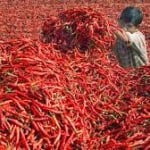 Quit complaining, Irwindale residents.




You could be Dat Ho's cousin Dis Ho




who works in Huy Fong's chili mines

.
'Puter was luxuriating in the Castle's naturally occurring hot springs,* conveniently located just down the hall from 'Puter's Rumpus Room, when an inflated seal bladder bubbled to the surface. 'Puter burst the intrusive bladder with his
glaive
** and realized Island Dweller (who, according to Czar, actually lives on an island) cleverly inscribed the bladder's interior with a cuneiform message, written in
sriracha
.
Island Dweller immediately grabbed 'Puter's attention with a reference to Huy Fong, the producer of the love of 'Puter's life,
Huy Fong Chili Garlic Sauce
.
Your legal loquaciousness:
I believe in the past you have made mention of this product. If not yourself, one other of the magisterium has done so. At any rate, the firm producing the sauce is in need of pro bono legal work, to wit:
[Text of
this Fox News article
on shutting down Huy Fong's plant in Irwindale, CA for public nuisance (i.e., roasting chilies, which emanates clouds of burning pepper vapors)]**
If you hurry you could probably obtain a free lifetime supply of this stuff, which I also use and like very much, as consideration for your efforts!
'Puter apologizes to Island Dweller for not responding sooner, but as soon as 'Puter received his missive, he called up the Sleestak on the Castle's flight deck and asked if of the our fleet of
Northrop Grumman RQ-4B Global Hawks
was on station anywhere near Irwindale, CA.
The Southern California UAV was down for maintenance after its engine was fouled with the cloud of smug arising from Hollywood. Fortunately, Sleestak was able to reposition a Global Hawk from its Area 51 station to Irwindale, CA.
After beating Sleestak for his failure to keep our fleet operational, 'Puter spent the next 16 hours buck nekkid and searching for the courthouse in which the City of Irwindale. Yes, buck nekkid. 'Puter loves Huy Fong Garlic Chili Sauce so much he didn't even take time to pants up.

'Puter located the courthouse and used the Global Hawk's mind control ray (helpfully downsized and installed in the entire fleet by Mandy) on the sitting judge.
Today we learn (not to 'Puter's surprise) that Judge Robert O'Brien denied the City's motion for a temporary restraining order prohibiting Huy Fong from processing chilies until the City's complaint is resolved. Not only did Judge O'Brien deny the City's motion, he called it "very radical."
Thanks to Island Dweller's quick thinking, Huy Fong can continue turning out the bright red elixir 'Puter loves so much, no matter how many hippies' lungs it burns. Well done, Island Dweller. 'Puter will send you a replacement seal in the next air drop.
* The Castle's hot springs are fueled by a naturally occurring Hellhole on which the Castle is built. Sure, we sometimes have a demon infestation, but there's never a shortage of "volunteers" for Mandy's experiments.
** 'Puter always keeps a glaive on his person.

Yes, even when he's buck nekkid.

Don't ask.
** 'Puter keeps a 55 gallon drum of Huy Fong Chili Garlic Sauce on a low boil in the Castle's HVAC unit.

The Castle's been a bit dry since GorT zoned the HVAC system and replaced the natural gas feed with a phased quantum capacitor last year. On the upside, each individual room can now be set at any temperature between
0° Kelvin
and
15,000,000° Celsius
.

Always right, unless he isn't, the infallible Ghettoputer F. X. Gormogons claims to be an in-law of the Volgi, although no one really believes this.
'Puter carefully follows economic and financial trends, legal affairs, and serves as the Gormogons' financial and legal advisor. He successfully defended us against a lawsuit from a liquor distributor worth hundreds of thousands of dollars in unpaid deliveries of bootleg shandies.
The Geep has an IQ so high it is untestable and attempts to measure it have resulted in dangerously unstable results as well as injuries to researchers. Coincidentally, he publishes intelligence tests as a side gig.
His sarcasm is so highly developed it borders on the psychic, and he is often able to insult a person even before meeting them. 'Puter enjoys hunting small game with 000 slugs and punt guns, correcting homilies in real time at Mass, and undermining unions. 'Puter likes to wear a hockey mask and carry an axe into public campgrounds, where he bursts into people's tents and screams. As you might expect, he has been shot several times but remains completely undeterred.
He assures us that his obsessive fawning over news stories involving women teachers sleeping with young students is not Freudian in any way, although he admits something similar once happened to him. Uniquely, 'Puter is unable to speak, read, or write Russian, but he is able to sing it fluently.
Geep joined the order in the mid-1980s. He arrived at the Castle door with dozens of steamer trunks and an inarticulate hissing creature of astonishingly low intelligence he calls "Sleestak." Ghettoputer appears to make his wishes known to Sleestak, although no one is sure whether this is the result of complex sign language, expert body posture reading, or simply beating Sleestak with a rubber mallet.
'Puter suggests the Czar suck it.