Male Bag! Extra Sweet Edition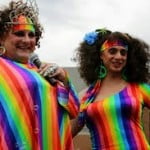 Nothing says "treat us with dignity and respect we deserve"
more than dressing up and behaving in accordance with the
worst stereotypes about us. Also, these two are playing a
game of "hide the sugar beet." Can you find it?
'Puter's little post on government's sugar beets price support program generated more email than just about anything he's written recently. 'Puter's often surprised by which posts generate reader interest. Who'd've thunk sugar beets would be so popular?
Operative ML writes in to note artificially high sugar prices aren't just helping sugar beet farmers, they're helping high fructose corn syrup producers as well (think multi-billion dollar conglomerates Cargill and Archer Daniels Midland, not family farmers):
Another problem with the artificially-maintained price of sugar in the US is that it's why all our food has HFCS [high fructose corn syrup] now, because HFCS is just enough cheaper that it's used all over the place.
Good point. Artificially high sugar prices encourage food producers to use corn syrup rather than imported cane sugar which would be cheaper but for the subsidization. And while sugar is not good for you in the quantities ingested by your average American, there are studies indicating high fructose corn syrup is worse. Either way, it's just plain stupid to use either beet sugar or high fructose corn syrup when cane sugar is cheaper and in plentiful supply.
Next, Operative Sky King (actually, just Sky, but 'Puter's mom loved Sky King when she was a little girl) writes with an interesting observation, one which 'Puter hears frequently from his father, a retired Washington lobbyist for perishable agricultural commodity producers:
Dear Dread Robot* Puter,
I write to humbly suggest that the costs absorbed by the Federal government in connection with the sugar beet loans, as well as certain other un-competitive domestic agricultural practices, although seemingly ultra vires and therefore unconstitutional, may actually be undertaken in connection with national defense.
Suppose we canceled all these (relatively small, relative to entitlement programs and the discretionary defense budget) agricultural subsidies, and began buying Russian sugar beets and Chinese corn. I've no idea if Russia actually grows sugar beets or if China grows corn, but bear with me as a hypothetical.
If, after a few short decades, the domestic sugar beet and corn industries have atrophied, and we later get into a conflict that results, due to geopolitical posturing, in us getting cut off from our foreign sugar and corn, we would be at a distinct strategic disadvantage.
I therefore submit that, unlike most of the 'other programs' you linked to at the end of your post, the agri-subsidies may have a benefit and purpose beyond the seeming graft.
Humbly and respectfully yours,
Sky
Yet another good point.
We Gormogons are fortunate to have thoughtful readers.
Yes, Sky King, there is a national defense aspect to the program.
A country that depends on others to feed itself is in as bad shape as a country that has to borrow one trillion dollars each year from foreign powers. Wait. Bad example. But you get 'Puter's point.
'Puter had a rejoinder to Operative Sky King's point, but Operative SW makes the point for 'Puter:
Farmers in this area grow beets for the Western Sugar Coop.
Members of the coop are required by their coop agreement to plant a minimum number of acres in sugar beets each year.
One such field was just harvested near my house.
However, at least around here, these are not beet farms.
While beets were in that field this year, last year it was corn and the year before that it was wheat.
Farmers are not fools and will plant for the market.
I suspect, if sugar subsidies were gone tomorrow and contracts with the coop were somehow voided, that farmers would do just fine.
Only "Big Sugar" would feel the pain.
Exactly, Operative SW.
When government subsidizes and activity, even an activity as seemingly innocuous as sugar beet production, it gets more of it. With more sugar beet production comes the need for more subsidies to meet the increased supply. Then, before you realize it, sugar beets are the new ethanol, with tens of Iowans willing to vote corn or die in the presidential caucuses.
Farmers will grow whatever nets farmers the greatest return on their investment. If corn's in short supply, they'll plant corn. If soybeans are short in a given season, every acre'll be bursting with bean plants.
And where sugar beets are grown (primarily the Dakotas and Minnesota), hard crops like corn, soy and wheat do just fine.
These farmers aren't confined to beet growing. These farmers grow beets because it's the most profitable crop for them to grow. And it's the most profitable crop for them to grow because government is throwing benjamins at the farmers like Mrs. 'Puter throwing herself at the patrons of the local VFW bar on all you can drink ladies night.
Don't get 'Puter wrong. 'Puter loves farmers and appreciates the hard work they do feeding America and much of the rest of the world.** And 'Puter's not griping about important farm programs like crop insurance and agricultural property tax breaks.
But subsidies like the sugar beet subsidies don't primarily benefit the farmers.
These subsidies benefit large multinational conglomerates like the aforementioned Cargill and Archer Daniels Midland.***
Finally, leaving aside the relative merits of crop subsidies ("
Ethanol now! Ethanol tomorrow! Ethanol forever!
"), 'Puter's larger point stands.
Government is incapable of efficiently managing even the smallest, most benign programs.
There's no way in heck it's remotely capable of managing something as massive as the United States health care system, much less creating an insurance network covering tens of millions of Americans from scratch.
Thanks for writing in, everyone.
Keep the feedback coming.
* 'Puter's not actually a dread robot. That's GorT. 'Puter's more an idiot man child (with frequent flashes of exceptional brilliance and even more frequent flashes of random, disproportionate violence) like Benjy from Faulkner's
The Sound and the Fury
. But instead of overalls (except when he's doing time), 'Puter prefers
orange polyester leisure suits
or
Hello Kitty boxer briefs
.
** 'Puter includes Canada's industrious plains provinces in his love of farmers. It's too bad you live in America's Hat. You're far more like Americans than those effete Frog wanna-bes in Quebec. Parti Quebecois, 'Puter's fat hairy rump.
*** 'Puter refuses to call Archer Daniels Midland ADM, its now-preferred moniker. 'Puter keeps it real, old school style.

Always right, unless he isn't, the infallible Ghettoputer F. X. Gormogons claims to be an in-law of the Volgi, although no one really believes this.
'Puter carefully follows economic and financial trends, legal affairs, and serves as the Gormogons' financial and legal advisor. He successfully defended us against a lawsuit from a liquor distributor worth hundreds of thousands of dollars in unpaid deliveries of bootleg shandies.
The Geep has an IQ so high it is untestable and attempts to measure it have resulted in dangerously unstable results as well as injuries to researchers. Coincidentally, he publishes intelligence tests as a side gig.
His sarcasm is so highly developed it borders on the psychic, and he is often able to insult a person even before meeting them. 'Puter enjoys hunting small game with 000 slugs and punt guns, correcting homilies in real time at Mass, and undermining unions. 'Puter likes to wear a hockey mask and carry an axe into public campgrounds, where he bursts into people's tents and screams. As you might expect, he has been shot several times but remains completely undeterred.
He assures us that his obsessive fawning over news stories involving women teachers sleeping with young students is not Freudian in any way, although he admits something similar once happened to him. Uniquely, 'Puter is unable to speak, read, or write Russian, but he is able to sing it fluently.
Geep joined the order in the mid-1980s. He arrived at the Castle door with dozens of steamer trunks and an inarticulate hissing creature of astonishingly low intelligence he calls "Sleestak." Ghettoputer appears to make his wishes known to Sleestak, although no one is sure whether this is the result of complex sign language, expert body posture reading, or simply beating Sleestak with a rubber mallet.
'Puter suggests the Czar suck it.