Liberalism's Dirty Little Secret, Exposed By ObamaCare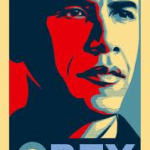 Hypnotoad would be a more
effective president than Obama
President Obama addressed the nation last night on ObamaCare. Well, Obama didn't so much "address the nation" as summon NBC's Chuck Todd to the White House to consult Obama, the Left's oracle, and receive The One's wisdom. Here's a portion of what the president said:
You know– I regret very much that– what we intended to do, which is to make sure that everybody is moving into better plans because they want 'em, as opposed to because they're forced into it. That, you know, we weren't as clear as we needed to be– in terms of the changes that were taking place. And I want to do everything we can to make sure that people are finding themselves in a good position– a better position than they were before this law happened.
Keep in mind that most of the folks who are going to– who got these c– cancellation letters, they'll be able to get better care at the same cost or cheaper in these new marketplaces. Because they'll have more choice. They'll have more competition. They're part of a bigger pool. Insurance companies are going to be hungry for their business.
The president's problem here has next to nothing to do with ObamaCare itself.
It has everything to do with his core beliefs.
Namely, it is acceptable for government to micromanage competent adult citizens' lives for what government believes to be a greater good.
Obama's problem is that this underlying assumption of liberal government is laid bare for Americans to see, and Americans don't like what they're seeing.
Americans are experiencing firsthand liberalism's sneering disdain for individual freedoms, and they're seeing it in nearly every liberal policy floated during Obama's administration.
Sure, we outlawed the health insurance policy you had, but it's for your own good.
We both know you're too stupid to determine how best to run their own lives.
After all, you bought a policy we, your liberal betters, know is a bad policy.
Only I, the great and wise Obama, and my liberal army of never-employed-in-the-private-sector technocrats know what's best for you.
Submit. Obey.
Americans can't have guns because occasionally psychotic, evil people shoot up a crowd of disarmed citizens.
Just turn over your guns and government will take care of you. Never mind that government does a singularly crappy job of policing anything, much less violent criminals.
You'll be fine.
Trust us.
Americans can't refuse to provide employees birth control coverage even though doing so conflicts with deeply held religious beliefs, First Amendment be damned.
Women have a right to avoid the consequences of sexual activity (for free!*) so your back-asswards, Sky God worshippers will just have to deal with it.
"Shut up, Jesus freaks!," liberals helpfully explain.
Americans can't have incandescent light bulbs, despite the undeniable superiority of light quality and cost, because you're causing global warming.
Polar bears are dying and glaciers are melting, so we, your liberal betters, have determined your squinting in the sickly, dim, bluish light from a mercury-filled CFL bulb is a small price to pay to save the world!
Certain parts of America have water problems, like our good liberal friends in California.
Therefore, all Americans must use low flow toilets that clog easily and don't make your poop go bye-bye in one flush. Being surprised by a prior user's half-decomposed floater in the bowl is a small price to pay for Californians' smugness. Shut up, water-rich Great Lakes states! We don't care what you have to say! Pay up and shut up!
ObamaCare's a symptom of the problem, not the problem itself.
The problem is liberals smugly and wrongly believe that you, the average American, are too stupid to make your own decisions (and live with the consequences thereof) without government interference.
That's liberalism's dirty little secret. Liberals are petty, inept tyrants when afforded power. Now, thanks to ObamaCare, the Left's tyrannical predisposition is out in the open.
And that's why liberals are so angry.
* It never occurs to women that it's also free for them to keep their knees together, which highly unusual procedure prevents "unintended pregnancies"** 100% of the time.
** The phrase "unintended pregnancies" pisses 'Puter right the Hell off. It is not an "unintended pregnancy" if you consent to sex. Pregnancy is the very real consequence of sexual activity, whether you were too dumb to know it or not. Properly, we should call such pregnancies "I'm too stupid and horny to realize the natural consequences of my actions, and too lazy to use birth control pregnancies."

Always right, unless he isn't, the infallible Ghettoputer F. X. Gormogons claims to be an in-law of the Volgi, although no one really believes this.
'Puter carefully follows economic and financial trends, legal affairs, and serves as the Gormogons' financial and legal advisor. He successfully defended us against a lawsuit from a liquor distributor worth hundreds of thousands of dollars in unpaid deliveries of bootleg shandies.
The Geep has an IQ so high it is untestable and attempts to measure it have resulted in dangerously unstable results as well as injuries to researchers. Coincidentally, he publishes intelligence tests as a side gig.
His sarcasm is so highly developed it borders on the psychic, and he is often able to insult a person even before meeting them. 'Puter enjoys hunting small game with 000 slugs and punt guns, correcting homilies in real time at Mass, and undermining unions. 'Puter likes to wear a hockey mask and carry an axe into public campgrounds, where he bursts into people's tents and screams. As you might expect, he has been shot several times but remains completely undeterred.
He assures us that his obsessive fawning over news stories involving women teachers sleeping with young students is not Freudian in any way, although he admits something similar once happened to him. Uniquely, 'Puter is unable to speak, read, or write Russian, but he is able to sing it fluently.
Geep joined the order in the mid-1980s. He arrived at the Castle door with dozens of steamer trunks and an inarticulate hissing creature of astonishingly low intelligence he calls "Sleestak." Ghettoputer appears to make his wishes known to Sleestak, although no one is sure whether this is the result of complex sign language, expert body posture reading, or simply beating Sleestak with a rubber mallet.
'Puter suggests the Czar suck it.