How Liberals Saw Obamacare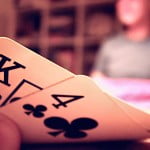 All right, the Czar will explain the liberal mindset yet again, but this time we will explain what the deal is with Obamacare. Even though polls are showing liberals are dumping on Obamacare (a recent poll showed only 12% of liberals think the law works), you might wonder why they held on so long and why some still do.
Obamacare might be a losing card game; unfortunately, in poker, no one forces you to play. And, unlike Obamacare, it's impossible in poker for everyone to lose.
First, understand this: liberals, like you, think healthcare is way too expensive. Liberals, like you, think healthcare costs are screwing people who need treatment. Like you, most liberals think it's awful that some people are ignored by insurance companies because they inconveniently got cancer during a gap in coverage and now cannot get a policy to literally save their lives.
This is where your level of equal footing ends.
How do we reduce the costs of healthcare? This is where liberals depart from you. If you live in a fantasy world of movies and television, you know that the government has incredible sums of cash ready to pay for hidden sea bases, moon missions, and all sorts of cool stuff. Peeling a little of that off and giving it to the healthcare industry is not going to hurt, and this way everyone has a little skin in the game, right?
Now, with that money, not only can we afford to cover people with pre-existing conditions (yay!), we can also provide healthcare to all those poor and indigent people who cannot afford it, either. Win-win. And tell you what, we can lower everyone else's costs at the same time. Win-win-win.
Now, with the amazing do-anything power of the Internet (as seen on TV!), you can get this low cost health care coverage with a few mouse clicks. Who wouldn't want this?
You really don't have to worry too much about security because, frankly, a bad guy would only be screwing himself here. If he steals your personal data, what's he going to do with it? Lower your costs even more? This is such a win-win-win that bad guys will want to comply.
Now, you can already hear the conservatives bitching about this being like the NHS. But they are, as always, so misinformed. The NHS pays for everything, and you pay them through your taxes. In our scenario, the taxpayer pays only a little bit…but otherwise he or she is still fully in charge of the policy. What options, what coverage, what co-pay, what doctor—hell, that's all up to you, America! Name another program where you decide how much you want to pay in taxes. Heck, with the coverage benefits and lower costs, your overall bill, taxes and insurance combined, will be less than you pay now…for less coverage. Another win.
Of course, the morons on the right are now gacking over single payer. While that would be nice, even idea, liberals know this country isn't ready for that yet. No, this isn't anything like single payer: the government will help set up the exchanges, but basically you can buy and sell over an open market. Like a stock market, which is really cool! This is yet another way you can lower costs…by forcing these guys to bid for your business. Is this not capitalism at its best? It's only socialism because you don't like it.
Finally, with everyone on board and costs lowered for everybody, there is no incentive to to deny medical research funding. This will allow America to do what it does best: put serious quality into its practices. The government will ensure this quality is spread around fairly, too, exactly like the FDA does with your eggs and beef. You can't deny the FDA has helped millions: so all this talk of rationing and death panels is just stupid.
So why do conservatives oppose this?
Well, the Czar doesn't have to explain to you readers all the places where the above falls down. But you can see that liberals really meant for healthcare to be a great, inexpensive thing. Of course, all these assumptions are based on a fantasy world where every single lofty but incorrect expectation stands on the shoulders of an equally incorrect expectation. Conservatives were neither bad nor stupid: they simply read the original bill and immediately understood that Obamacare was intended to be nothing like they expected.
Liberals, ironically, should be more upset by what got passed than conservatives: they were lied to by the very people they expected would help most. And the people who were supposed to lose out here, the insurance companies and their profit motive, wound up being the ones who raised the earliest alarms. Only now are they realizing that conservatives read the actual bill, whereas liberals continued believing only what they imagined it contained.
The Czar does not excuse liberals's terrible actions nor offers empathy for their horrifying naïveté; but they really did mean to provide everyone a win-win-win solution. The problem is that they were playing a game in a serious enterprise and completely misunderstood the rules of the game. The financial industry is like poker: unless you know how to win big, you will lose everything. And Obamacare is all-in, with very low cards; a lot of bluffing didn't work, and 2014 is about to call.

Божію Поспѣшествующею Милостію Мы, Дима Грозный Императоръ и Самодержецъ Всероссiйскiй, цѣсарь Московскiй. The Czar was born in the steppes of Russia in 1267, and was cheated out of total control of all Russia upon the death of Boris Mikhailovich, who replaced Alexander Yaroslav Nevsky in 1263. However, in 1283, our Czar was passed over due to a clerical error and the rule of all Russia went to his second cousin Daniil (Даниил Александрович), whom Czar still resents. As a half-hearted apology, the Czar was awarded control over Muscovy, inconveniently located 5,000 miles away just outside Chicago. He now spends his time seething about this and writing about other stuff that bothers him.