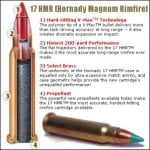 The Ghost—perhaps our most mysterious operative, although today he was down in the Castle Cafetorium because on Mondays we usually feature that awesome French toast special, where you get two decent scrambled eggs on a separate plate so the syrup doesn't bleed into the eggs, thank you very much—approached us with an uncomfortably appropriate level of supplication to ask:
Illustrious Lord of Fear, and Loathing, Misfortune of Liberals, he for whom the sum would rise in the West and set in the East should his gloriousness command it.

This is a website, so of course we will feature some clip art of a .15 HMR round. Had this been a television show, we would have featured a non sequitur scene from the movie Sniper, and if we had that radio show we are always pining after, we would have about fifteen seconds of pointless background sound effects to "paint the aural picture." The Czar hates the media.

Your humble minion wishes to ask your radiance a question, knowing his effrontery assures his incineration in a terrible way.

How do you feel on the subject of the .17 HMR round and the weapon that fires it (in this case a Marlin bolt action rifle)?

Should you be gracious enough to not baste me in my own ethereal fluids, I have a short historical anecdote, along with mine own observations. Please forgive minor inaccuracies as I am not deeply involved with the majority of the backstory.

Honorable Ghostly Father, is what's known as a wildcatter. He will spend hours finding his own brass and perfecting the round he makes for whichever pet gun project he desires. The latest project is a .223 long rifle which he has modified to hold a .17 20grain bullet. He has even gone so far as to have a machinist create him a primer end for the brass to screw on to the back end because the .17 is a rimfire round.

HGF can now fire a round that exceeds 3900fps and retain accuracy at nearly 400 yards. And because of the way the brass was loaded, with his own special mix, it fires a much flatter trajectory than one would expect. This prompted me to see what was sold by manufacturers in this caliber. I ended up with a Marlin .17 rifle with a 22″ barrel for a mere $300. Out of the box this would fire a group at 50 yards around 3 inches across. With some bore polishing overseen by HGF this will now put a round through a $.25 piece at 50 yards every time. With the addition of a decent scope, living in farm country mind, HGF and I were able to kill a fox that had been terrorizing some chickens at about 200 yards using my now only mostly stock rifle, with a single round through the eye.

Dread lord, I do not make recommendations to people because I assume they are intelligent enough to make their own choice. I humbly request that you look into such a weapon for personal use if at all possible. The .17 round stayed on the shelves during the recent ammunition "shortage" to the point where stores are even now still practically giving it away.
The Czar has never fired a .17 HMR cartridge, but is certainly aware of it.
The Czar likes bolt action rifles for their accuracy and clean fire, but of course recommends folks—actually, pretty much 'Puter—not mess around with modifying (or in reality, tampering) with cartridges. There are two types of folks who do this: wildcatters—a term the Czar has not heard in a few years, so nice work!—who are quite versed in ballistics and bullet aerodynamics, and of course future newspaper articles on page 3, in which they are described as "area man,ž with a warning from the local police chief on how basic firearm safety can prevent tragedies like this.
The results of your spooky dad are quite impressive: a 3900 fps shot with fox-eye accuracy at 200 yards is a helluva bullet. The Czar assumes you used iron sights and not a scope, of course, right? Use the force, Luke, and all that? Nicely done.

Божію Поспѣшествующею Милостію Мы, Дима Грозный Императоръ и Самодержецъ Всероссiйскiй, цѣсарь Московскiй. The Czar was born in the steppes of Russia in 1267, and was cheated out of total control of all Russia upon the death of Boris Mikhailovich, who replaced Alexander Yaroslav Nevsky in 1263. However, in 1283, our Czar was passed over due to a clerical error and the rule of all Russia went to his second cousin Daniil (Даниил Александрович), whom Czar still resents. As a half-hearted apology, the Czar was awarded control over Muscovy, inconveniently located 5,000 miles away just outside Chicago. He now spends his time seething about this and writing about other stuff that bothers him.