For All We Have Yet To Lose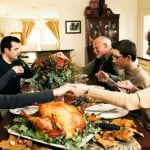 Long-time readers know of the Czar's fondness for Thanksgiving; he is pleased to hear from more and more people—including strangers—echoing the same sentiment for the same reasons: Thanksgiving is the perfect holiday.
Don't these seem like nice people? Your family may not be this nice. That's okay, too, because things could sure be worse for all of us. And maybe they will get worse—but not today.
It needn't be religious. It needn't be secular. A Sikh, a Jew, a Christian, a Buddhist, a Muslim, a Hindu, and a Shintoist can celebrate the tradition equally. In fact, an atheist can celebrate Thanksgiving with identical measures. Sure, his blessing before dinner may be short or non-existent, but the atheist can be thankful to his friends, family, or even himself for all he has this year.
Thanksgiving is not a fake holiday where you have to buy cards written by others; it isn't about decorations, really, or costumes or special songs or struggling to remember special prayers in dead languages. As you know, turkey isn't even required. It is a holiday which you make for yourself, in your own reflection.
There are two things, we have found, for which you should be mindful. First, of course, is that you should be fully appreciative of all you have. Maybe it isn't much: but if you have a roof, a meal, and a friend somewhere out there, you should be truly grateful. You could have a lot less. In fact, no matter how little you have, you could have a lot less.
But second, you should be grateful for all you haven't lost. Think this over, because it is just as important. Thanksgiving can be a rough time: you may have recently lost a love one, whether deceased or divorced, and the memory must sure sting horribly. Little things, you know? That was his spot at the table. This was the china she liked to use. He always had a second helping of this. Little things can hurt the worst.
Yet you have not lost everything. That is reason to be grateful. The tornado victims in Illinois might be suffering through their first Thanksgiving without a house. But they, too, have been taken in somewhere. They are with friends and family today. Even if all they have is hope, then they haven't lost everything.
And for that, they are truly grateful.
You, too: sometimes, especially as we think of those who have lost so much in the last few years, the losses add up to be more than the wins. But you haven't lost everything. So today, as you sit around the table, take a moment.
Look from left to right, across friends, family, neither, and both. The older ones who taught you how to set the table, cook and carve, and what foods to bring. The younger ones who are learning all these wonderful traditions and who will one day gaze at you. Take one second and think to yourself how much they have, and how much they give to you. That's thanks you're giving.

Божію Поспѣшествующею Милостію Мы, Дима Грозный Императоръ и Самодержецъ Всероссiйскiй, цѣсарь Московскiй. The Czar was born in the steppes of Russia in 1267, and was cheated out of total control of all Russia upon the death of Boris Mikhailovich, who replaced Alexander Yaroslav Nevsky in 1263. However, in 1283, our Czar was passed over due to a clerical error and the rule of all Russia went to his second cousin Daniil (Даниил Александрович), whom Czar still resents. As a half-hearted apology, the Czar was awarded control over Muscovy, inconveniently located 5,000 miles away just outside Chicago. He now spends his time seething about this and writing about other stuff that bothers him.