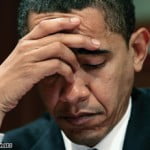 Inevitably, future historians will write detailed biographies of President Barack Obama as they have done for all the presidents. God willing, President Obama will enjoy a long, happy retirement with his family and take the time to read some of the biographies.
History is neither servant nor master.
He likely will not appreciate what he reads.
One suspects he knows his glorious time, his salad days are long behind him. They probably happened when he was a Senator, and the entire world was laying down at his feet. Likely, his happiest days will stop right about his election as President.
So many Presidents have a sad chapter in their respective biographies.
Watergate is a chapter in biographies of Nixon.
Iran is a chapter in Carter's.
Iran-Contra is a difficult read in Reagan's biography, and Monica Lewinsky certain occupies a chapter in Bill Clinton's.
But Obamacare will be a significant portion of Barack Obama's biography, requiring many chapters. Think about that for a second. Watergate occupied a brief span of time in the Nixon presidency. Iran lasted only 444 days of Carter's. Iran-Contra and Lewinsky were embarrassments that lasted a very short while as well. Obamacare started with its champion's inauguration.
Obamacare is a disaster that lasted longer than all of those scandals…even combined. Obamacare is a sad turn for the President that has lasted even longer than World War II. Longer than the Great Depression. Longer than the Civil War. By 2016, the end of Obama's pathetic second term, it will surpass the Revolutionary War…which wasn't at all an unfortunately avoidable scandal, but is merely a long-lasting period in American history.
By then, Obamacare will be the second-longest mistake in American history, surpassed only by the peculiarly evil institution of slavery. The problem there, of course, is that Americans did not volunteer for slavery: it was set up for them by the British, and forced upon everyone else except a handful of bastards who kept it going.
As President Obama reads page after page, chapter after chapter, of his part in the great health insurance fraud he championed, he will shudder at how avoidable the entire mess was, how people in its earliest days were warning of precise failures and problems, how easily the whole mess could have been avoided…if only the President had listened to good advice.
His own party is telling him, at long last, that Obamacare is doomed in its present state, and it may not be salvageable even if those problems are fixed. And yet he refuses to listen.
When he does, the tone of his biography may change; unfortunately, he will not be able undo the harm he has already inflicted on his own legacy.

Божію Поспѣшествующею Милостію Мы, Дима Грозный Императоръ и Самодержецъ Всероссiйскiй, цѣсарь Московскiй. The Czar was born in the steppes of Russia in 1267, and was cheated out of total control of all Russia upon the death of Boris Mikhailovich, who replaced Alexander Yaroslav Nevsky in 1263. However, in 1283, our Czar was passed over due to a clerical error and the rule of all Russia went to his second cousin Daniil (Даниил Александрович), whom Czar still resents. As a half-hearted apology, the Czar was awarded control over Muscovy, inconveniently located 5,000 miles away just outside Chicago. He now spends his time seething about this and writing about other stuff that bothers him.