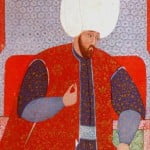 Mark Spahn, of West Seneca, NY, writes in to advise us that he has cleverly changed positions. Not politically, but physically:
(Actually, I am farther from Lackawanna than from the geospatial center of West Seneca. Adjust your cruise missile targeting coordinates accordingly.)
Way to keep us on our toes! We like that in an Operative. If you keep us guessing, our enemies remain ever clueless.
It is not widely appreciated that Suleiman liked to wear hats that looked like tulips. And that was hardly the weirdest thing about him.
And how about this:
Your Czarocity,
The list of titles in the first paragraph of this post somehow reminds me of your very own prose.

The creation of titles presents the poet with an opportunity to shine: to create a title that has never been uttered before but which, in retrospect, is so apt.

"Possessor of Men's Necks", indeed.
— Mark Spahn, Appreciator of Pungent Effluvia
Let us see. here is what Mark found:
Allah's Deputy on Earth, Lord of the Lords of this World, Possessor of Men's Necks, King of Believers and Unbelievers, King of Kings, Emperor of East and West, Emperor of the Chakrans of Great Authority, Prince and Lord of the Most Happy Constellation, Majestic Caesar, Seal of Victory, Refuge of all the People in the Whole World, The Shadow of the Almighty Dispensing Quiet in the Earth.
That's pretty good, and doubtless even a sleeping Volgi is already auto-tracing the original Trabzonese script for Suleiman's title with his little finger. Actually, the Czar thinks the two hung out together, and very likely Volgi came up with the Possessor of Men's Necks title himself, with a pinch of aide from the Liao drug. It just sounds like Volgi.
The Czar's title is, as we all know, for all time: Божію Поспѣшествующею Милостію МЫ, Дима Грозный Императоръ и Самодержецъ Всероссiйскiй, цѣсарь Московскiй. This is much shorter, but more compact and far more likely to stand up in court. Some of you come up with many impressive pieces of it in your letters to us, for which we radiate kindness and mercy. And not to worry about the merciful part: there are plenty of anonymous serfs out there for us to vent our wrath upon.
The most important part of that title are the last two words: цѣсарь Московскiй, the Czar of Muscovy. It should be much longer, but you all know the story of how we got screwed in 1279 out of the bigger deal. But Muscovy is nice, it is here in DuPage County, Illinois, and our neighbors are really nice.
So we got a phone call last night from a neighbor—this is a little serious, by the way. Their kindergartener went into a series of seizures and they were racing him to a hospital. Would we be able to take in their third-grader—very good friends with our own third-grader—for some time? We are very honored to have been chosen for this serious task. Can you imagine the stress on them? Not only trying desperately to find out what is plaguing their younger son, but having to leave their older boy with the Czar…and no doubt, the parents feel they just sort-of dumped him with us under the circumstances. But that is not the case at all.
Indeed, we are making the most of it. The boys spent the evening with firearms hunting zombies in the dacha (fortunately finding none, of course, but it is always worth a periodic look…like changing smoke detector batteries), and later the two little guys slept on the couches to keep each other company. Our older boy is acting as the lieutenant, but as he is incredibly fond of the kindergartener (the latter worships the former), he was most visibly upset to hear about the seizures and took the news very hard. The Царица, of course, has proferred no shortage of lavish meals on the boys; she seems to be delighted to have another kid in the house who doesn't need wiping clean every ten minutes and is endearingly polite and sweet about it all. Tonight will be pizza and Halo 4.
We are confident his little brother will be correctly diagnosed and medicated—the hospital he is at is truly one of the best on the planet—and home soon with his big brother. But this is the sort of place Muscovy still is, and the big brother is welcome to stay with us as long as circumstances dictate.

Божію Поспѣшествующею Милостію Мы, Дима Грозный Императоръ и Самодержецъ Всероссiйскiй, цѣсарь Московскiй. The Czar was born in the steppes of Russia in 1267, and was cheated out of total control of all Russia upon the death of Boris Mikhailovich, who replaced Alexander Yaroslav Nevsky in 1263. However, in 1283, our Czar was passed over due to a clerical error and the rule of all Russia went to his second cousin Daniil (Даниил Александрович), whom Czar still resents. As a half-hearted apology, the Czar was awarded control over Muscovy, inconveniently located 5,000 miles away just outside Chicago. He now spends his time seething about this and writing about other stuff that bothers him.