The Shutdown, In Pictures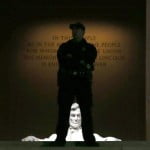 The shutdown is proving to be utterly disastrous as far as the Main Stream Media can tell by glancing out their Starbucks windows. A quick roundup of the shutdown in pictures.
| | |
| --- | --- |
| | Wild packs of dogs are roving the Mall, and some have made it all the way to Anacostia, where the Nationals still remain hidden in terror. The latter is due to the neighborhood, not so much the dogs. |
| | With all imaginable city services shut down due to the shutdown (see the difference between verb and noun?), the entire DC area has fallen into disrepair so badly that from a distance, it totally looks like every other city run by Democrats. This picture, yeah, is from Detroit but at this point, what's the difference? |
| | Republicans expressed concern for something or other, and one of them mentioned something about the President, but we didn't cover it. |
| | Fortunately, the President had the good sense to establish what is most important to remember during this shutdown—law and order. Even with 12% of the government at a standstill, Obama's vision for America is still operational. |
| | Since the Capitol is now working with volunteer amateur cops all of a sudden, not surprisingly a bunch of conservative Tea Party gun nuts went crazy and tried to kill all the more liberal members of Congress in a hail of automatic assault weapons. |
| | Wait, we might have jumped the gun on that story. Seems it was an innocent mother of a small baby, suffering from otherwise perfectly treatable Obamacare-grade post-partum depression. As you know, liberals care nothing for women and kids unless we can use post-partum something to justify more regulations. Anyway, look at this sweet mom—brutally gunned down in front of her kid by NRA-backed thug guards at the Capitol. If only we didn't have the shutdown, the real guards who work there could have been paid to come in, and would immediately and sensitively have directed her to healthcare.gov for treatment. |
| | The President has bent over backwards to avoid this travesty, the first of its kind in history. Due to the Republicans being taken over by ordinary people, the President is very upset over the terrible consequeneces of the shutdown. What is to be done? |

Божію Поспѣшествующею Милостію Мы, Дима Грозный Императоръ и Самодержецъ Всероссiйскiй, цѣсарь Московскiй. The Czar was born in the steppes of Russia in 1267, and was cheated out of total control of all Russia upon the death of Boris Mikhailovich, who replaced Alexander Yaroslav Nevsky in 1263. However, in 1283, our Czar was passed over due to a clerical error and the rule of all Russia went to his second cousin Daniil (Даниил Александрович), whom Czar still resents. As a half-hearted apology, the Czar was awarded control over Muscovy, inconveniently located 5,000 miles away just outside Chicago. He now spends his time seething about this and writing about other stuff that bothers him.