'Puter's Always Right: Republican Beatdown Edition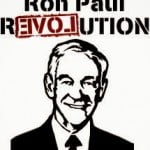 Yes, Tea Party. If only we'd elected Ron
Paul, none of this ever would've happened.
It's more true that Tea Party Glorious and
Ineffective Kamikaze Plan Number One was
a far more proximate cause to our recent
drubbing than failure to elect RAWN PAWL!
Let's go back and visit 'Puter's prognostications on the debt limit, the government shutdown and their resolutions. 'Puter inked 'Puter Does the Debt Limit, Part Panj last Friday, 11 October 2013.
At that time, Tea Partiers were still huffing metallic spray paint out of filthy Chinese take-out bags, believing that America would love them if only they unnecessarily imperiled the entire economy to defund ObamaCare. As Ross Douthat notes today in the New York Times, and as myriad others (Jonah Goldberg and John Podhoretz spring to mind) warned:
However you slice and dice the history, the strategery, and the underlying issues, the decision to live with a government shutdown for an extended period of time — inflicting modest-but-real harm on the economy, needlessly disrupting the lives and paychecks of many thousands of hardworking people, and further tarnishing the Republican Party's already not-exactly-shiny image — in pursuit of obviously, obviouslyunattainable goals was not a normal political blunder by a normally-functioning political party. It was an irresponsible, dysfunctional and deeply pointless act, carried out by a party that on the evidence of the last few weeks shouldn't be trusted with the management of a banana stand, let alone the House of Representatives.
Tea Partiers insist no one could've seen the beating Republicans took coming. When confronted with overwhelming evidence to the contrary, Tea Partiers simply blame all other Republicans for not being sufficiently ideologically pure and committed to the destruction of the world's largest economy because ObamaCare, teetering under the weight of its complete rollout failure, is the greatest threat to America, ever. Greater than the Civil War. Greater than the Great Depression. Greater than anything you can possible imagine.
Whatever.
Anyway, on to 'Puter's point: 'Puter's always right.
Here were 'Puter's educated guesses on what was happening at the time and what was likely to happen in resolution.
'Puter Prognostication 1: The Problem and Its Cause
So, to answer our question, no, the government shutdown has absolutely nothing to do legally or logically with the debt limit debate.
However, the debt limit and the shutdown are now linked in the public's mind because of Republican ineptitude.
It's a fact. And this tactical error is due to Sen. Cruz and the House Tea Party Caucus. If you're going to blame anyone when the long-planned debt limit debate goes sideways, blame them.
Let's see. Government shutdown has nothing to do with the debt limit? Check. Republicans screwed up linking them in the public mind? Check. Sen. Cruz and the House Tea Party Caucus are colossally inept and solely to blame for damage to the Republican Party? Check.
'Puter Prognostication 2: Savvier Republicans' Fallback Plan
Rep. Paul Ryan (WI-1) wrote an op-ed in the
Wall Street Journal

yesterday
that didn't mention ObamaCare once. If you haven't read it, you should really read the whole thing.
Conflict's resolution had nothing to do with ObamaCare, heavily weighted toward what the grown-ups in the House knew to be attainable?
Check.
'Puter Prognostication 3: Ultimate Resolution
'Puter wrote that Americans should expect the following in any resolution of the shutdown:
·
"Republicans are going to have to pass a short-term continuing resolution and a short-term debt limit increase, preferably to the end of the year." Check.
·
"Maybe we will get Obama to give us a fig leaf, maybe not. Most likely, Republicans will get nothing." Check.
·
"As a condition for pushing the continuing resolution and debt ceiling extensions out (clean or modified, as agreed), Republicans must insist that Obama and Senate Democrats keep their promise: they will negotiate reforms to the tax code and to entitlement programs." Check.
·
"Any extension should also be conditioned on passing a budget.
No budget, no future extensions." Work in progress.
So, there you have it. 'Puter's always right.
Admittedly, much of this was obvious to anyone who cared to see the situation as it was and not as he wished it were. But far, far too many Republicans refused to see the world as it was, preferring to instead live as they claim liberals do, in a make-believe land of wishes and dreams where our side always gets its way no matter how impossible its terms.
So now let's get serious. Let's make a plan, one that determines what is realistically achievable and works within those limits. Let's have a backup plan or two ready in case our first plan fails. Let's prepare the battlefield by messaging better: smile more, rant less, recite facts not wishes. Let's remind America of the true cost of Obama's programs at every point, and offer realistic alternatives.
Let's win this time.

Always right, unless he isn't, the infallible Ghettoputer F. X. Gormogons claims to be an in-law of the Volgi, although no one really believes this.
'Puter carefully follows economic and financial trends, legal affairs, and serves as the Gormogons' financial and legal advisor. He successfully defended us against a lawsuit from a liquor distributor worth hundreds of thousands of dollars in unpaid deliveries of bootleg shandies.
The Geep has an IQ so high it is untestable and attempts to measure it have resulted in dangerously unstable results as well as injuries to researchers. Coincidentally, he publishes intelligence tests as a side gig.
His sarcasm is so highly developed it borders on the psychic, and he is often able to insult a person even before meeting them. 'Puter enjoys hunting small game with 000 slugs and punt guns, correcting homilies in real time at Mass, and undermining unions. 'Puter likes to wear a hockey mask and carry an axe into public campgrounds, where he bursts into people's tents and screams. As you might expect, he has been shot several times but remains completely undeterred.
He assures us that his obsessive fawning over news stories involving women teachers sleeping with young students is not Freudian in any way, although he admits something similar once happened to him. Uniquely, 'Puter is unable to speak, read, or write Russian, but he is able to sing it fluently.
Geep joined the order in the mid-1980s. He arrived at the Castle door with dozens of steamer trunks and an inarticulate hissing creature of astonishingly low intelligence he calls "Sleestak." Ghettoputer appears to make his wishes known to Sleestak, although no one is sure whether this is the result of complex sign language, expert body posture reading, or simply beating Sleestak with a rubber mallet.
'Puter suggests the Czar suck it.