'Puter Does The Debt Limit, Part Panj: 'Puter's Pontifications and Prognostications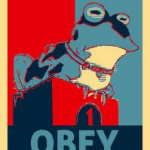 Hey, this 'Puter guy's making sense.
Maybe Obama's not — ALL GLORY
TO THE HYPNOTOAD!*
Welcome back, 'Puter's friends, to the show that never ends. 'Puter's so glad you could attend, step inside. Step inside.
Stick with 'Puter, people. We're almost done. In fact, this may be the last post 'Puter does on the debt limit, or for that matter anything, for a while. 'Puter's beat.
When last you left 'Puter, he had just urged Republicans to change the narrative on the debt ceiling debate. That's great, in and of itself, but at this point we're nowhere near having a debate at all. Regardless of causation,** Republicans have royally screwed up tactics and messaging
Rather than dwell on the past, 'Puter prefers to look to the future. Namely, how do Republicans get out of the idiotic and unnecessary mess they've made for themselves and best position themselves to achieve some of their goals.
Here's 'Puter's thoughts on some of the more burning topics of the moment.
Government Shutdown and Continuing Resolutions: Related to the Debt Limit?
Government Shutdown '12: Boehner Edition (not to be confused with Government Shutdown '95: Gingrich Edition) is an integral part of our discussion on the debt limit debate, not because it's relevant, but because Republicans stupidly allowed it to be.
Republicans completely bollixed the debt limit debate by linking it (in time, if not in principle) with the continuing resolution debate. This conflation permitted Democrats and their media accomplices to muddy the issue, turning it into "why won't Republicans fund parks, veterans, unicorns and free ponies for everyone." Had Republicans passed a clean, short term continuing resolution, they'd have avoided Obama's Shutdown Theater and put themselves on much, much better footing for the debt limit debate.
Republicans are legally permitted to refuse to fund government operations; however, as noted above, discretion is often the better part of valor.
So, to answer our question, no, the government shutdown has absolutely nothing to do legally or logically with the debt limit debate. However, the debt limit and the shutdown are now linked in the public's mind because of Republican ineptitude.
It's a fact. And this tactical error is due to Sen. Cruz and the House Tea Party Caucus. If you're going to blame anyone when the long-planned debt limit debate goes sideways, blame them.
If You're So Smart, 'Puter, How Do Republicans Now Pivot to the Debt Limit Debate?
Republicans have already begun to pivot.
Rep. Paul Ryan (WI-1) wrote an op-ed in the Wall Street Journal yesterday that didn't mention ObamaCare once. If you haven't read it, you should really read the whole thing.
Ryan checked all the boxes. He called out Obama for refusing to negotiate. He stated Republican's willingness to negotiate, indicating Republicans don't desire another showdown like the continuing resolution debacle. He stated two definite goals: paying down the national debt and jump-starting the economy. He stated a plan: common sense reforms to entitlement programs and to the tax code. He stated Democrats and Republicans alike agree on tax and entitlement reform, using Obama's own budget against him. He downplayed expectations, expressly disclaiming a "grand bargain."
This is smart politics, smart for Ryan himself and smart for Republicans.
It's smart for Ryan because it cements him in American's eyes as one of the few grownups in the room. Notice Ryan was nowhere to be found for the duration of the shutdown debacle.
It's smart for Republicans because it makes them appear reasonable. Republicans aren't looking for much, just some small agreements on already agreed items. Nothing to see here, move along.
As 'Puter's boss once told him, "In litigation, it's more important to appear reasonable than to be reasonable." The same holds true for politics, and Ryan gets it.
OK, So We're Pivoting. How Do We Get to the Debt Limit Debate?
Contrary to the deeply held convictions of many hard-core conservatives, Republicans will gain nothing from continuing the shutdown standoff, nor by "playing chicken" with the debt ceiling.
Republicans are going to have to pass a short-term continuing resolution and a short-term debt limit increase, preferably to the end of the year. Maybe we will get Obama to give us a fig leaf, maybe not. Most likely, Republicans will get nothing. If we get anything, it will be a repeal of the medical device tax.
As a condition for pushing the continuing resolution and debt ceiling extensions out (clean or modified, as agreed), Republicans must insist that Obama and Senate Democrats keep their promise: they will negotiate reforms to the tax code and to entitlement programs. No supercommittee, just three men in a room: Boehner, Reid and Obama or their designees, coupled with a press blackout, for as long as it takes.
Any extension should also be conditioned on passing a budget. No budget, no future extensions. The budget process functions as an automatic extension of the debt limit sufficient to fund the items actually in the budget.
This is a reasonable ask and a reasonable get. Americans expect Congress to pass a budget, and Americans know (whether they admit it or not) that we are spending too much money and something must be done. It will be tough for the Democrats to reject this offer. Not impossible, but tough.
Remember, it's more important to appear reasonable than to be reasonable. Just ask Sen. Cruz and the House Tea Party Caucus what happens when you appear unreasonable. Hint: you nearly created 70 uninterrupted years of Democrat hegemony.
What Should Republicans Ask For in the Debt Limit Debate?
Let's start with what Republicans shouldn't ask for in the debate: repeal of and/or defunding of ObamaCare. It's an absolute non-starter with Democrats, regardless of how crappy the law itself is and regardless of how inept its implementation has been and will be.
If Republicans leave ObamaCare alone for a bit, it's likely to collapse under its own weight. Ironically, by insisting Boehner shut down government, Sen. Cruz and the House Tea Party Caucus have allowed media to avoid reporting the obvious: ObamaCare is nowhere near ready for prime time.
On tax reform, 'Puter would ask for a flatter, broader tax code with fewer deductions, credits and exemptions. In return, increase the standard deduction and personal exemption amounts. Treat carried interest as ordinary income unless hedge fund partners have actually contributed capital out of their own pockets. Lower the corporate tax rate significantly, while paring available deductions and credits. Reform agricultural credits so that only agricultural entities get them.
In truth, 'Puter would love to have a flat tax with no deductions whatsoever, but with generous personal exemptions.
'Puter would also abolish the corporate tax altogether, taxing dividends and other third party payouts as ordinary income to the recipient. But 'Puter knows that none of this is going to happen in these negotiations.
On entitlement reform, 'Puter would increase the eligibility age for Medicare and Social Security to 70 for everyone under 40 and to 75 for everyone under 15. 'Puter would also phase in a means test for Social Security, but with a minimum monthly payout for all, even if you're stinking rich. 'Puter would similarly phase in a requirement for well-to-do retirees to pay more for Medicare coverage.
'Puter would institute a bounty system for people rolling in disability fraud, paying whistleblowers a percentage of the fraud's value over time.
Further, make the disability requirements more difficult to meet. Increase penalties for disability fraud, including forfeiture of assets and licenses (for lawyers and doctors) and mandatory jail sentences. Start a rolling review of all disability cases to uncover fraud, but grant an amnesty period during which fraudsters, including doctors and lawyers, can turn themselves in and walk away without criminal penalty or civil fine.
Republicans are not ever, ever, ever going to get Democrats to agree to monkey with run-of-the-mill welfare programs at this time. Don't even bring them up.
Besides, there's relatively little money in them, except for Medicaid.
So What's the Takeaway, 'Puter?
Republicans have significant opportunity here if they don't blow it. Appear reasonable. Don't ask for something you're never, ever going to get, like repeal of ObamaCare.
Ask for small items that add up over time, such as those identified above, items people won't notice much or even at all. Heck, some of 'Puter's proposals won't even affect a chunk of people alive today. But in the aggregate, over time, these relatively small reforms quickly add up to a ton of savings.
Don't blow it.
*"All glory to the Hypnotoad!"
**We all know it was Sen. Cruz and the inexperienced House Tea Party Caucus.

Always right, unless he isn't, the infallible Ghettoputer F. X. Gormogons claims to be an in-law of the Volgi, although no one really believes this.
'Puter carefully follows economic and financial trends, legal affairs, and serves as the Gormogons' financial and legal advisor. He successfully defended us against a lawsuit from a liquor distributor worth hundreds of thousands of dollars in unpaid deliveries of bootleg shandies.
The Geep has an IQ so high it is untestable and attempts to measure it have resulted in dangerously unstable results as well as injuries to researchers. Coincidentally, he publishes intelligence tests as a side gig.
His sarcasm is so highly developed it borders on the psychic, and he is often able to insult a person even before meeting them. 'Puter enjoys hunting small game with 000 slugs and punt guns, correcting homilies in real time at Mass, and undermining unions. 'Puter likes to wear a hockey mask and carry an axe into public campgrounds, where he bursts into people's tents and screams. As you might expect, he has been shot several times but remains completely undeterred.
He assures us that his obsessive fawning over news stories involving women teachers sleeping with young students is not Freudian in any way, although he admits something similar once happened to him. Uniquely, 'Puter is unable to speak, read, or write Russian, but he is able to sing it fluently.
Geep joined the order in the mid-1980s. He arrived at the Castle door with dozens of steamer trunks and an inarticulate hissing creature of astonishingly low intelligence he calls "Sleestak." Ghettoputer appears to make his wishes known to Sleestak, although no one is sure whether this is the result of complex sign language, expert body posture reading, or simply beating Sleestak with a rubber mallet.
'Puter suggests the Czar suck it.