'Puter Does The Debt Limit, Part 4: What Really Smart Yale Law Professors Say About Appropriations Authority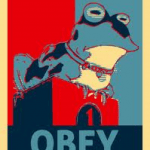 Obama and his lapdog media command
you! Ignore the facts concerning Congress'
constitutional prerogative to do exactly
what it's doing, holding Democrats over a
barrel until they negotiate!*
Welcome to the third installment of 'Puter Does the Debt Limit! We hope you've learned something while having fun, just like 'Puter did while watching AMC's Fat Albert and What's Happening? marathon last night.
'Puter's led you on a magical tour through our nation's foundational document, the Constitution. If you're anything like 'Puter, our multipart exploration of the debt limit has been as exciting as trips to Disney World and Sindee's House of Loose Women (located just behind the Leaping Peacock) rolled into one glorious, peyote infused evening of riotous fun.
Enough about 'Puter. As The Smartest Man Alive, Ever, Bar NoneTM once said, "Forward!"
To date, we've learned that only Congress can authorize borrowing and taxation to raise revenue. We've also learned that only Congress can authorize spending revenue. We know that Congress enacted a statutory debt limit, capping the amount of money government may borrow at any one time.
Before we move on, 'Puter would like to reinforce the absolute authority of Congress to direct the raising and expenditure of revenue. But 'Puter needs someone no liberal will ever doubt, someone whose liberal street cred is bulletproof. But who can measure up? 'Puter's got it! A law professor from a bleeding heart liberal Ivy League university! Genius!
'Puter would like to introduce you to Yale University's Lafayette S. Foster Professor of Law Kate Stith (A.B. Dartmouth, 1973; J.D. Harvard, 1977; M.P.P. Kennedy School of Government, Harvard, 1977), who wrote an entire article on this very topic titled Congress' Power of the Purse.** How exciting!
Let's hear what Professor Stith has to say about our enthralling topic of Congress' Appropriation Power! What say you, Professor Stith?
The placement of the appropriations requirement in section 9 of article I, rather than in section 8, supports the understanding that it is not a grant of affirmative power, or an expansion of other congressional powers, but is, rather, a condition or limitation on the exercise of legislative power. The Constitution's appropriations requirement is not only a condition precedent to executive branch action, but also a condition subsequent to general legislative directives.

Because of the appropriations requirement, it is not enough for Congress to direct federal agencies to produce a better world; nor is it enough for Congress to list the authorized activities in which the executive branch of the government may engage. For the executive branch to act to achieve the ends of government identified by Congress, Congress must affirmatively authorize the funds to do the job.

[i]
Gee. Who'd've thunk? Congress must enact specific legislation detailing not only how muchmoney may be spent, but exactly on whatthat money must be spent. Without an appropriation, the Executive Branch is pretty much S.O.L., unable to do anything except the Constitutional minimum.[ii]
What else does Professor Stith have to say? Let's just read along for ourselves and take a gander, shall we?
At the same time, the appropriations clause enjoins the President to spend funds in the name of the United States only as appropriated
by
Congress.
Even where the President believes that Congress has transgressed the Constitution
by
failing to provide funds for a particular activity, the President has no Constitutional authority to draw funds from the Treasury to finance the activity. Spending in the absence of appropriations is ultra vires.
Of
course, where an emergency exists, the President might decide that principles more fundamental than the Constitution's appropriations requirement justify spending.
The constitutional processes for resolving such situations, as well as cases where Congress fails to appropriate money for an inherent executive activity, are political.
[iii]
Interesting, isn't it?
"Even where the President believes that Congress has transgressed the Constitution by failing to provide funds for a particular activity, the President has no Constitutional authority to draw funds from the Treasury to finance the activity."
But what could that mean? It couldn't possibly mean that President Obama, he who is He-Man, Skeletor, She-Ra and Battle Cat rolled up into one delectable nugget of man meat, is without power. It can't. It just can't. If that's true, then everything Obama, Senate Democrats and the media whores have been saying is a lie.
'Puter couldn't live if that were true, so 'Puter chooses to disbelieve!
Nah. Not really.
But wait! Professor Stith has more to add. The good professor provides us an example of the scope of Congress' authority to tell the Executive Branch to get bent.
Remember the Vietnam War? Remember when Nixon decided he absolutely needed to invade Cambodia to cut off the Viet Cong's (and Chi Comm's) supply lines? No?
How about the Nicaraguan Contras in the 1980s? Remember when Reagan decided he absolutely needed to supply Nicaraguan Contras, rebels fighting the corrupt, communist Sandinista government? No?
No worries. Professor Stith remembers those times like they were only yesterday.
The "object" limitation used in the Cambodian situation (and used a decade later to constrain United States involvement in support of the armed Nicaraguan opposition, or contras) is especially powerful: the denial of any appropriated funds for a specific purpose. Generally, a complete denial provides that no appropriated funds may be used for an activity that otherwise would be a proper object of expenditure from a lumpsum appropriation for the agency.
Where Congress thus denies appropriations, the denial is not merely a determination that the public fisc cannot afford spending any money on that activity. By such appropriations legislation, Congress decides that, under our constitutional scheme, for the duration of the appropriations denial, the specific activity is no longer within the realm of authorized government actions.
This legislative action denies the Executive all means of engaging in the prohibited activity because employee salaries and other overhead costs are almost invariably paid out of appropriated funds.
When government employees act on behalf of the United States, they are subject to every limitation that applies to appropriated funds. In principle, a government employee acting in an official capacity-including the President-may not spend one minute to make one phone call to solicit private funds (for use of the government or directly for a third party) for an activity explicitly denied appropriated funds.
[iv]
How about that? Two different scenarios. Two different presidents. Two different Congresses shut off funds for a program the president determined was in the nation's best interests, thwarting the president and in both cases hastening America's defeat (or its proxy's defeat) in a war.
Maybe cutting off funding to Contra rebels fighting the Sandinista commies in Nicaragua would be different in the 1980s. Nope.
Congress passed three separate Boland Amendments between 1982 and 1984, ratcheting up restrictions on use of funds to assist the Contras. When Congress cut off all funds in 1984, the
House had a Democrat majorities and the Senate had a slim Republican majority
. Coincidentally, the president hamstrung was Republican.
Democrats (with the help of some Republicans on l'affaire Contra) cut the legs out from under two Republican presidents in the last 40 years. 'Puter doesn't recall the Viet Nam pantsing of Nixon, but he vividly recalls the Contra pantsing of Reagan. The media had no problem with Tip O'Neill and his merry band of pranksters endangering national security by defunding the president's chosen path.
But this time it's a Democrat in the White House, so anything that prevents Obama from getting his way is somehow beyond the pale, despite the fact that there's ample historical precedent for doing exactly what the Republican House is now doing: exercising its power of the purse to eliminate a program they hate at the expense of the Executive Branch.
To be fair to Professor Stith, as well as to frothing liberals, she does state emphatically that there are numerous examples of "backdoor appropriations," ("Tee hee!" – 'Puter) which do not require annual reappropriation of revenue from the public fisc.
[v]
Professor Stith notes Social Security and certain housing programs as examples of such programs, along with certain programs permitted to accept gifts and use the proceeds therefrom.
However, Professor Stith's larger point corresponds directly with 'Puter's position, and nothing she writes contradicts 'Puter in the slightest.
This is not to say Professor Stith would agree with 'Puter were they to debate, but nothing in this work gives lie to 'Puter's premise.
That is, President Obama can't spend a red cent if Congress hasn't appropriated it.
Worse for our good friend President Obama, Congress has express authority to tell the Executive Branch to cease a program or programs simply by denying funds.
What have we learned?
We've learned (again) that Congress, not the Executive, controls the power of the purse. We've learned that Congress and only Congress can authorize expenditure of public funds, dictating both the exact amount of expenditures and the specific objects on which those funds have spent.
We've learned that the president, even if he believes the Congress is acting unconstitutionally in refusing to fund authorized programs (think ObamaCare) is without a remedy. We've learned that despite media's ignorance of history, in the last 40 years Democrats have used Congress' power to defund programs to cut the legs out from under a Republican president during wartime (hot and cold).
We've had reinforced that House Republicans are well within their rights to tell Senate Democrats and President Obama to pound sand. Democrats can either negotiate, or watch the country fall into default, and there's not a darned thing they can do about it.
And that's where 'Puter will leave it for now.
Next up: Will you get to the danged point already, 'Puter?
**Read the entire thing. It's well worth it, and it'll piss off your leftist friends when you take down every "Rachel Maddow said it so it must be true" argument they regurgitate.
---

Always right, unless he isn't, the infallible Ghettoputer F. X. Gormogons claims to be an in-law of the Volgi, although no one really believes this.
'Puter carefully follows economic and financial trends, legal affairs, and serves as the Gormogons' financial and legal advisor. He successfully defended us against a lawsuit from a liquor distributor worth hundreds of thousands of dollars in unpaid deliveries of bootleg shandies.
The Geep has an IQ so high it is untestable and attempts to measure it have resulted in dangerously unstable results as well as injuries to researchers. Coincidentally, he publishes intelligence tests as a side gig.
His sarcasm is so highly developed it borders on the psychic, and he is often able to insult a person even before meeting them. 'Puter enjoys hunting small game with 000 slugs and punt guns, correcting homilies in real time at Mass, and undermining unions. 'Puter likes to wear a hockey mask and carry an axe into public campgrounds, where he bursts into people's tents and screams. As you might expect, he has been shot several times but remains completely undeterred.
He assures us that his obsessive fawning over news stories involving women teachers sleeping with young students is not Freudian in any way, although he admits something similar once happened to him. Uniquely, 'Puter is unable to speak, read, or write Russian, but he is able to sing it fluently.
Geep joined the order in the mid-1980s. He arrived at the Castle door with dozens of steamer trunks and an inarticulate hissing creature of astonishingly low intelligence he calls "Sleestak." Ghettoputer appears to make his wishes known to Sleestak, although no one is sure whether this is the result of complex sign language, expert body posture reading, or simply beating Sleestak with a rubber mallet.
'Puter suggests the Czar suck it.