'Puter Does The Debt Limit, Part 3.14*: Change The Narrative, Change The World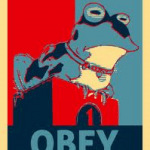 Who are you going to believe, Obama
or 'Puter Gormog — ALL GLORY TO
THE HYPNOTOAD!**
Welcome back, Friends of the Gormogons, loyal operatives and various and sundry minions! 'Puter's truly glad you're enjoying his series on the most fascinating topic ever: Constitutional bases for Congress' Appropriations Power, its Enumerated Powers and their relation to the debt limit!
Before we get back to the fun stuff, 'Puter would like to update you on the status of Mrs. The Czar. Sleestak and Mrs. The Czar returned late last night (actually, early this morning) from their, shall we say, unscheduled jaunt to Suffragette City for the Bowie concert. Mrs. The Czar and Sleestak love them some Bowie.
The good news is Mrs. The Czar is none the worse for wear. Sleestak returned her buck nekkid and inebriated, which is Mrs. The Czar's normal state.
The bad news is Sleestak swapped Czar's favorite Surrey With The Fringe On Top*** for a 1972 puke green Dodge Dart Swinger.**** For that, Czar "volunteered" Sleestak for one of Mandy's more over the top trephining experiments. There's always something afoot at the Castle!
Now that you're up to speed on the Castle's goings-on, back to our symposium on the debt limit.
If you're just getting into 'Puter Does the Debt Limit series, you should stop reading now and read the posts in order: Part the First; Part Deux; and Part 4. It's your only reasonable chance and making sense of 'Puter's semi-literate ramblings.
Here is what we know about the debt limit and about Congress' power of the purse.
·
Only Congress can authorize raising revenue, whether through taxation or borrowing. The president has no say in how to fund the government and at what levels.
·
Only Congress can appropriate funds from the public fisc, meaning Congress must tell the Executive Branch how much it can spend, on what and in what manner appropriated funds must be spent. This is Congress' power of the purse.
·
The Executive Branch cannot spend funds in excess of those authorized by Congress, nor can it spend funds in a manner inconsistent with the authorization and appropriation.
·
Congress is free to defund any program at any time for any reason, regardless of how entitlement-y Americans believe such program to be. Even totally awesome, unflawed, easily implemented, bipartisan laws like ObamaCare.
·
The debt limit is a statutory cap preventing the government (the Executive Branch, in particular) from borrowing more money than Congress has authorized.
None of this is difficult in concept. It is, however, difficult in practice.
Politics, particularly liberal politics forced on America with assistance from a complicit media, have a nasty way of confounding the easiest concepts.
Here is the current state of affairs according to conventional wisdom as filtered through our untrustworthy and biased media betters.
·
Obama's Treasury Department indicates the United States will run out of money to fund its current operations on or about 17 October 2013
·
House Republicans have refused the raise the debt limit unless Obama negotiates with them.
Neither 'Puter nor House Republicans are what House Republicans want to negotiate.
·
Senate Democrats have refused to consider any funding legislation whatsoever, demanding a "clean CR," which Democrats dutifully parrot as the ne plus ultra of legislation.
·
President Obama has refused to negotiate with House Republicans, periodically calling Republicans to the White House to humiliate them by – you guessed it – refusing to negotiate with Republicans.
·
Most pundits and nearly all media have fallen in line, dutifully "reporting" the White House and Senate Democrats and Obama are not merely correct, but correct to a metaphysical certainty regarding government shutdown and debt limit increases.
·
It is conventional wisdom now that the Republican party is consigned to the dustbin of history, never to rise again. Republicans' demise was caused directly by Sen. Cruz and so-called Tea Party House Members' foolish insistence on defunding ObamaCare, which was doomed from the start.
·
Conversely, it is conventional wisdom that the Democrats' star is on the rise, with no harm done by their inexplicable intransigence and outright hatefulness toward ordinary Americans during the government shutdown and run-up to the debt limit debate.
So where does this leave Republicans? Well, you'll have to wait for a later post to get a look a 'Puter's endgame theories.
But one thing Republicans can and should do immediately is change the narrative. Republicans can do this using what we've spent a couple days reviewing: the relationship between Congress' Enumerated Powers, its Appropriations Power and the debt limit statute.
Currently, the narrative goes something like this.
Republicans want your grandparents to die horrible deaths because they won't fund Medicare by raising the debt limit. Republicans want your children to be dumb because they won't fund education by raising the debt limit. Republicans want everything good the government does for you (ObamaPhones!) to end because they won't fund everything Congress has promised to do by raising the debt limit.
Democrats will win if Americans believe this narrative. Voters will destroy anyone they view as threatening their soft, fuzzy welfare state cocoon of entitlement payments.
However, Republicans have a unique opportunity to turn the Democrats' narrative around on them. 'Puter would be amazed that the Republicans haven't taken advantage of this opportunity except that Republicans never miss an opportunity to miss an opportunity.
Since Republicans are currently engaged in a circular firing squad, 'Puter will do the work American politicians won't do.
'Puter would change the narrative using these ideas:
Democrats want your grandparents to die horrible deaths because they won't fund Medicare by raising taxes. Democrats want your children to be dumb because they won't fund education by raising taxes. Democrats want everything good the government does for you (ObamaPhones!) to end because they won't fund everything Congress has promised to do by raising taxes.
You've probably heard this before, only with "Republicans" instead of "Democrats" and "raise the debt limit" instead of "raise taxes." Let me explain what I mean.
In Congress, we have a choice of how to fund the promises we have made the American people.
We can borrow, or we can tax. Republicans are willing to borrow and we are willing to tax.
What Republicans are not willing to do is to spend beyond America's means. That's why we're deadly serious about the debt limit.
The debt limit forces Congress to confront from time to time America's balance sheet. Republicans have reviewed America's books, and we don't like what we see. Currently, America borrows 40 cents of every dollar it spends. That 40 cents, plus the 60 cents government gets from taxing you, makes the dollar we spend to fund programs we all cherish: Social Security, Medicare and Medicaid among them.
So, should America borrow more, or should we tax more?
When we borrow, not only do we hide the true cost of American government from voters, we burden voters' children and grandchildren with paying for our upkeep. It's as if we bought a hamburger, ate it today, but required our children to pay for it 10 years from now, plus interest. That's not fair. We should pay for what we use today, to the extent we are able.
If Congress were going to pay for the current actual cost of government from tax receipts, your taxes would go up 66% immediately. If you paid $10,000 in income taxes last year, you'll be paying $16,666 this year, assuming America's spending remains flat.
That's a decent used car you won't be buying.
That's why I said earlier that Democrats won't raise taxes. Even Democrats know r
aising taxes this much, this quickly isn't fair to Americans, either.
There is a third option, one you don't hear us politicians talk about too often: cutting spending over time while simultaneously increasing tax revenues and decreasing borrowing. As America spends less, it will need to borrow less to close the gap between tax revenue and the cost of government's promises.
Rising tax revenue will shrink that gap even more.
We Republicans think our third way is the best way to get out of this hole we've dug for ourselves. Increasing tax revenues slowly over time won't harm anyone that much. Decreasing borrowing will lift the burden we've unfairly placed on Americans not even born yet to pay for our free lunch. Finally, making common-sense, targeted cuts and modifications to certain programs
– many of which Democrats support – will minimize impact on the truly needy among us, in many cases avoiding any impact altogether.
Republicans believe in Social Security's mission, and we are committed to ensuring that no elderly person lives in abject poverty. Republicans believe in Medicaid's mission, and remain committed to ensuring our poorest citizens receive effective and adequate medical care. Too, Republicans believe in Medicare's mission, ensuring the elderly's medical needs are seen to.
Republicans and Democrats agree on the goals, though we don't always agree on how to get there.
Republicans simply want America to live within its means, as each of you Americans must do every day. We are committed to doing so through a mix of taxation, borrowing and cost cutting.
Please help us get there, together. Though we're Democrats and Republicans, liberals and conservatives, we're all Americans.
And Americans help Americans. It's what we do.
We're counting on you.
Get cracking, already, Republicans! Time's running short.
*Yes, 'Puter knows his part numbering is out of order. Too danged, bad, number Nazis! 'Puter treats math like liberals treat the Constitution: as a suggestion, rather than a mandate.

**"All glory to the Hypnotoad!"

***Czar doesn't particularly like horse-drawn buggies, but he just adores riding through the streets of Muscovy, running down children and family pets, singing show tunes from Oklahoma! at the top of his lungs.

****Sleestak chose this car as a gift for 'Puter, as Sleestak knows how much 'Puter loved his first car, a puke-green 1972 Dodge Dart Swinger with a 318 cubic inch V-8 motor. Also, Sleestak liked the car because it matched his skin. Surprisingly, the VIN is an exact match for 'Puter's first car, and the parts and chassis match ('Puter checked the stamps). 'Puter's got know idea how the little guy does it.

Always right, unless he isn't, the infallible Ghettoputer F. X. Gormogons claims to be an in-law of the Volgi, although no one really believes this.
'Puter carefully follows economic and financial trends, legal affairs, and serves as the Gormogons' financial and legal advisor. He successfully defended us against a lawsuit from a liquor distributor worth hundreds of thousands of dollars in unpaid deliveries of bootleg shandies.
The Geep has an IQ so high it is untestable and attempts to measure it have resulted in dangerously unstable results as well as injuries to researchers. Coincidentally, he publishes intelligence tests as a side gig.
His sarcasm is so highly developed it borders on the psychic, and he is often able to insult a person even before meeting them. 'Puter enjoys hunting small game with 000 slugs and punt guns, correcting homilies in real time at Mass, and undermining unions. 'Puter likes to wear a hockey mask and carry an axe into public campgrounds, where he bursts into people's tents and screams. As you might expect, he has been shot several times but remains completely undeterred.
He assures us that his obsessive fawning over news stories involving women teachers sleeping with young students is not Freudian in any way, although he admits something similar once happened to him. Uniquely, 'Puter is unable to speak, read, or write Russian, but he is able to sing it fluently.
Geep joined the order in the mid-1980s. He arrived at the Castle door with dozens of steamer trunks and an inarticulate hissing creature of astonishingly low intelligence he calls "Sleestak." Ghettoputer appears to make his wishes known to Sleestak, although no one is sure whether this is the result of complex sign language, expert body posture reading, or simply beating Sleestak with a rubber mallet.
'Puter suggests the Czar suck it.