'Puter Does The Debt Limit, Bonus Track: National Journal Lies To America About The Debt Limit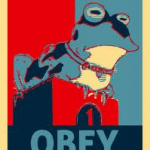 Other than Obama having found and
unleashed a Hypnotoad in the White
House Press Briefing Room, what's a
plausible explanation for otherwise sane,
sentient reporters buying Obama's unending
stream of lies, slander and other horse
manure?


'Puter said he might provide another post or two on the Debt Limit Debacle, Now With More Armageddon-iness: 2013 Edition, and so it has come to pass.

'Puter originally intended to write one, small post on an item he found interesting. Instead, 'Puter's initial post evolved (or devolved, depending on your perspective) into five additional posts. Here's the item that started it all.

Left-leaning, or to use the non-PC term "screamingly liberal," publication National Journal unveiled a poll last week concerning American's understanding of the debt limit. Shockingly, National Journal concludes that Americans are morons who haven't the foggiest notion of what the debt limit is and what it does.

Having read 'Puter's brilliant posts in last week's 'PuterDoestheDebtLimitseries, our readers are now well equipped to examine critically what passes for smarts on the Left these days. Please take a moment to peruse National Journal's article, here, before 'Puter commences his beat-down de-pantsingenclownment fisking of it.

Done reading? Good. Let's get started.

Here's what our friends at National Journalsay regarding the national debt, the debt limit, the American public and their poll results:

More than twice as many Americans believe lifting the limit means authorizing more borrowing "for future expenditures" than believe it means "paying off the debts [the federal government] has already accumulated"—62 percent to 28 percent, respectively.

The reality is that lifting the debt limit allows the Treasury Department to borrow money to pay for bills that Congress has already rung up.*

With less than 10 days until the nation hits its borrowing limit, the poll found that the misunderstanding was rampant. It was shared by the young and the elderly, the rich and the poor, the college educated and those with only high schools educations.

If, as National Journal alleges, the debt limit only needs to be increased to "borrow money to pay for bills that Congress has already rung up," then it should only be raised in an amount sufficient to pay the legal creditors of the United States as the Treasury's outstanding and issued obligations (e.g., notes, bills, bonds) come due.

If the debt limit is to be raised more than that amount, then the majority of Americans are correct that the government is only borrowing "for future expenditures," despite National Journal's fondest wishes otherwise.

The only debts the United States has already incurred are debts to creditors holding bonds, notes, bills and other negotiable instruments issued by the Treasury Department. Wait, that's not entirely true. 'Puter supposes the United States owes workers (their own and government contractors) for work already completed. Other than that, it owes no one anything.

"But 'Puter! What about all the old people and disabled and poor and TEH CHILDRUNZ WIPFOWT TEH OBAMAFONZ?!!?1," the Left irrationally wails.

"Eleventy! ELEVENTY!!1!one!!! TEH CHILDRUNZ R MOAR IMPRTNT TEN TEH BANKSTER RETHUGLIKKKANZ FAT CATZ BEING TEH RICH OFF TEH WORKIN PEEPULS!!1!!one!!!!eleventy!!," they scream, gnashing the stumps of their rotten teeth (too many bong hits and Mountain Dews).

'Puter calmly responds with the truth, the very presence of which makes Che Guevara tee shirt clad, radically chic hipsters flip their ironic porkpied lids:

The United States Government and your taxpaying neighbors owe you exactly squat for any benefit you haven't already received, or for work you haven't already done

.

'Puter doesn't say this joyfully, or with malice aforethought. 'Puter simply acknowledges reality. The government is free at any time to abrogate its contracts and promised benefits, and there ain't a whole heck of a lot anyone can do about it.

Sure, cutting of promised benefits and breaching executed contracts may be political suicide. It may be colossally stupid. And yes, it may plunge the world's economy into the fiery pits of Hell where pederast public school teachers writhe as the unseen, unquenchable fires burn with the heat of a thousand suns.*** But the government can still do it.

Don't think so? Consider the following. On a much smaller level, just ask Detroit's retired employees if government can tell you to take the promises it made regarding future benefits, spindle them tightly and shove them up your bunghole. If you're to chicken to ask them, or (correctly) too terrified to set foot in Detroit, their pained expressions and duck-like waddle provide a telling clue.

Congress and President Obama can promise Americans dumb enough to believe them (which if you look at Czar and Island Dweller's post here is well north of half of America) all-you-can-spend Social Security, everlasting Medicare, all-encompassing Medicaid, free ObamaPhones, ponies, unicorns and a wake-up hummer every morning, but if Congress refuses to fund it, you're out of luck.

As the Government Accountability Office puts it (much more thoroughly than the political hacks at the Treasury Department ever would):


Congress and the President have enacted laws to establish a limit on the amount of federal debt that can be outstanding at one time. The gross debt excluding some minor adjustments, is the measure that is subject to the federal debt limit. The debt limit does not restrict Congress' ability to enact spending and revenue legislation that affect the level of debt or otherwise constrain fiscal policy; rather, the debt limit restricts the Department of the Treasury's authority to borrow to finance the decisions enacted by the Congress and the President. (emphasis added)

As duly noted in Part the First, 'Puter loves him some added emphasis.

Obama and Congress can promise you darned near anything to keep you fat, dumb, happy and voting Democrat. Obama and Congress can also renege on their promises at any time, whether through repealing the underlying law or by refusing to fund the program altogether.

"But 'Puter! Government has to pay Meemaw and Peepaw their social security! Government promised! And Meemaw and Peepaw paid for it! It's a right, not a benefit!", you shriek like the Kool-Aid drinking liberal flunky you are.

False. The Social Security Administration tells everyone who will listen that Social Security isn't an inviolate right, it's a form of welfare bestowed on old folks by currently working folks.

If you don't believe 'Puter, take a look at page 2 of this sample annual statement of benefits, courtesy of the Social Security Administration itself:

Your estimated benefits are based on current law. Congress has made changes to the law in the past and can do so at any time. The law governing benefit amounts may change because, by 2033, the payroll taxes collected will be enough to pay only about 77 percent of scheduled benefits.

Get it now, liberals? Government owes you nothing. Nothing.

Government will take and take and take and take, and in the end, government can simply say,

You f*cked up.

You trusted us. You should've saved for your own retirement while you could, but you just had to have the latest model iPhone and the most popular granite and the biggest house on the block. Not that you really could've saved for your retirement after President Obama tanked the economy back in the day, preventing most people from working, but you get the gist. Enjoy the rest of your life. By the way, have you considered volunteering to be one of ObamaCare's 40,362 culls scheduled for this week? It's your patriotic duty to keep ObamaCare solvent!

But let's move along from discovering the startling truth that government promises mean spit. Let's take a look at refusal to fund authorized programs.

If it were illegal to refuse to fund a program or programs legally enacted, why didn't we hear Democrats and Obama raging that defund government programs is unconstitutional and/or illegal when Republicans (led by the execrable Sen. Ted Cruz (R-TX)) attempted to defund ObamaCare the Inviolate?

As Yale University professor of law Kate Stith instructed us in Part 4 of 'Puter Does the Debt Limit, Congress can authorize anything it wants. Free ponies for everyone, even free healthcare for all, expenses be damned! That's Congress' appropriations power as a condition precedent.

But Congress still has to vote each year (or at necessary intervals) to authorize the funding for the programs. That is, even after ObamaCare becomes the "law of the land," Congress can still effectively kill the program by refusing to appropriate funds for that program.

Not only is it constitutional for Congress reexamine appropriations as to each program enacted, it's Congress' jobto reexamine appropriations for each program enacted. This is why you didn't hear Obama and his Greek chorus of press lackeys claiming Congress cannot kill ObamaCare by defunding it.

Anyway, that's sufficient for now on the debt limit. You've probably had it up to here with 'Puter rambling on about law and legislation.

'Puter hopes you've enjoyed this madcap trip through arcane government financing concepts and the Constitution. 'Puter had fun, and may do more in the future, as the mood strikes him. Or as Czar strikes him.

* "All glory to the Hypnotoad!"

** 'Puter would note that National Journal'ssecond cited paragraph looks suspiciously akin to this paragraph from the Treasury Department's website:

The debt limit does not authorize new spending commitments. It simply allows the government to finance existing legal obligations that Congresses and presidents of both parties have made in the past.

Plagiarism? Coincidence? Lazy leftists letting other people do the hard work (thinking) for them? All of the above? You make the call.


*** 'Puter's looking at you, Sen. Ted Cruz (R-TX) and the House Tea Party Caucus.

Always right, unless he isn't, the infallible Ghettoputer F. X. Gormogons claims to be an in-law of the Volgi, although no one really believes this.
'Puter carefully follows economic and financial trends, legal affairs, and serves as the Gormogons' financial and legal advisor. He successfully defended us against a lawsuit from a liquor distributor worth hundreds of thousands of dollars in unpaid deliveries of bootleg shandies.
The Geep has an IQ so high it is untestable and attempts to measure it have resulted in dangerously unstable results as well as injuries to researchers. Coincidentally, he publishes intelligence tests as a side gig.
His sarcasm is so highly developed it borders on the psychic, and he is often able to insult a person even before meeting them. 'Puter enjoys hunting small game with 000 slugs and punt guns, correcting homilies in real time at Mass, and undermining unions. 'Puter likes to wear a hockey mask and carry an axe into public campgrounds, where he bursts into people's tents and screams. As you might expect, he has been shot several times but remains completely undeterred.
He assures us that his obsessive fawning over news stories involving women teachers sleeping with young students is not Freudian in any way, although he admits something similar once happened to him. Uniquely, 'Puter is unable to speak, read, or write Russian, but he is able to sing it fluently.
Geep joined the order in the mid-1980s. He arrived at the Castle door with dozens of steamer trunks and an inarticulate hissing creature of astonishingly low intelligence he calls "Sleestak." Ghettoputer appears to make his wishes known to Sleestak, although no one is sure whether this is the result of complex sign language, expert body posture reading, or simply beating Sleestak with a rubber mallet.
'Puter suggests the Czar suck it.